3 Tips for Coping with an Unplanned Pregnancy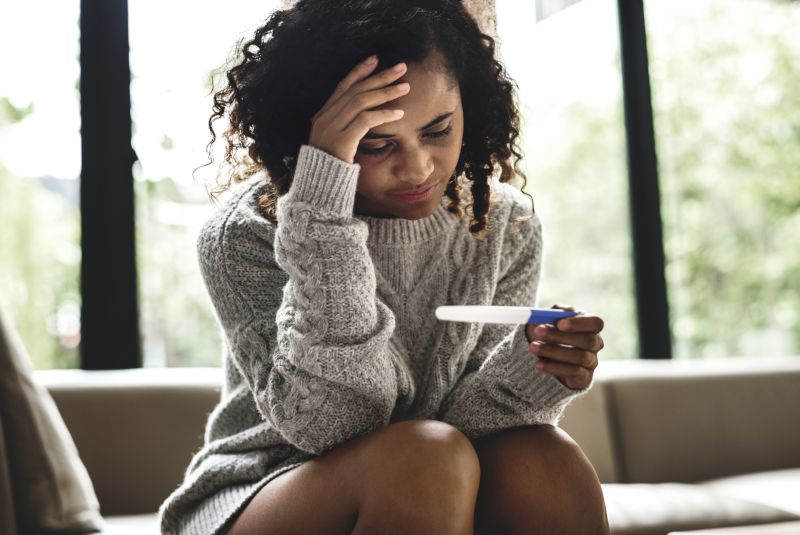 Because of all the emotions that come with an unexpected pregnancy, it's easy to feel like your life has come to a halt. American Adoptions of California can provide you with tips for dealing with an unplanned pregnancy. You can find help today by calling 1-800-ADOPTION at any time.
Whether you feel like you're able to support a child or your future plans didn't involve parenting, coming to terms with an unplanned pregnancy can seem impossible. But, it doesn't have to be.
Many of our staff members have gone through adoption as birth parents and know how difficult coping with an unexpected pregnancy can in California be.

Not every adoption professional has this unique first-person perspective.

With over 30 years of helping expectant mothers give their children a better life through adoption, American Adoptions has the resources and expertise to give you the support you need.
To learn more about how to handle an unplanned pregnancy in California, continue reading below. To get more support as you try to cope with your unplanned pregnancy, reach out to an adoption specialist today or call 1-800-ADOPTION.
How to Deal with an Unplanned Pregnancy in California
An unwanted pregnancy might add some twists and turns to your journey, but it doesn't have to prevent you from getting where you want to be. Accepting an unplanned pregnancy can be difficult at first but is an important first step to figuring out the best way forward. We've created this guide for dealing with an unexpected pregnancy and how you can prepare yourself for the road ahead. When you choose American Adoptions, we'll always have your back. To get more tips on how to cope with an unexpected pregnancy contact us today online or at 1-800-ADOPTION.
In the meantime, here are the steps you should take to deal with an unexpected pregnancy in California.
Step 1: Confirm your Pregnancy with your Doctor
An important part of handling an unwanted pregnancy is scheduling an appointment with your doctor to confirm your pregnancy. Once you've done this, you can start to figure out how to take care of yourself mentally and physically throughout your pregnancy. You can start by scheduling a prenatal visit. Your prenatal visit is a checkup to ensure that you and your baby are in good health. Even if you've decided to terminate your pregnancy, scheduling a prenatal visit is still important. You can also begin researching your unplanned pregnancy options.
Once you've confirmed your pregnancy and have made sure that you and your baby are healthy, you can begin figuring out which unplanned pregnancy option is best for you. If you decide to parent or place your baby for adoption, you can also begin allocating the resources you need and building your support system. If you will be carrying your baby to term, it's important to take care of yourself by getting enough sleep, staying hydrated, adjusting your diet accordingly and getting plenty of exercise.
Step 2: Take Time to Process being Pregnant
There's no right or wrong way to come to terms with your unplanned pregnancy — only whatever way is most comfortable and beneficial to you. An important step in how to feel better about an unplanned pregnancy is giving yourself time to process how you feel about being pregnant and letting yourself feel the emotions in their entirety. You might even be able to find joy in an unplanned pregnancy.
"Honestly, just sit down and think about the best interest of your child," Julia, a woman who chooses adoption for her baby, said about coming to terms with her unplanned pregnancy. "You're going to contemplate the decision a hundred times but, at the end of the day, you're going to know what's right for you and what's right for your child. Don't think that your life is over; yeah, you have a little bump in the road, but that's not going to stop you."
When it comes to how to react to unplanned pregnancy in California, there's no one-size-fits-all answer. Every expectant parent is different and will react differently as a result. Let your emotions flow and sit with them for as long as you need before you begin to figure out the best way to handle your unintended pregnancy. With the right support, you might even begin to feel like your unplanned pregnancy is a blessing in disguise.
Step 3: Confide in your Loved Ones
An important step to coping with an unplanned pregnancy in California is surrounding yourself with friends and family with who you feel comfortable with. These people will make up your supports system. While you never have to tell anyone about your unplanned pregnancy, the stress of an unplanned pregnancy can be difficult to deal with on your own. The people who make up your support system can give you a shoulder to lean on and offer financial and emotional support.
If you are in touch and have a good relationship with the baby's birth father, he could be a key member of your support system. If you feel comfortable doing so, you can include him in deciding the best way to deal with the unplanned pregnancy in California. If you are not on good terms with the birth father, you do not have to include him in your decision-making process.
Step 4: Find a Professional
If you choose to parent in response to your unplanned pregnancy, then this step may not be for you. However, if you want to go with a different option — like adoption or abortion — then you will need professional support.
While confiding in others regarding your unplanned pregnancy, you might experience less than positive reactions. Friends and family may react in a disappointed or unsupportive manner to your unplanned pregnancy choices. This can be difficult and frustrating to deal with, but it doesn't have to define your pregnancy. This is your pregnancy and your baby. You are the only one who gets to make these decisions. You know which decision will be most beneficial to for you and your baby long-term. If you do experience push-back don't hesitate to set boundaries with these individuals and make it clear that this is your choice.
If you choose adoption for your baby, you can contact American Adoptions. We will always be on your side. While support from family and friends is not guaranteed, you can feel safe, confident and hopeful about your future with our support.
No matter what, your adoption specialist will always be a dedicated member of your support system. We will be by your side through all the twists and turns. Our counselors can provide you with the unplanned pregnancy counseling you might need as well as help connect you with important resources. Even if you're not sure if adoption is for you, we will always be available to give you the support you need.
"Even though adoption was the hardest decision I will ever make in my life, American Adoptions also made it the best decision I've ever made in my life," Erika, a woman who chose adoption for her baby, said of the support she received from her adoption specialist. "Even to this day, I know that every time I call Shannon I feel like I am her only birth mom that she has to deal with because she has no problem talking to me and listening to everything I have to say."
Working with American Adoptions of California
If adoption stands out to you as the best way forward to deal with your unplanned pregnancy, American Adoptions has you covered. We are a local affiliate of a national adoption agency, which means we can provide you with the resources and services you need to make your pregnancy and adoption easier. By operating as an adoption facilitator in California and partnering with a local California affiliate agency, these resources include:
What's Next?
If you're considering adoption today, or you want to learn more about how to deal with an unplanned pregnancy, American Adoptions is here for you. You can get free information and support at any time by calling 1-800-ADOPTION or by contacting us online.
Disclaimer
Information available through these links is the sole property of the companies and organizations listed therein. American Adoptions provides this information as a courtesy and is in no way responsible for its content or accuracy.