Are You Ready to Adopt a Baby?
4 Reasons You Should Adopt With Us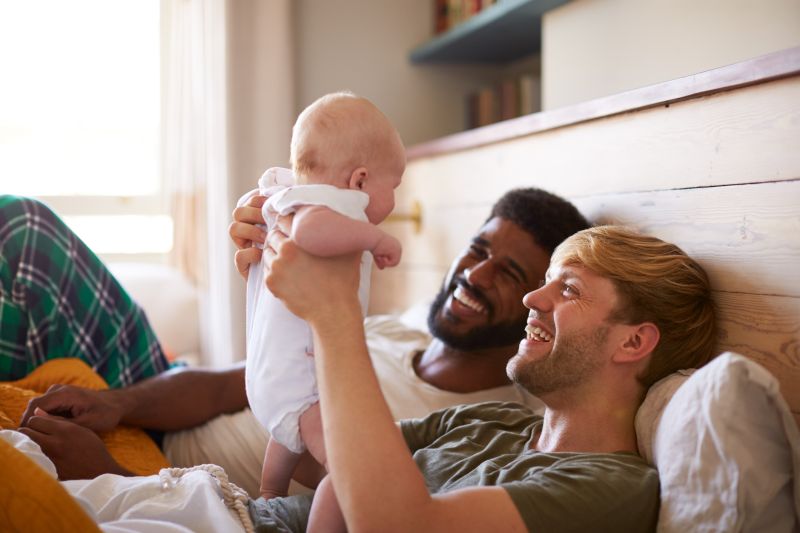 Finding the right adoption professional to help you adopt a baby in California shouldn't have to be difficult. The adoption professional that handles your placement will significantly impact your experience with adoption. And American Adoptions of California is ready to support you with all our services and resources.
The adoption process can be complicated at times. But our adoption specialists at American Adoptions of California guide you through all parts of your journey, no matter how difficult it might become.
So, whether or not you're sure adopting a baby in California is the best option for you right now, this guide will show you questions other hopeful adoptive parents have asked and the top four signs you are ready to adopt a baby in California with us.
If you are a prospective birth mother searching for information on the best adoption professionals, you can fill out this free online contact form or call us at 1-800-ADOPTION. We are ready to provide you with important information about our industry-leading adoption services and support and how you can create an adoption plan today.
4 Reasons You Should Adopt a Baby with American Adoptions of California
As a couple considering baby adoption in California, you undoubtedly have a lot of questions. This can also be a very emotional time because this is such a big choice! We're here to help.
Infant adoption is a big step. Whether you chose this path because of infertility or because you feel it's the right thing to do, we want you to have all the information on adopting a baby in California that you need as you make this decision.
Here are a few of the services and helpful resources American Adoptions of California will provide you:
1. We Offer 24/7 Professional Support
Because of the obstacles you might face during this process — like emotional stress, potential longer waiting periods and financial concerns — there will be moments when you need to talk to your adoption professional right away. Those moments don't always happen during business hours. The best adoption professionals realize this, which is why we have 24/7 availability.
In addition to being there for the needs of adoptive families during time-sensitive moments like the hospital stay, 24/7 counseling and support is important for prospective birth mothers as well who have already made the difficult but selfless decision of giving their baby up for adoption.
But whether you are just starting to consider adopting a baby in California or are far along in the adoption process, this kind of counseling and availability is vital, and American Adoptions of California recognizes that.
2. We Offer Financial Transparency and Honest Estimates
Many adoptive families' biggest concerns and questions involve the cost of adoption. The process can be expensive. But knowing how an adoption professional handles adoption fees can tell you everything you need to know about them and their purpose.
When you have questions for a potential adoption professional you might want to work with, there are a few things to look for in their answers:
Transparency

Professionalism

Honesty

Compassion
The most reputable and reliable adoption professionals, like American Adoptions of California, won't low-ball cost estimates to lure families in. We are open and honest about the likely adoption cost and what that cost is paying for.
When adopting a baby in California, adoptive parents may pay birth parent expenses, including:
Attorney's fees

Medical fees

Counseling fees

Living expenses

And more
American Adoptions of California will give you the complete picture up-front when it comes to the cost associated with adoption.
3. We Offer Financial Protection
Along with being transparent about costs, we will protect the financial investment of all hopeful adoptive families who work with us. On the rare occasion, adoptive families can experience adoption disruptions for a variety of reasons.
There is an emotional loss when an adoption disruption occurs. But, with American Adoptions of California, there doesn't have to be a financial loss. We have a comprehensive risk-sharing program that protects your funds in the case of an adoption disruption.
Unlike other adoption professionals that will just roll over your money into a future potential adoption opportunity, we will refund eligible adoption expenses back to you. We understand how heartbreaking it can be to lose an opportunity at adopting a baby, and some families may choose to end their search because of a disruption.
Note: Adoption is always 100% free for prospective birth mothers.
4. We Offer Nationwide Advertising
As a local affiliate of a national adoption professional, we can work with prospective birth parents from all over the country. This means more pregnant women considering adoption can see your adoption profile.
"Advertising" in adoption is the process of showing adoptive family profiles to prospective birth mothers and creating better adoption opportunities for you.
The family profile gives you a platform to share your story. With American Adoptions of California, you will also create an adoption video profile that has proven to benefit hopeful adoptive families more than those who just create a profile page.
In general, there are many other qualities to look for in the best adoption professionals in California, but these four factors are what set American Adoptions of California apart from the others. If you have more questions about adopting a baby in California, or about the benefits of working with American Adoptions, you can get more information about adoption.
4 Signs You Are Ready to Adopt a Baby in California
So, why adopt a child? How do adopt a baby in California and how do you know if this is the right time?
Whatever the case may be for considering adoption, this list will help you determine if you truly are ready to adopt a baby in California:
I can provide a child with a safe, stable and loving home.

I am ready to love a child unconditionally, whether we share any genetics.

My partner and I are on the same page about adoption.

I understand that there will be emotional highs and lows during the adoption process.
If you found yourself nodding along and relating to this list, then baby adoption in California could be the right way to grow your family. If you want more reasons to consider adopting a baby in California, this link offers 23 more.
Do you have any more questions about adopting a baby in California? Or, are you ready to begin the process? You can contact us at 1-800-ADOPTION today.
Disclaimer
Information available through these links is the sole property of the companies and organizations listed therein. American Adoptions provides this information as a courtesy and is in no way responsible for its content or accuracy.