San Francisco Adoption Agencies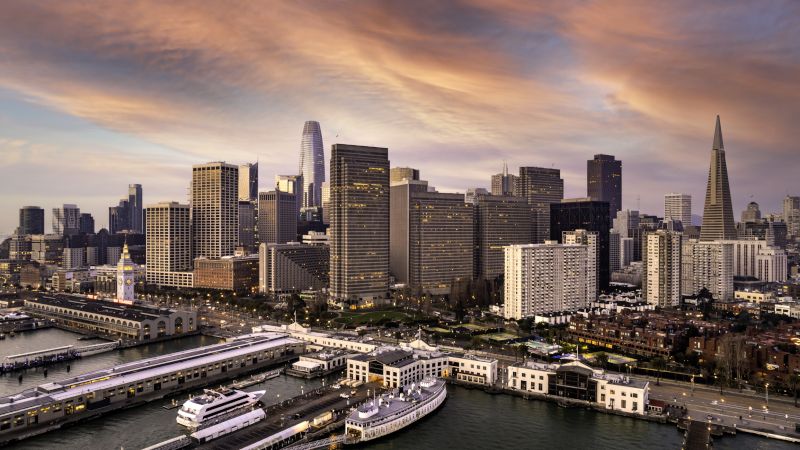 When it comes to starting your San Francisco adoption journey, we understand if you're feeling overwhelmed. But, don't worry. We're here to help you learn about the various types of adoption agencies in the Bay Area.
Whether you're a prospective birth mother exploring unplanned pregnancy options or you're contemplating expanding your family through adoption, our comprehensive guide can help you navigate the intricacies of the process. With our dedicated guidance, you can complete your adoption journey in San Francisco with confidence, knowing that we'll help you have a smooth, stress-free adoption process.
If you're a prospective birth mother or hopeful adoptive parent, then contact us online or call 1-800-ADOPTION now to speak with an adoption professional.
Why Should I Use a San Francisco Adoption Agency?
Choosing a San Francisco adoption agency, like American Adoptions of California, offers many advantages and ensures a safer adoption experience compared to using an adoption center or attorney. We go above and beyond to provide a wide range of California adoption services and support throughout the entire adoption journey.
From counseling and guidance for expectant birth parents to help with home studies, matching and post-adoption support for adoptive families, we're committed to addressing all aspects of the adoption process. Our extensive network of professionals, including social workers, attorneys and counselors, ensures that every step is handled with care.
By entrusting your adoption journey to an agency, you gain access to resources, personalized support and a structured process that prioritizes the well-being and safety of all involved. With a San Francisco adoption agency like American Adoptions, you can navigate the adoption process knowing that you're in the hands of experienced professionals dedicated to creating positive, successful adoption outcomes.
How to Place a Baby for Adoption in San Francisco
As you pursue adoption in San Francisco, the process may vary based on your circumstances. Although every adoption is different, there is a general process you can expect. If you're considering placing your baby up for adoption in San Francisco, then you can anticipate these five steps:
We have developed an extraordinary infant adoption program tailored to provide unwavering support and unmatched Bay Area adoption services throughout the process. We recognize that the decision to place your baby for adoption in San Francisco takes a lot of courage and selflessness. With our dedicated infant adoption program, you can find comfort knowing that your baby will be embraced by a loving adoptive family.
How to Adopt in San Francisco
For those considering adoption in the Bay Area, the process will differ based on the specific type of adoption you choose to pursue. Each type comes with its own set of requirements, but they all share a common purpose: to offer a child a nurturing, loving home with a caring family. Below is a comprehensive breakdown of the various types of adoption available in San Francisco:
Domestic Infant Adoption
Domestic infant adoption in the Bay Area refers to the process of adopting a newborn in the U.S. It involves birth parents voluntarily placing their child with an adoptive family of their choosing, typically through the assistance of an adoption agency, like American Adoptions.
As one of the best adoption agencies in the Bay Area, we take pride in our reputation for excellence. What sets us apart is our commitment to providing a comprehensive range of services all under one roof. Unlike other adoption professionals, we offer everything you need to complete the adoption process seamlessly and efficiently.
If you're looking to start the adoption process with our agency, then here's what the process typically looks like:
We understand the complexities involved in adoption and strive to make the process as streamlined as possible, ensuring that you have all the resources and support necessary to create a loving, permanent family through adoption.
Foster Care Adoption
Foster care adoption is a great path if you want to adopt an older child. As an affiliate of American Adoptions, Family Connections Christian Adoptions specializes in connecting hopeful parents with children who are eagerly awaiting their forever families. Renowned as one of the top foster care agencies in San Francisco, FCCA provides unwavering support and education to ensure a smooth, stress-free adoption journey.
If your ultimate goal is to foster-to-adopt in San Francisco, then our fos-adopt program focuses on low-risk placements, greatly minimizing the likelihood of adoption disruptions after a child is placed in your home. Due to the urgent need for supportive families, it's rare for planned adoptions to fall through with older children in our program.
Below are five steps involved in the foster care adoption process:
Step 1: Contact our agency and attend informational sessions.

Step 2: Complete the adoption home study and foster care approval.

Step 3: Find a waiting child in foster care and submit an inquiry.

Step 4: Welcome the child into your home and receive monthly visits from a social worker.

Step 5: Finalize the placement.
Learn More
As you begin your San Francisco adoption journey, we're here for you every step of the way. Our dedicated team of adoption specialists is committed to standing by your side throughout the entire process, providing you with the highest level of support possible.
With our unwavering commitment, you can rest assured that you'll receive the best care and guidance as you navigate the path to adoption in San Francisco.
If you're ready to begin the adoption process, then contact us online or call 1-800-ADOPTION to get more free adoption information now. Our specialists are ready to help you begin your adoption journey.
Disclaimer
Information available through these links is the sole property of the companies and organizations listed therein. American Adoptions provides this information as a courtesy and is in no way responsible for its content or accuracy.