Find an Adoptive Family in California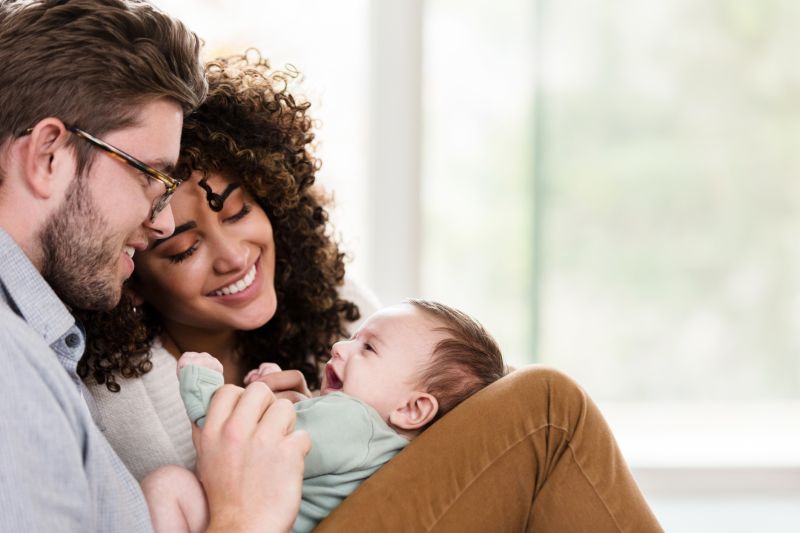 You can find the perfect adoptive parents for your baby in California. This is one of the most exciting and important decisions you can make, and we want to ensure you have the best opportunities possible.
If you're pregnant and considering adoption in California, one of the biggest decisions you will make is finding the right family for your baby. You may have preferences on what you want in a family but may not know where to find them.
American Adoptions is here to help.
No matter if you are just beginning to think of the perfect family for your baby, or are ready to get started viewing hopeful adoptive families, this guide explains the process of searching for and finding adoptive parents in California.
As one of the nation's largest domestic infant adoption professionals, your search for hopeful adoptive families can include families not only in California but all around the United States. By working with more adoptive families than most other professionals, we provide birth mothers with more opportunities to find the perfect match for an adoptive family.
When it comes to such an important decision, finding adoptive parents for your baby should be exciting, not stressful. We are here to help make sure that holds true.
If you're searching for couples looking to adopt in California or have questions about what you should look for or how to get started, you can give us a call anytime at 1-800-ADOPTION or fill out this online form. By doing so, an adoption specialist will get in touch with you to explain the process and help you narrow down your preferences for the perfect family.
Until then, keep reading this guide on finding an adoptive family in California.
5 Steps for Finding and Choosing Families Looking to Adopt in California
Do you know how to find families looking to adopt in California? The process might surprise you.
As a birth mother, you are in complete control of your adoption plan — which includes the family you want to place your baby with. Although this is an important decision, rest easy knowing that your adoption specialist will be by your side every step of the way.
The process for finding and choosing the adoptive family for your baby can be broken down into 5 steps.
Step 1: Determine what type of family you are looking for
The first step, which is arguably one of the most important, is to determine the preferences you have when looking for parents to adopt your baby in California. These preferences can be as detailed as you want them to be. Although this sounds like a difficult task, it's easy to ask yourself how you would want your child to be raised. Keep in mind, this is all your personal preference, so there are no right or wrong characteristics to look for.
Maybe you:
You are in complete control of the type of family you want to find and want to choose. American Adoptions can provide you with families that are as close to those preferences as possible. We work with hopeful adoptive parents from across the country, from all different ethnic, relationship, religious, and other types of backgrounds. This wide array of opportunities increases your chances of finding the right family for your baby.
Step 2: Begin reviewing adoptive family profiles
Once you have discussed the preferences you have for an adoptive family with your specialist, they will begin providing you with adoptive family profiles that match what you are looking for.
Adoptive families with American Adoptions create video adoptive profiles online for birth mothers. The goal of these profiles is to give you a look into the family's life and a glimpse at their true personality. They want to display their intentions for adopting, and more, all with the hopes of making a connection to birth mothers like you. These videos include stories, interviews, questions and answers, and other helpful insights to help you determine potential candidates to adopt your baby.
These families can be local to you, or anywhere in the United States. It's all up to your personal preference. Families outside of the California area are open to traveling to you if necessary, so do not let that detour you from considering out-of-state adoptive families.
Once you find a family or families you are interested in, you will let your specialist know so that they can help facilitate communication between the two of you. This may take place via emails, text, phone calls, video chats, or even in-person meetings — it depends on your preference, availability, and comfort level.
The purpose of these conversations and meetings is to give you both the opportunity to get to know each other better and determine if the initial connection could lead to a strong enough relationship that you would want to place your child with them.
With such an important decision, you want to weigh your options and make sure to review as many families looking to adopt in California (or anywhere else) as you feel necessary until you are completely comfortable and excited about your decision. There is no rush, you are in complete control of when you place your child and who it is with.
Keep in mind the families in these adoptive profiles are:
Excited and ready to provide your child a loving and supportive home
Have been thoroughly screened and are approved to legally adopt a child
May have been waiting for months or years to find the perfect adoption opportunity
Are open to the thought of post-adoption communication and an open adoption relationship.
Are committed to adoption.
Step 3: Decide on the adoptive family for your baby
Once you have narrowed down the potential adoptive parent candidates and met with each of them to discuss any questions you may have, it is time to select a family to place your baby with. This is an exciting moment, as you are beginning a life-changing relationship and have found the family that will provide your child with a lifetime of love and support.
Your adoption specialist will inform the family of your decision and begin working on your hospital plan and placement details. Depending upon your communication preferences, you may continue to get to know the family throughout your pregnancy and keep the lines of communication open. This is a great opportunity to strengthen and grow your relationship pre-placement.
Step 4: Placing your baby with the adoptive family
When the time comes to deliver your baby, your adoption specialist will have already worked with you to create your hospital and placement plan. This plan will detail things such as, where you will deliver your baby, who you want in the hospital room with you, how much alone time (if any) you would like with your baby, how you prefer placement to be handled, and more.
Having this plan in place helps lessen the chance of confusion or added stressors. Adoptive families are aware of your plans and will follow them as close as possible. Depending upon your preferences, you may meet with them, hand-deliver your baby to them, and more. It is all based on your personal preferences for placement and your hospital stay.
Your adoption specialist will go into detail on the importance of having this plan in place.
Step 5: Continue to build your relationship post-placement
All adoptive families that work with American Adoptions are open to pursuing an open adoption. Open adoption gives you the opportunity to not only stay up to date with your child's life but in some cases, remain directly involved.
The level of involvement is dependent upon the level of openness you agreed to with the adoptive family before placement. Although you are in control of the type of adoption you wish to pursue, your adoption specialist will educate you on the benefits open adoption can bring, not only for your child but also for you and the adoptive family as well.
American Adoptions can help facilitate post-adoption contact with birth and adoptive families for up to 18 years, so you'll always have a resource to help you stay in touch.
Learn More About Finding Adoptive Parents in California
This is a brief but informative guide on finding adoptive parents in California for your baby. Although it is such an important decision, it does not have to be a stressful one. American Adoptions is here to help make the process as easy and exciting as possible.
Call us at 1-800-ADOPTION or fill out this online form to get more information on choosing the best adoptive family for your baby. If, at any point, you would like to get a jumpstart on your search, follow this link to view hopeful adoptive families that would love to meet you.
Disclaimer
Information available through these links is the sole property of the companies and organizations listed therein. American Adoptions provides this information as a courtesy and is in no way responsible for its content or accuracy.