3 Options for Teen Pregnancy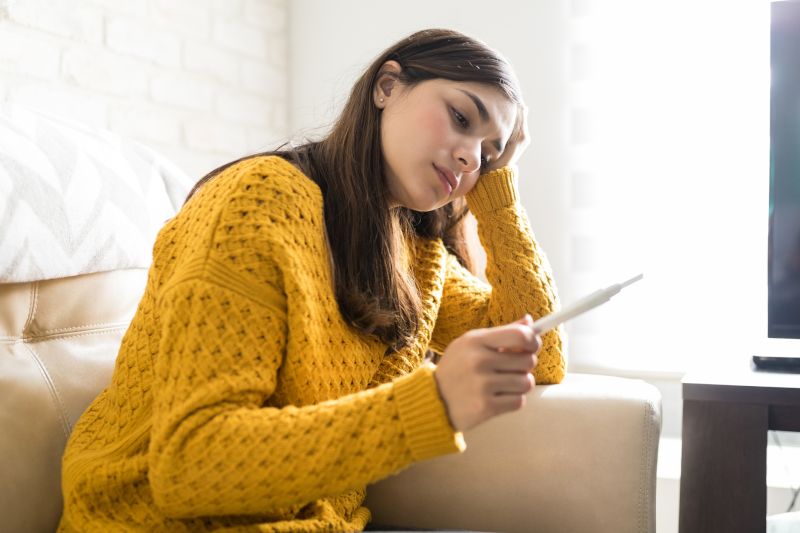 You have options for your teen pregnancy, and American Adoptions of California is here to help. Call 1-800-ADOPTION at any time to get the support you need.
Discovering an unplanned teenage pregnancy can be a lot to take in. You're at a point in your life where you're figuring out who you are and what you want to do. You're not alone.
There are roughly 750,000 teen pregnancies in the U.S. every year.

If you've discovered you're unexpectedly pregnant and aren't sure where to turn, you always have options available to you. And American Adoptions can help you find the one that's right for you.

With over 30 years of adoption experience, we've helped many minors cope with their unintended pregnancy.
After you discover your unplanned pregnancy, you will find out that there are three options a teen has if she's pregnant in California:
No matter what your circumstances are, you will always be able to decide how to handle your unwanted teenage pregnancy. Even though you're a minor, you have autonomy over your own body, and only you should be able to choose how you want your pregnancy to go. If you have questions about the available options for a pregnant teenage girl, our adoption specialists are here for you. We will answer any questions you may have and make sure you understand all your options so that you can make the right decision for you and your baby.
Here are the basics you should know about each option before moving forward:
1. Adoption in California
If you're dealing with an unwanted teenage pregnancy and know you're not ready to parent, adoption could be a great choice for you. Regardless of your status as a minor, adoption is always an option for you. Here's what you should know about adoption:
Choosing to "give your baby up" for adoption is a brave and selfless choice.

While you might see phrases like "give your baby up" or "give up your baby," adoption couldn't be further from giving up.

You're giving them a chance to have a life full of opportunity.
During a time where you might not feel prepared to raise a child, adoption can change your and your baby's life for the better. If you do choose adoption, you will always be in control of your adoption plan. You will be able to make all your own decisions and plan the direction you want your adoption to go.
Our adoption specialists will help guide you through the adoption planning process and will answer your questions, but will never try to pressure you into making any decisions. You'll even be able to choose the family that will raise your baby. American Adoptions of California is a local affiliate of a national adoption agency, which means we work with hopeful adoptive parents in all 50 states. By operating as an adoption facilitator in California and partnering with a local California affiliate agency, we can help you find the perfect family for your baby.
While you will have to carry your unwanted teenage pregnancy in California to term, our adoption specialists will work with you to make sure you have everything you need during your pregnancy and adoption process.
American Adoptions can provide you with:
24/7 counseling and support services: Unintended teenage pregnancy can be a lot to deal with. It's a very emotional experience. Our adoption counselors can help you talk through these feelings and provide a shoulder to lean on.
Financial assistance: As an expectant mother, adoption will always be free to you. As a teenager, you are likely not financially dependent. Even if your parents are helping you with some expenses, financial assistance will cover all pregnancy-related expenses.
Open Adoption. You will be able to stay in touch with your child in whatever way you see fit. You will be able to connect with your child and their adoptive family through texts, calls, emails, phone calls and in-person visits.
And more.
For many birth mothers, adoption was not just an option they chose, it was the best decision they made for both their baby and themselves. Erika, a birth mother who chose American Adoptions to help her with the adoption of her baby, thinks of her decision as the best thing she could have done.
"Even though adoption was the hardest decision I will ever make in my life, American Adoptions also made it the best decision I've ever made in my life," Erika said.
2. Abortion in California
If you're not sure how to deal with an unplanned teenage pregnancy in California, getting an abortion is an option for you. In fact, in the state of California, you may not need your parent's consent to obtain an abortion. While terminating your pregnancy is a quick solution to ending your pregnancy, it can be complicated since abortion laws vary from state to state. In California, there isn't a specific cutoff on when you can choose abortion. However, unless there are special circumstances, you will not be able to terminate your unintended teenage pregnancy once the fetus is able to survive outside the uterus. This is something that will be determined by a doctor.
The decision to choose abortion might be met with prejudice and pushback. Not everyone agrees with abortion due to religious or moral reasons, and others might not understand why you've chosen this option. While this can be difficult, don't let it affect your decision-making. If you feel abortion is right for you, then you should look into it. In fact, 90% of women don't regret choosing to abort. Before deciding if abortion is right for you in how to deal with your unwanted teenage pregnancy, talk to your doctor or an unplanned pregnancy counselor.
3. Parenting in California
If you're dealing with an unintended teenage pregnancy and feel like you're in a situation where you can parent, this is an option for you. However, it's important to give this decision a lot of thought. Parenthood is a beautiful journey, but it comes with its fair share of challenges and responsibilities.
An unwanted teenage pregnancy could be even more challenging if you are not financially independent. You might need to continue living with your parents for financial support and put your own educational and/or career goals on hold while you parent your child.
Before choosing parenting as a way to cope with your unplanned teenage pregnancy, you should speak with an unplanned pregnancy counselor so they can sit down with you and carefully review your options. You never have to parent if you don't feel you're ready.
Moving Forward
To learn more about choosing adoption for your unwanted teenage pregnancy in California, contact our adoption specialists now or call 1-800-ADOPTION. We can help you figure out which unplanned teenage pregnancy option is right for you or help you begin your adoption journey.
Disclaimer
Information available through these links is the sole property of the companies and organizations listed therein. American Adoptions, Inc. provides this information as a courtesy and is in no way responsible for its content or accuracy.