LGBTQ Adoption in California
A Beautiful Way to Start or Grow Your Family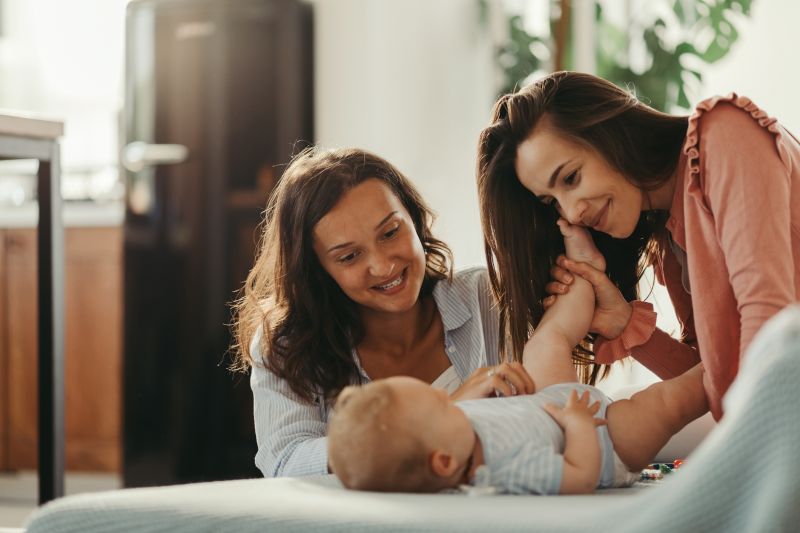 We've all heard the saying, "Love is love is love." When we think about love, we think about family. No matter who you are, everyone deserves a loving and caring family. At American Adoptions of California, we support every family we help get started or grow. LGBTQ families wanting to adopt in California are included equally with our services.
American Adoptions in California is always ready to help families with California same-sex adoption. In this article, we'll explain how adoptions for LGBTQ families in California work, answer your questions, and help you find the support you need.
If you'd like to get more information about starting your California adoption process today, you can get more free information here.
How Gay Adoption in California Works
Overall, the adoption process for same-sex couples in California is no different than it is for other adoptive parents.
The adoption process is broken down into different steps, which helps all adoptive parents find the right path for them for their adoption journey. At American Adoptions, our program, costs, and wait times are the same for LGBTQ families as they are for other families.
Everyone deserves a chance at a loving and caring family, and American Adoptions makes sure no one feels left out in that opportunity.
Common Questions About California Same-Sex Adoption
Adoption can be such an eye-opening experience, but we also realize it brings its own challenges. It can be overwhelming and stressful. But, it doesn't have to be that way with our help.
American Adoptions provides the resources and services you will need throughout your California-state adoption journey. However, we understand you may still have questions, and that is perfectly normal.
With every new experience, asking questions is one of the best ways to learn before diving in. It's important to make sure you know what the adoption process looks like for you and your family. Below, we've provided some detailed answers to common questions we often see about same-sex adoption in California.
Are there California Laws on Gay Adoption?
Simply put, the state of California:
Permits single LGBTQ individuals to adopt
Permits a same-sex couple to adopt
Permits a same-sex partner to adopt their partner's child or child of the relationship
In California, there are requirements to be able to proceed with an adoption:
You must be at least 10 years older than the adoptive child, and there is no set age limit
You do not have to be married to be able to adopt, but the state does require those who are married to have been married at least 2 years
When Was Same-Sex Adoption in California Legalized?
Same-sex adoption in California has been legal since 2003, allowing step-parent adoption and joint adoption between same-sex couples.
California has a long history of non-discrimination in adoption. The state of California is among the best in the nation for equality, and provides benefits to same-sex partners and individuals.
Was There a California Gay Adoption Ban?
In 2008, California passed Proposition 8, California's marriage equality ban. There was fear from marriage equality opponents who argued that children needed both a mother and a father. They also claimed that marriage equality would require homosexuality to be taught in schools.
After the proposition passed, LGBTQ advocates were able to flip the ban through strong cases presented to courts. The U.S. Supreme Court also cited children's well-being as a key argument in favor of marriage equality in is 2013 and 2015 rulings.
However, it wasn't until 2017 that the Supreme Court affirmed that marriage equality at the national level, meaning same-sex couples have the right to be on their children's birth certificates and be legally recognized as parents.
Marriage equality also allowed same-sex couples to adopt in every state across the country. However, there are several states that have now implemented laws based on religious freedom that allow child care agencies to discriminate against members of the LGBTQ community in adoption and foster care.
Are there LGBTQ-Friendly Adoption Agencies in California?
California provides excellent connections in the way of LGBTQ-friendly adoption agencies. American Adoptions' adoption process is the same for same-sex couples as it is for other adoptive parents.
LGBTQ adoptive parents in California experience the same benefits of the adoption process as other adoptive parents. Being able to experience parenthood, building relationships with the birth families, and just having the opportunity to raise a child in your own home can say it all. What's more, though, same-sex adoptive parents may have a slight advantage, in that they may be more sympathetic and understanding with differences the child may experience growing up.
Regardless of what any adoptive parent faces, American Adoptions will be right there to ensure each and every parent has a positive experience. We are an adoption professional who believes in family, and we are proud to provide adoption services to LGBTQ adoptive parents.
To learn more about starting your same-sex adoption in California, please click here to get more free information today.
Disclaimer
Information available through these links is the sole property of the companies and organizations listed therein. American Adoptions provides this information as a courtesy and is in no way responsible for its content or accuracy.