1-800-ADOPTION
Thank you for viewing our profile
If you would like to learn more about us, please call 1-800-ADOPTION (2367846), fill out the form at the bottom of our on-line profile page, or email us at bp_information@americanadoptions.com.
To revisit our on-line profile page and view our profile video at American Adoptions, simply use your mobile phone to scan the QR code on the right. We are looking forward to hearing from you!
Casey & Hannah
Families come in many forms and we are honored to be considered as potential parents for your child. We will do everything we can for this child to be happy, healthy, and well-loved. As parents, we will share our curiosity, love of the outdoors, and desire to travel. We want to learn more about this child as we grow together as a family. We know this is a big decision and we appreciate your consideration.
About Us
Job
Assistant Professor
Streams Biologist
Education
Ph.D. in Engineering & Public Policy
Master's Degree in Biology
Relationship
Legally Married
Our Leisure Time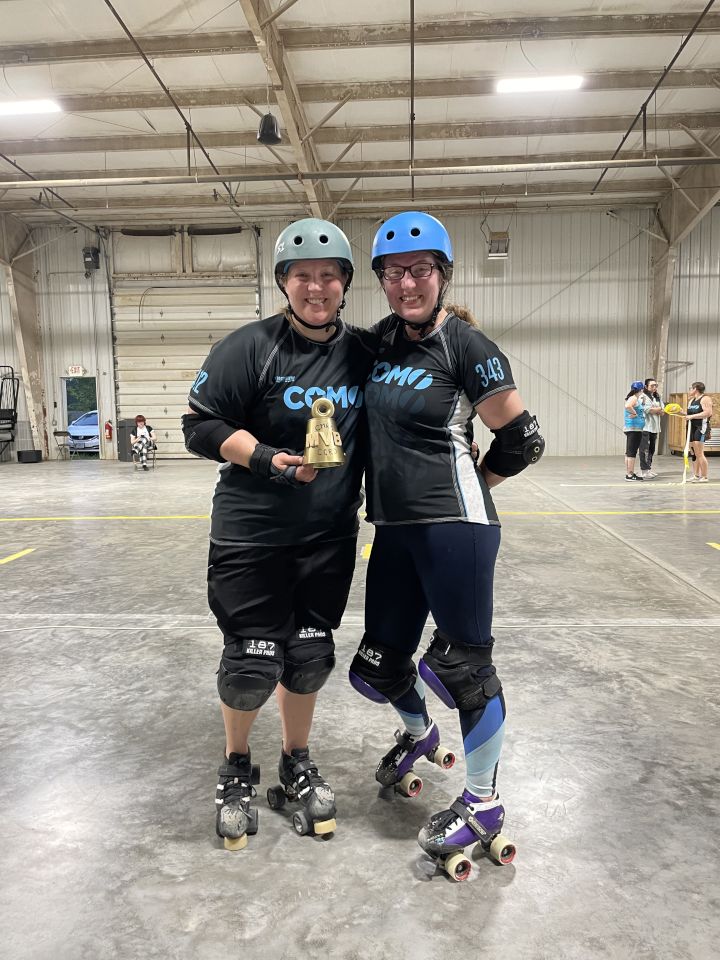 One of the main activities we are involved in together is roller derby! Our league competes regionally in the Midwest and we attend practice twice a week. Our league highly values diversity and includes a wide range of people. Many of our teammates are parents and there are often kids at practice. We are excited to share roller skating with this child and take them to the local roller rink for birthday parties.
In addition, we love spending weekends exploring new cities and places. We are trying to visit every National Park and Historical Monument. One of our favorite trips was backpacking in Rocky Mountain National Park in Colorado. We hiked from a summer day to a snow-covered lake in two days. We love the feeling of being able to completely let go of modern life and just focus on taking that next step, eating that next snack, and sleeping in a cozy tent. We are excited to share our love of nature and the outdoors with this child.
Lastly, we love riding our bicycles in the woods and on local trails. We have even tried taking our dog, Luke, biking in a dog trailer. He is not convinced that it is a good idea! However Luke does love hanging out by the campfire and sleeping in our tent with us.
Qualities We Love, Admire and Respect in Each Other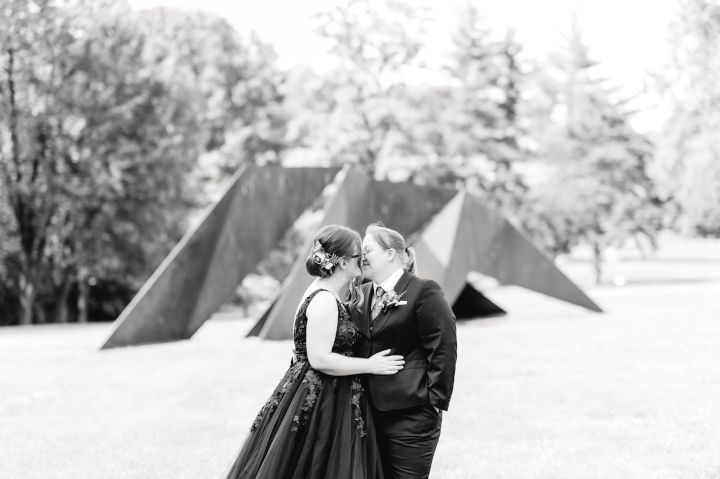 Casey About Hannah: Hannah is the most thoughtful person I have ever met and has made me more considerate of other people's feelings and perspectives. She is always planning ahead to make sure everything goes smoothly - we never run out of anything! When something needs done, Hannah is the most dependable and reliable person to have in your corner. She makes me laugh every day and encourages me to be my best self. I am so excited for her to be a parent and to go on this journey with her.
Hannah About Casey: Casey is the most confident and determined person I know. When we first met, I was astonished that someone could walk through life and take things in stride the way she does. I knew this was a person I wanted to continue to be around. Casey sets goals, plans, and does not quit. When she says she wants to collect every National Park passport stamp, she means it. This quality is reflected in her work and in play. She works to improve her skills to become a better roller derby player and teammate and I admire her for it. Casey is also a child at heart, she loves planning fun into every activity, whether it's getting a little treat while running errands, or taking our friends to a tea party. I cannot wait to go on this adventure together.
Cultural Diversity
We know that children understand the concept of race at a very young age. We will surround this child with role models and toys that reflect the diversity of the world. In addition, we will make sure that they have trusted adults in their life that look like them. We want to make sure that this child knows that we are comfortable talking about race and gender. Regardless of the race of this child, we will make sure that they have the opportunity to be in spaces where sometimes they are in the majority and sometimes they are in the minority. Every year, we go to Pride and enjoy the feeling of being in a space where we fully belong. We will make sure that this child has places outside of our home where they can have that same feeling.
We live in one of the more diverse neighborhoods of our city and are surrounded by children of many different races and ethnicities. We live near several universities, including a historically black college or university (HBCU), that hosts summer camps for children. In addition, we often travel to larger cities like St. Louis and Kansas City, where we love to shop at the international grocery stores and try new foods. Food is such an important element of culture and we think it can be an easy first step for our family to explore and connect to cultures that may differ from our own.
Photos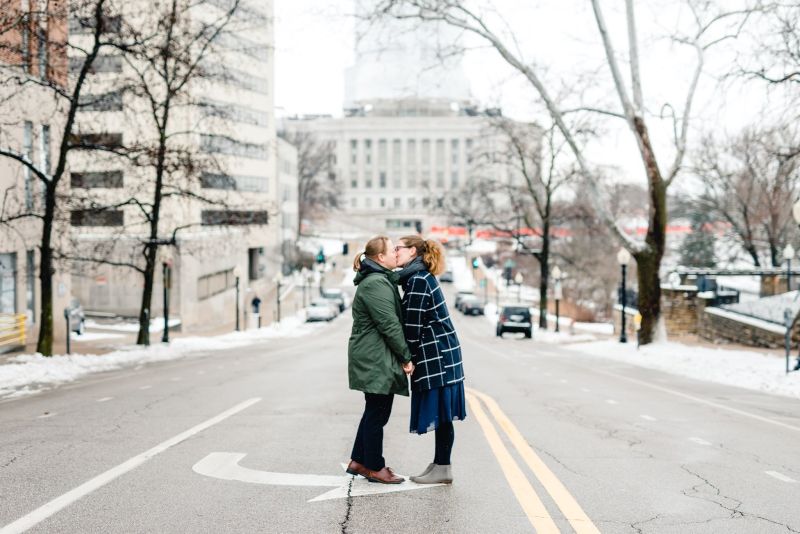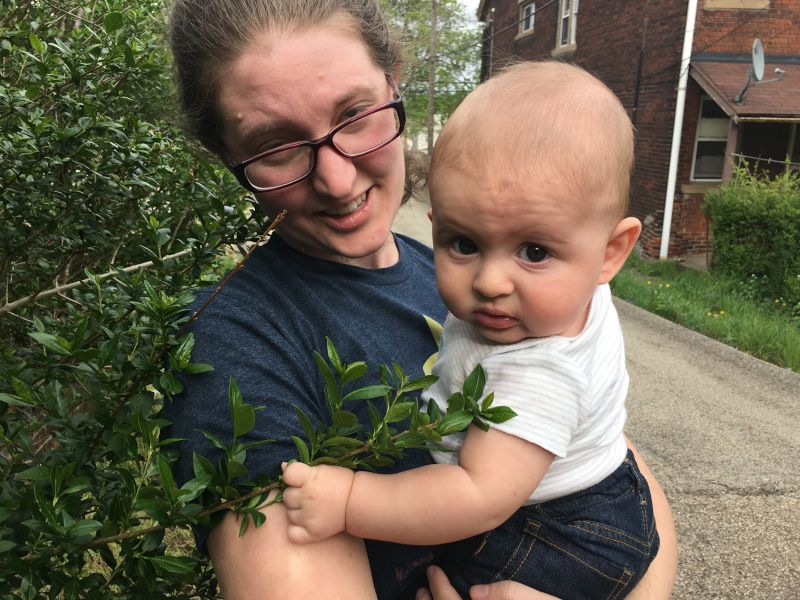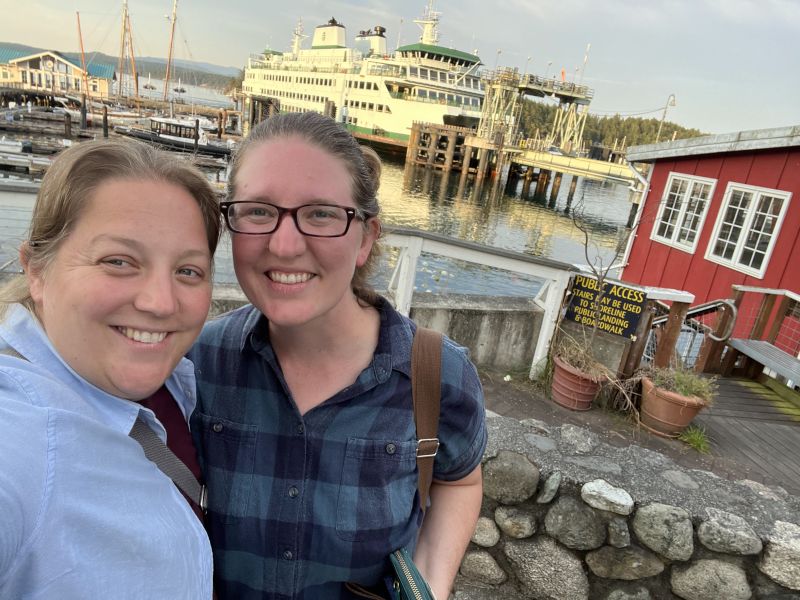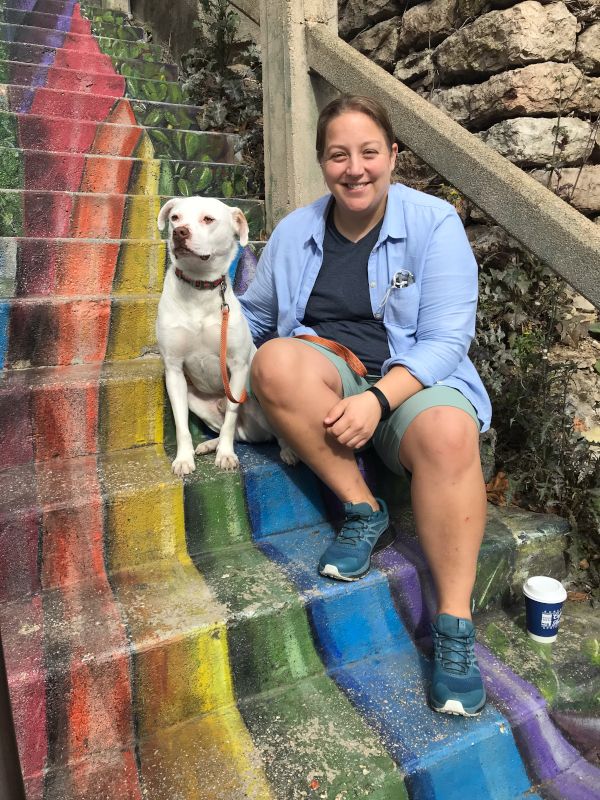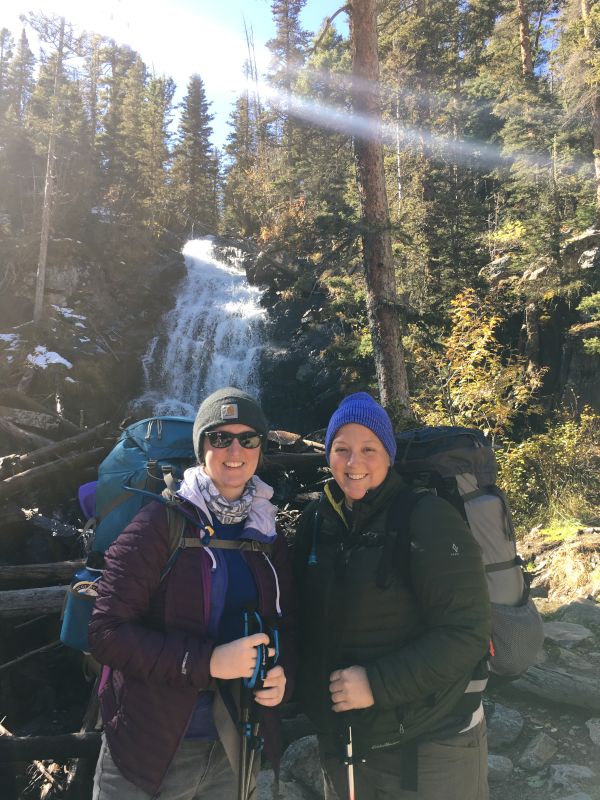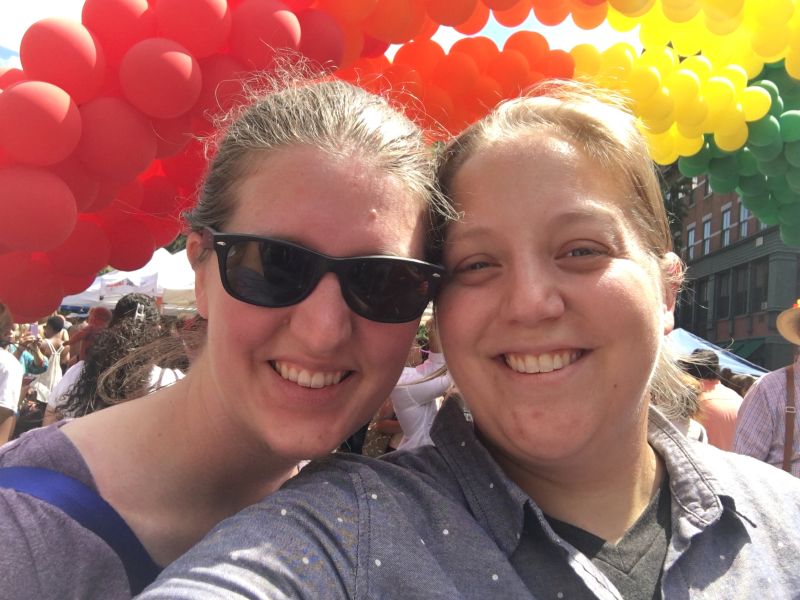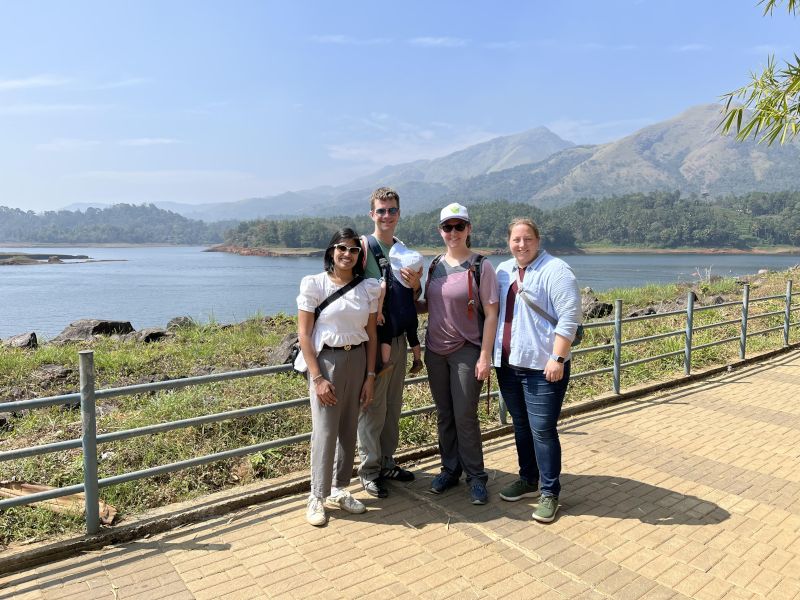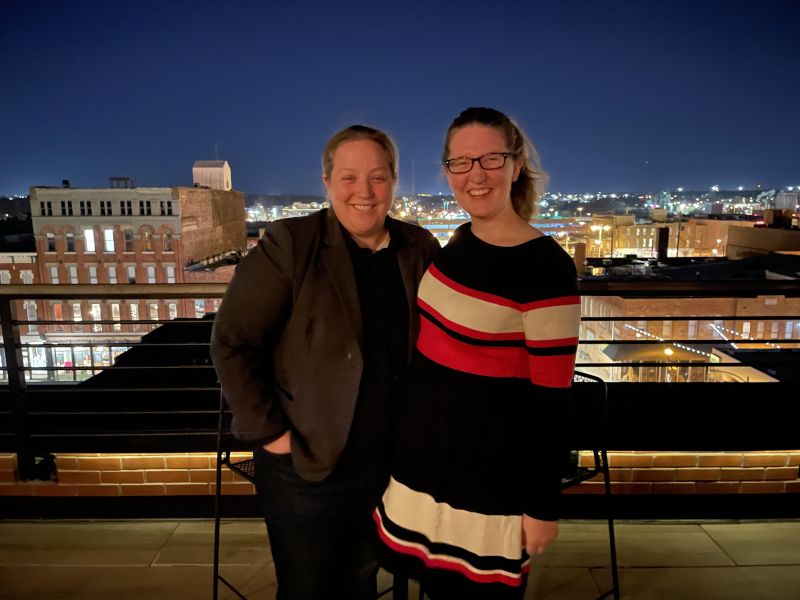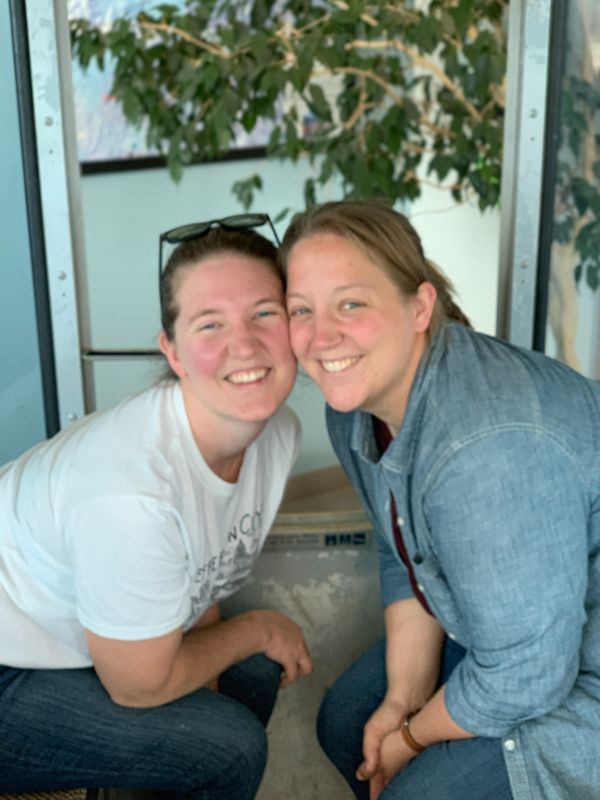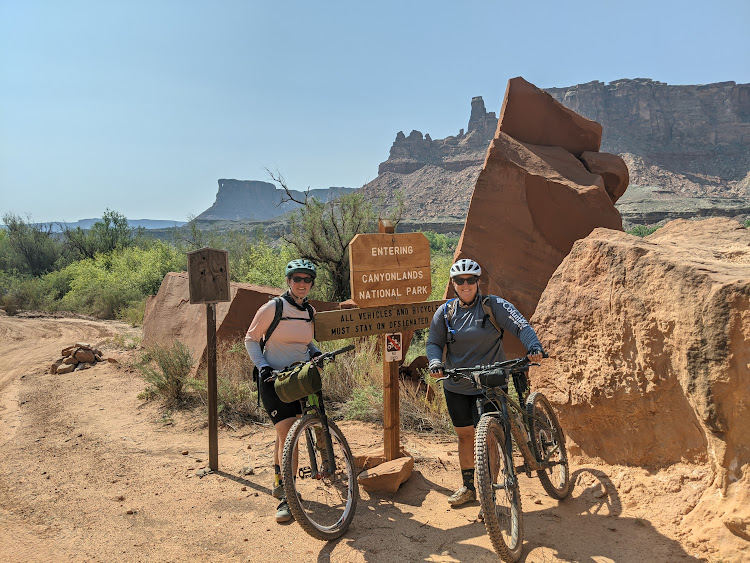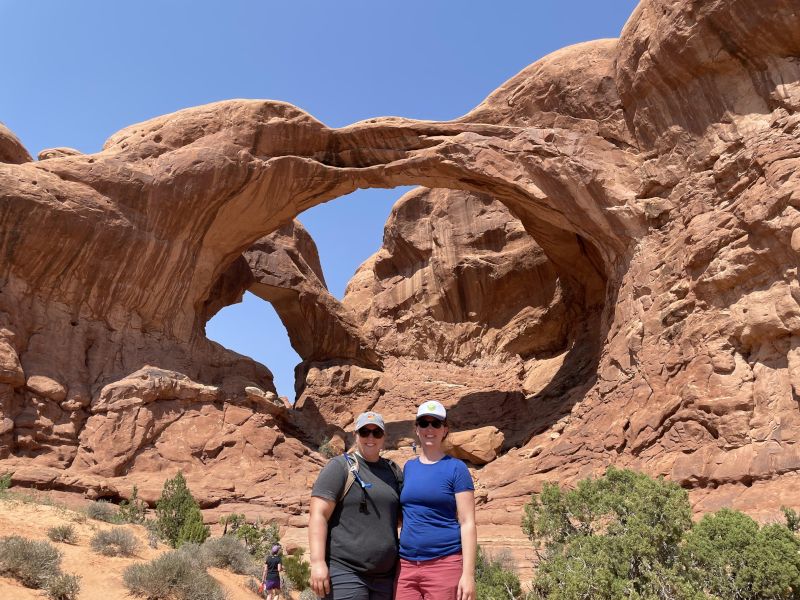 ×
1 / 12
2 / 12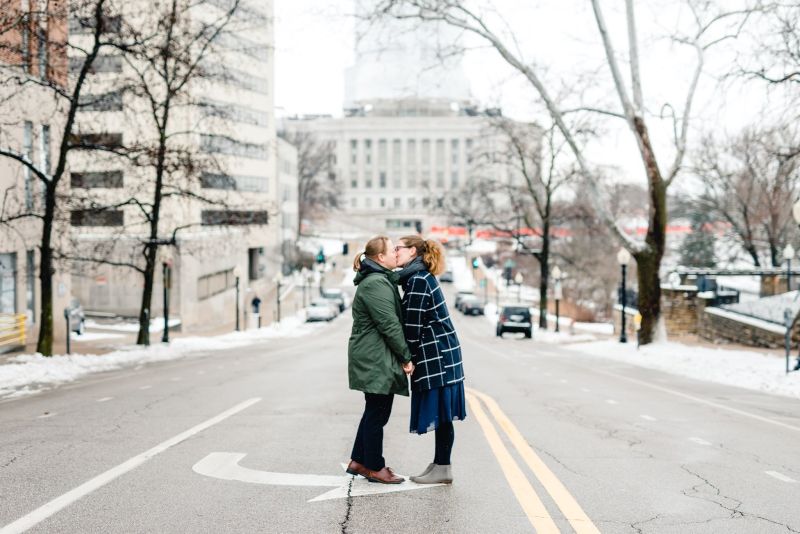 3 / 12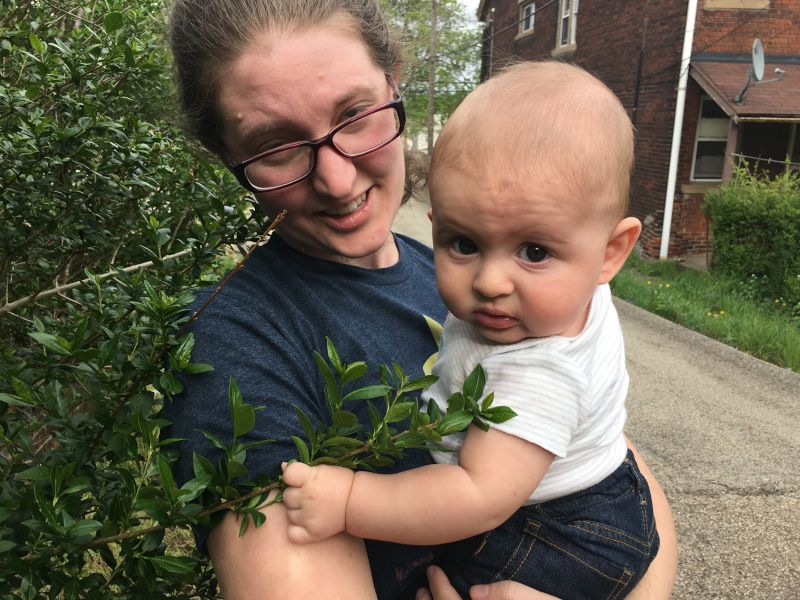 4 / 12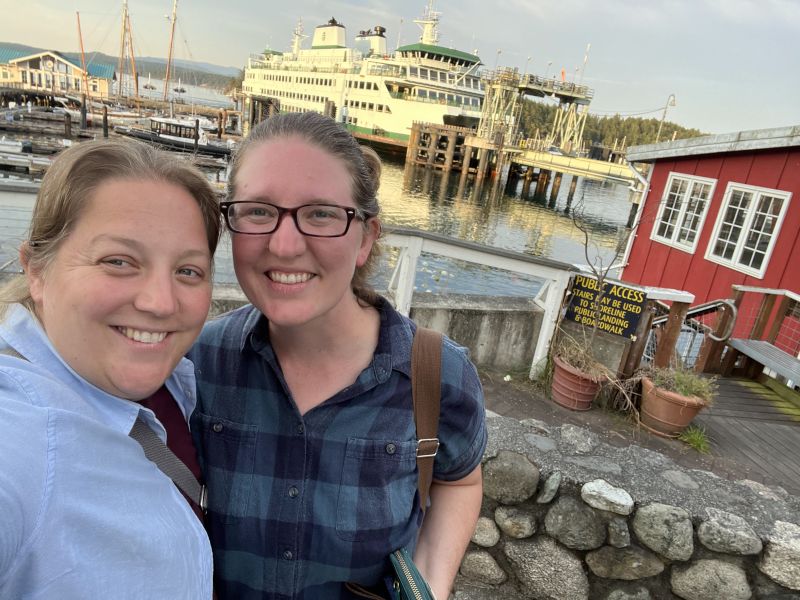 5 / 12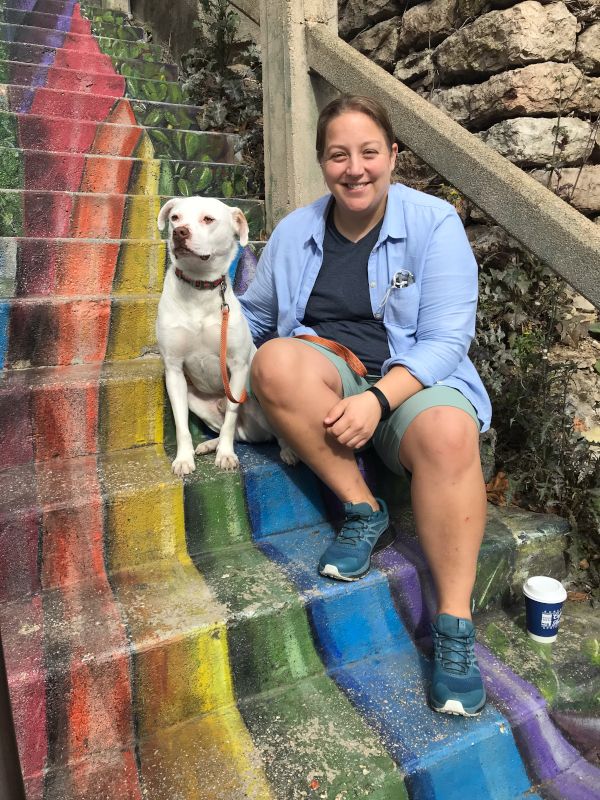 6 / 12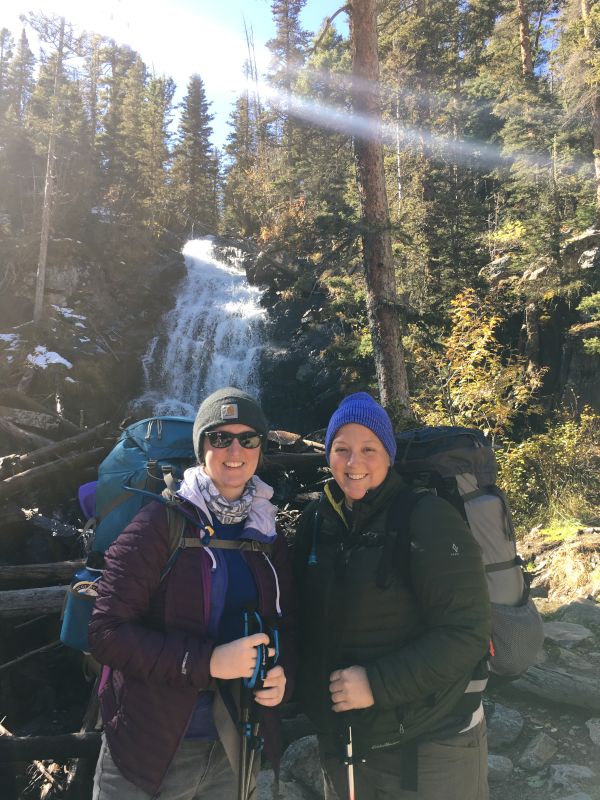 7 / 12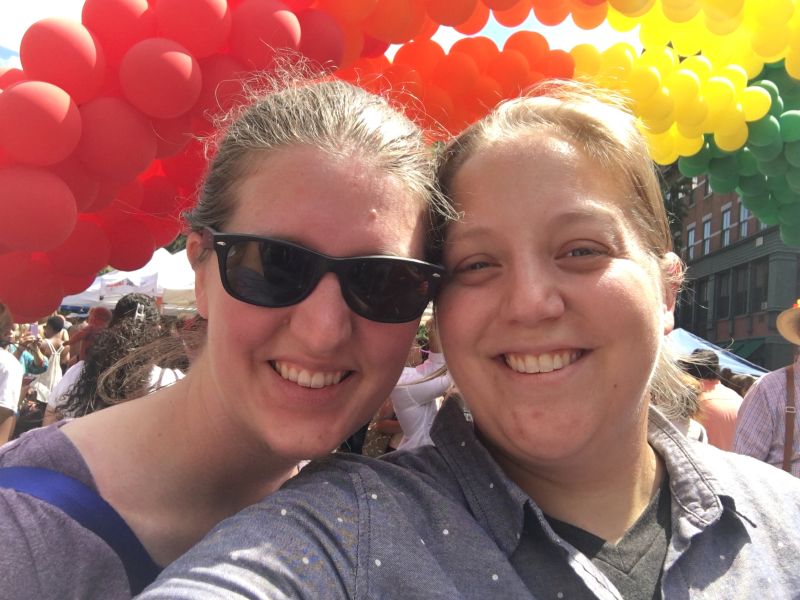 8 / 12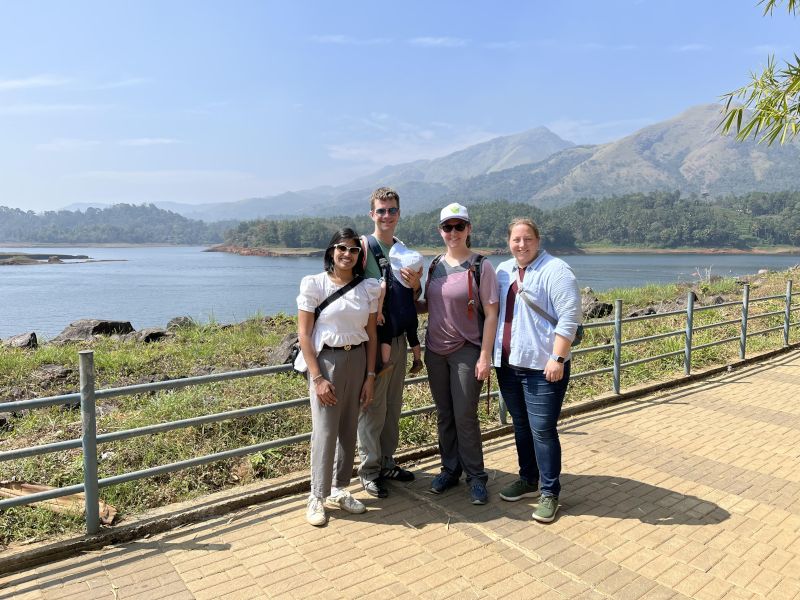 9 / 12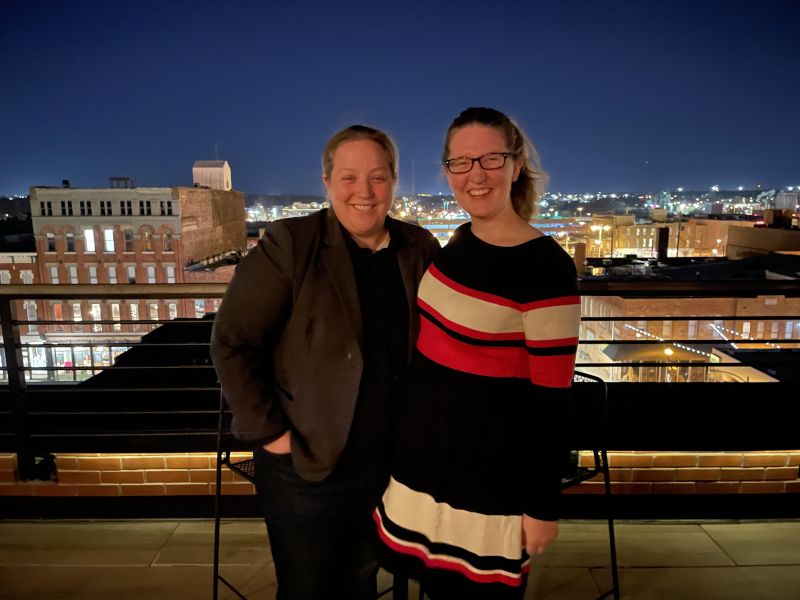 10 / 12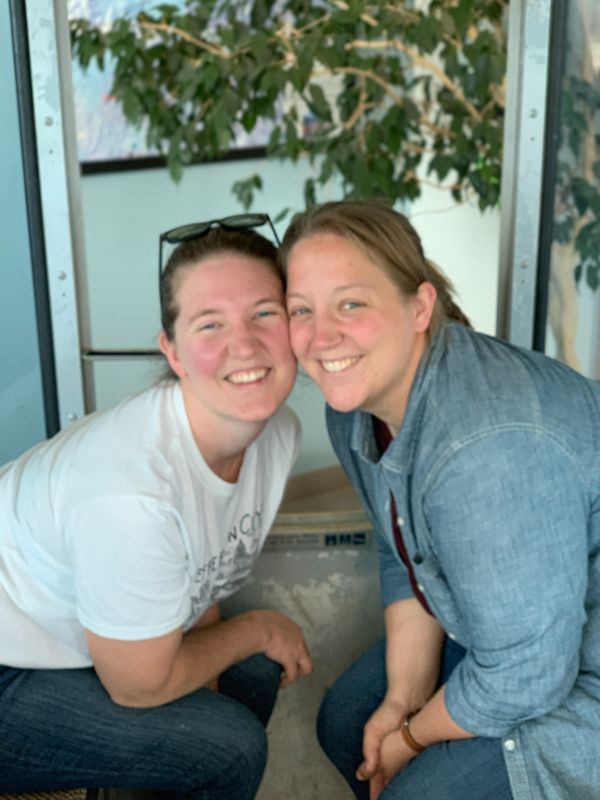 11 / 12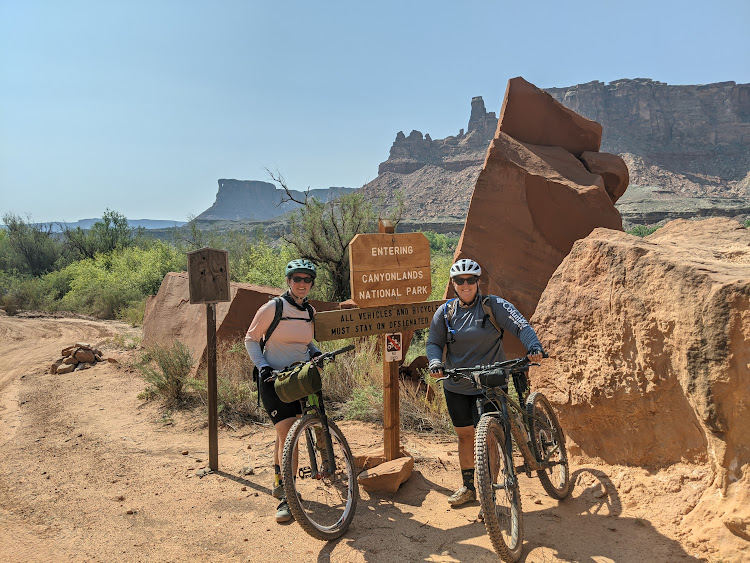 12 / 12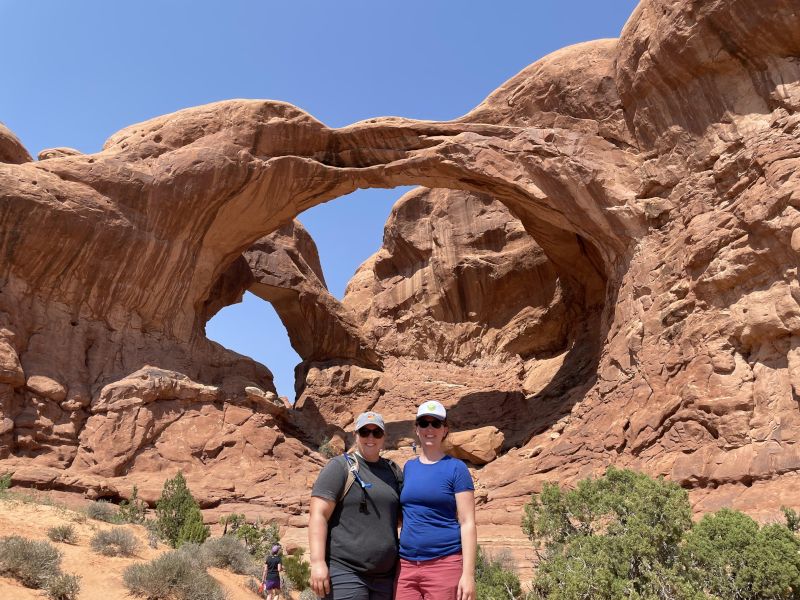 ❮
❯
Our House and Neighborhood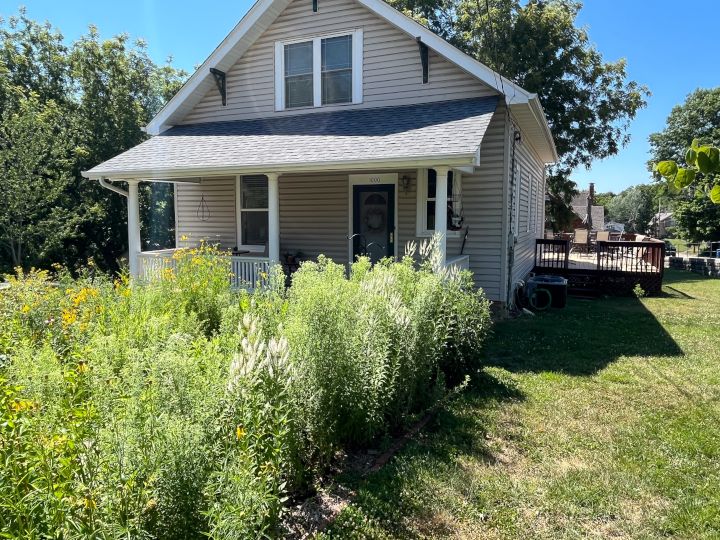 We live in Missouri in a two-bedroom house on the corner. We are very proud of the native wildflower garden in our front yard. We love to sit on our covered front porch while we watch bees, butterflies, and hummingbirds. We also have a large back deck shaded by a tall walnut tree where we enjoy entertaining friends. Our dog, Luke, likes to wander around the yard and then snooze at our feet when we are hanging out. When the weather is nice on the weekend, we will walk downtown to a local cafe with Luke for breakfast. We live in a diverse neighborhood where there are many families and young kids who walk past our house on their way to the nearby elementary school.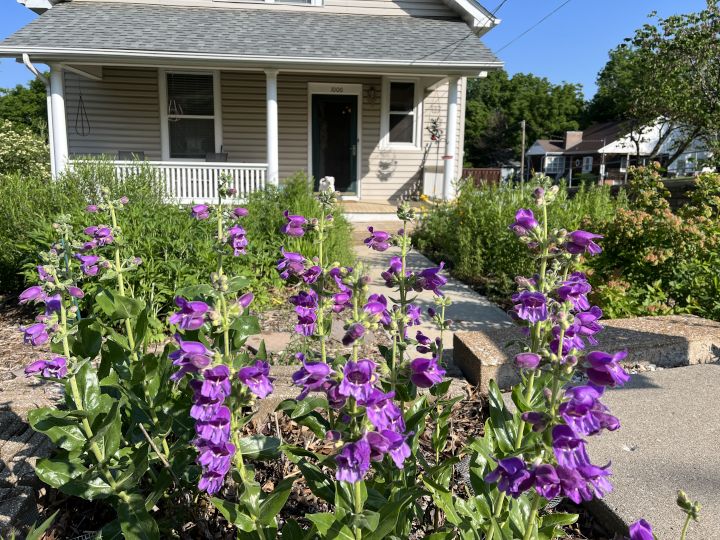 We live in a small city with small town appeal. There are lots of family oriented events and activities at places like our local nature center and library. The library hosts events for kids and provides activity kits to take home! Our city hosts a festival each year where the street is closed to traffic and you are free to roam and listen to live music and there are kids activities like face painting. We have an ice rink as well as a roller skating rink and two community pools. We walk Luke every day at many of the local parks in the area. Our favorite is just a short drive and we see families with children using the playground.
Our Extended Families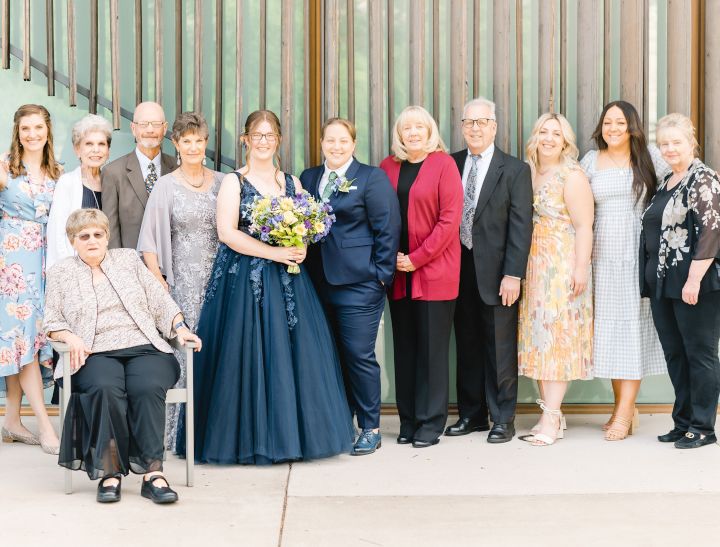 This child will be the first grandchild for both of our parents, who are very excited to welcome them into our family. Casey's mom in particular has been not-so-subtly hinting about wanting a grandchild for quite some time! Casey has one younger sister and Hannah has two younger sisters. We live in a different state than our extended families, but we make sure to visit at least once a year.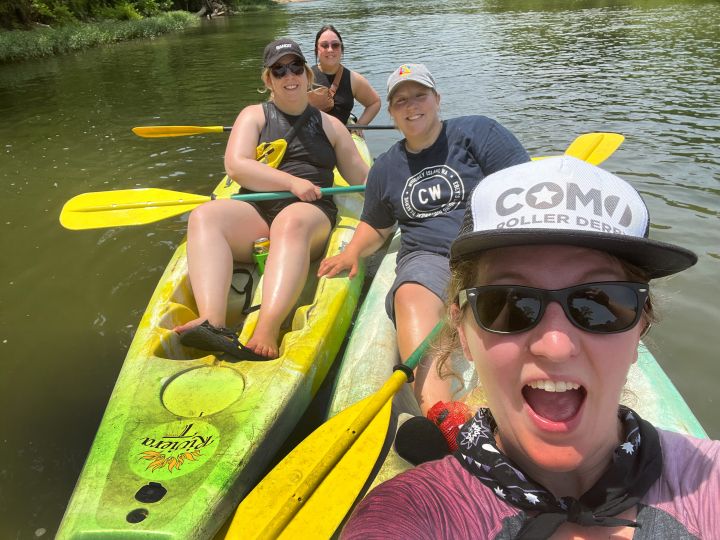 Hannah's sisters recently visited us for a long weekend and we spent time kayaking on one of Missouri's gorgeous rivers and doing some shopping. We spend Christmas with Hannah's family each year in Pennsylvania. We always decorate cookies and usually end up doing a little last minute shopping! Hannah's parents live in the same home where she grew up, so it is full of memories and keepsakes.
Casey's family stops by our home when passing through on road trips. Casey's family recently organized a family fun trip to spend a week mountain-biking and camping together in Utah. We usually spend Thanksgiving in Arizona with Casey's family, which often involves preparing way too many desserts. Casey has grandparents and great aunts/uncles that we get to see on these visits.
From Us to You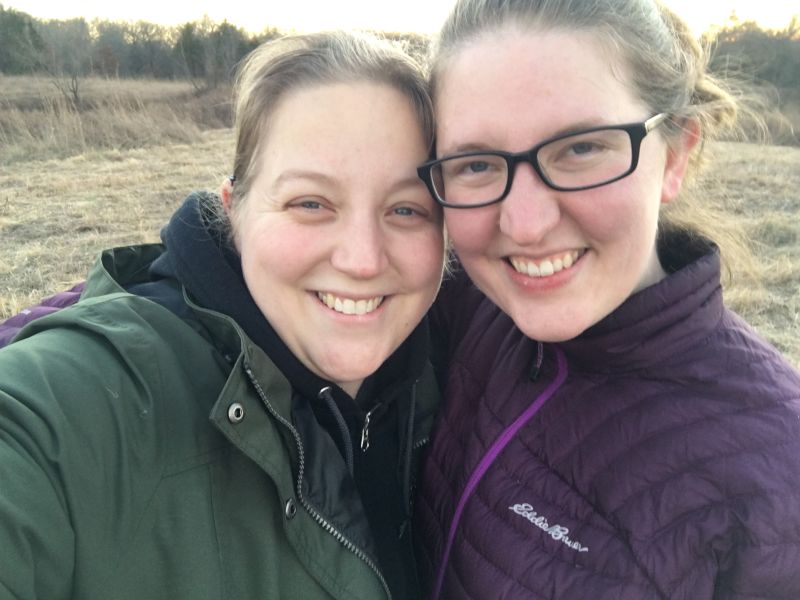 We are so excited about the opportunity to be parents and grateful that you are reading this. While this is an exciting time for us, we also understand that you are making one of the most important decisions you ever will. We hope that our words can offer some peace as you consider adoption. When we started to think about growing our family, it became clear that adoption was our first choice.
We have been married for three years and together for eight! We have been able to experience so much together, from long distance dating, moving away from home, starting new jobs, buying a house, and adopting our first dog. Casey is smart, driven, and fun-loving. She is a child at heart that loves nothing more than a good corn maze, preferably with a scavenger hunt. Hannah is loyal, passionate, and curious. She measures life in experiences. We love traveling near and far, making adventures out of nearby hikes and also visiting larger cities with exciting foods, museums, and culture! We also play in our local roller derby league, which is an active sport with a supportive community of team members that includes many parents. We will encourage this child to be true to themselves, get back up when they fall down, and work hard at things they care about. We want this child to be able to experience all of life alongside us and we are so excited to be able to grow alongside this child.
We have moved away from the places where we grew up, but have loving and supportive parents and siblings. We cherish the time we spend together during the holidays, making memories and following traditions, old and new. We know that this child will be the center of attention as our first child and the first grandchild for both of our parents. We are excited to incorporate new traditions to make sure this child feels connected to their heritage, which may be different than ours.
As a same-sex couple, we know the value of chosen families. We see adoption as a type of chosen family - after all, it's not possible for a kid to have too many moms that love them. As this child grows up, we promise to send photos and notes regularly. Depending on your wishes, we can keep you updated on the big and little changes with texts and phone calls. We want to make sure that this child knows where they come from and can have a relationship with you and your family in the future. We plan to make a book for this child about their adoption story so they can see all the people who love them and keep them close.
We are so thankful that you would consider us and would be deeply honored to be chosen as your child's adoptive parents. Whether these are the last words we exchange or hopefully the start to a meaningful relationship, we wish you the absolute best and cannot thank you enough. There have been times in our lives where we could not imagine making the commitment to parent a child. But we are so ready and excited to be able to make the commitment to you that we will do everything we can for this child to be happy, healthy, and loved. We are committed to being present, supportive, and encouraging to create an environment where this child can become the person they want to be.
Casey & Hannah
Favorites
Book
Song of the Lioness Series by Tamora Pierce
Cartoon
She-Ra and the Princesses of Power
City
Pittsburgh, PA
Pittsburgh, PA
Day of Week
Saturday
Friday
Dessert
Tiramisu
Lemon Berry Mascarpone Cake
Disney Movie
101 Dalmations
Dream Job
Scientist in Antarctica
Zookeeper or backup singer
Family Activity
Visiting National Parks
Flower / Plant
Shady trees
Native wildflowers
Form of Exercise
Roller derby
Mountain biking
Holiday
Thanksgiving
Christmas
Holiday Song
Have yourself a merry little Christmas
Holiday Tradition
Thanksgiving dessert buffet with family
Putting up the Christmas Tree
Ice Cream
Mint chocolate chip
Cookies and cream
Junk Food
Taco Bell
Taco Bell
Leisure Activity
Watching TV
Cycling
Movie
A League of Their Own
The Holiday
Movie Type
Post-Apocalytic Teen Drama
Romantic Comedy
Quality about my Spouse
Resilience/Determination
Confidence
Restaurant
Brewery and a Food Truck
Anywhere with a good patio
Sandwich
Ham and Cheese
PB&J
Song
Rebel Girl by Bikini Kill
Sport to Play
Roller Derby
Roller Derby
Sports Team
Our roller derby team!
Our roller derby team!
Subject in School
Science
Science
Tradition
Baking too many desserts
Christmas morning with family
TV Show Character
Lexa from The 100
Frasier
Vacation Spot
Stone Harbor, NJ
Video Game
Donkey Kong/Crash Bandicoot
Get in Touch
Provide more information, so American Adoptions can connect you with this family.
---