1-800-ADOPTION
Thank you for viewing our profile
If you would like to learn more about us, please call 1-800-ADOPTION (2367846), fill out the form at the bottom of our on-line profile page, or email us at bp_information@americanadoptions.com.
To revisit our on-line profile page and view our profile video at American Adoptions, simply use your mobile phone to scan the QR code on the right. We are looking forward to hearing from you!
Kedar & Erin
Erin is Ms. Thoughtful, Caring and Reliable. Kedar is Mr. Silly, Curious and Charismatic. Together, we are a fun, open-minded and loving couple who can't wait to adopt our first child. We promise to provide that child with unconditional love, support and respect--and a life full of learning and adventure! Thank you for looking at our profile, and we are excited to share this life journey with you.
About Us
Job
Scientist
Magazine Editor
Education
Ph.D. in Biology
Master's Degrees in Anthropology, Science Writing
Relationship
Legally Married
Our Leisure Time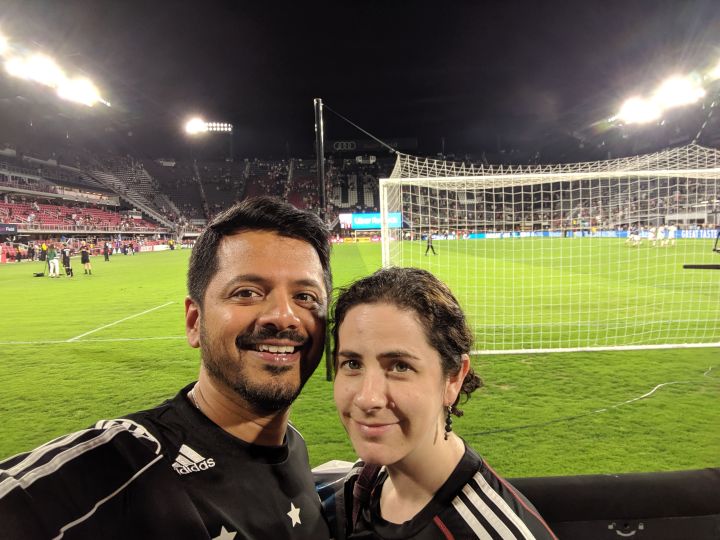 In our spare time, we love exploring new places, whether it's flying to a faraway place like Croatia or sticking close to home and discovering a new neighborhood. On our travels, we like to get out on the water, sailing on a boat or kayaking down a river. At home, we both enjoy reading—comic books and graphic novels for Kedar, mysteries and thrillers for Erin—and playing all sorts of board games with family and friends. Erin likes to try new recipes from the Great British Baking Show while Kedar enjoys pottery and volunteering at a local farm (he's an expert weeder!). On weekends, we watch movies or cheer on our favorite soccer team or Formula 1 racecar drivers. We can't wait to share our passions with a child—going camping, teaching them chess (Kedar was a champion in school), taking them to museums (Erin's a history buff) and attending soccer and other sports games.
Qualities We Love, Admire and Respect in Each Other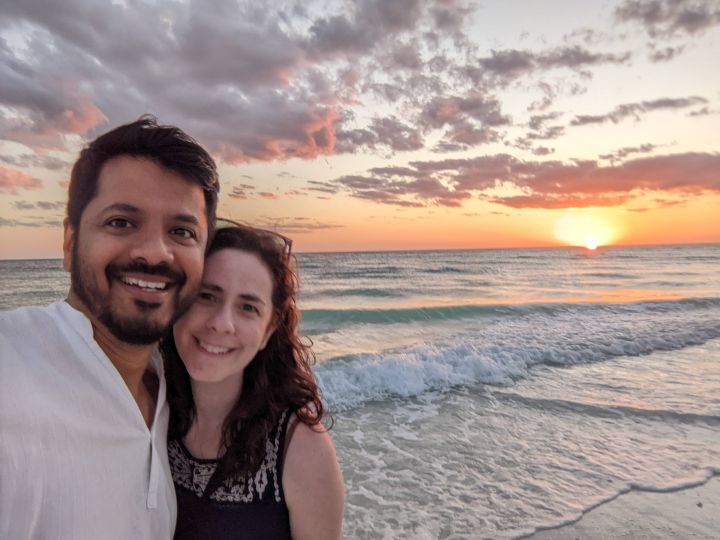 Kedar About Erin: Erin is one of the most compassionate, conscientious and intelligent people I know. She is caring, kind and thoughtful. Whether it's surprise tickets to a concert, or remembering every birthday or simply being present and attentive during difficult times, I know she will always be there for us. She picks me up when I am down and taps the brakes when I need it. She cherishes close family relationships, honesty and integrity. Our differing personalities complement each other—while I'm extroverted and the life of the party, Erin is a good listener and makes sure everyone is attended to. She will be the most caring, loving and attentive mother a child could ask for.
Erin About Kedar: When I met Kedar, I was instantly attracted to his magnetic personality. He's a great storyteller and jokester. He's incredibly smart, but also has a childlike sense of wonder about the world and takes great interest in other people. He's very open and honest, and he's a supportive partner who gives me the push I need to take risks and try new things. We can talk about anything and spend so much of our time together laughing. He's a natural teacher, and kids are drawn to his silly nature. His calm demeanor, playful personality and intelligence will make him a great dad!
Our Family Traditions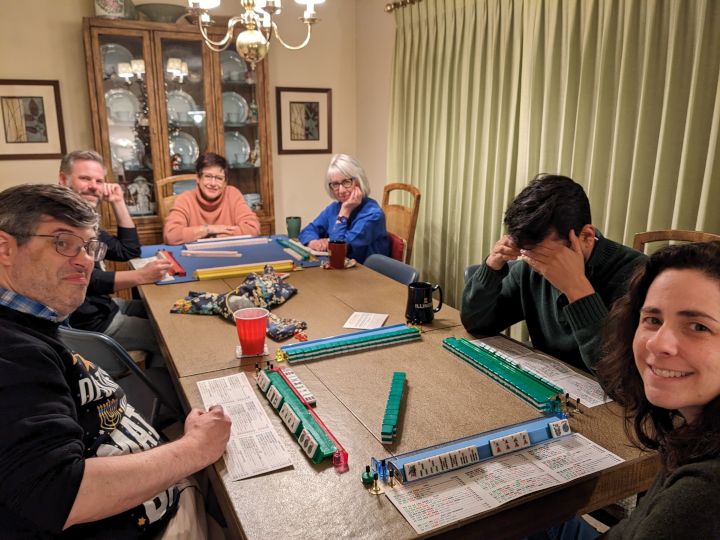 Many of our traditions center around the holidays. We've created an "Indian" Thanksgiving. We cook all the traditional Thanksgiving dishes and then follow that up the next day with a big traditional south Indian meal. Each year at Christmas, Erin's family has a different holiday competition. We've had gift wrapping challenges, talent shows, costume contests, trivia tournaments and game marathons. Games in general are big on both sides of the family. All get-togethers in Kedar's family involve rousing rounds of the Indian card game 28, while Erin's family plays the tile game mahjongg.
When it's just the two of us, we like to get bagels on Sunday mornings or make chocolate chip pancakes and waffles. We also attend our local county fair every year, make trips to our local farmers market, and visit at least one apple orchard or pick-your-own vegetables farm in the fall.
Farther afield, we try to take at least one vacation in the U.S. (often with Erin's family) and one international trip (usually with Kedar's family) every year. We're also trying to visit as many national parks as we can—so far, we've made it to 20—and can't wait to start park hopping with a child!
Photos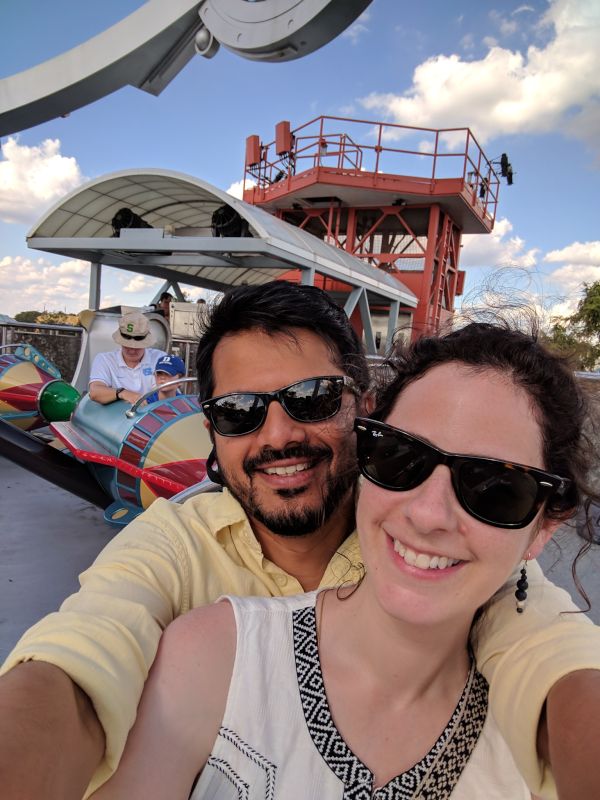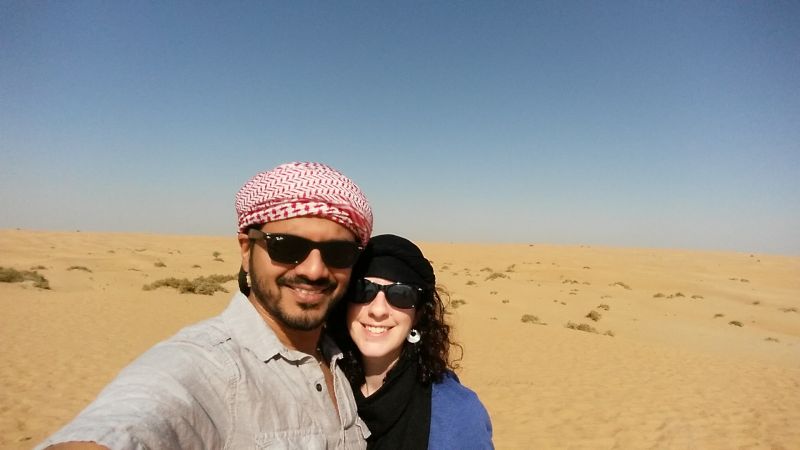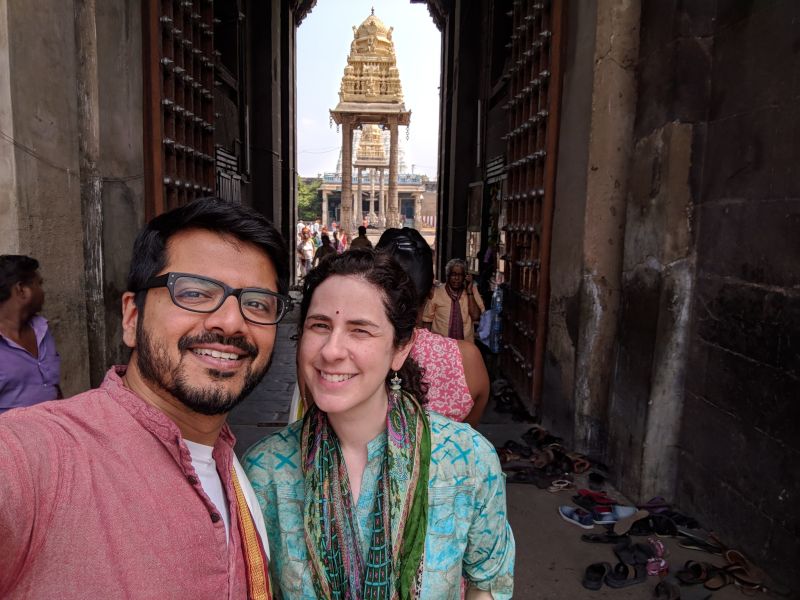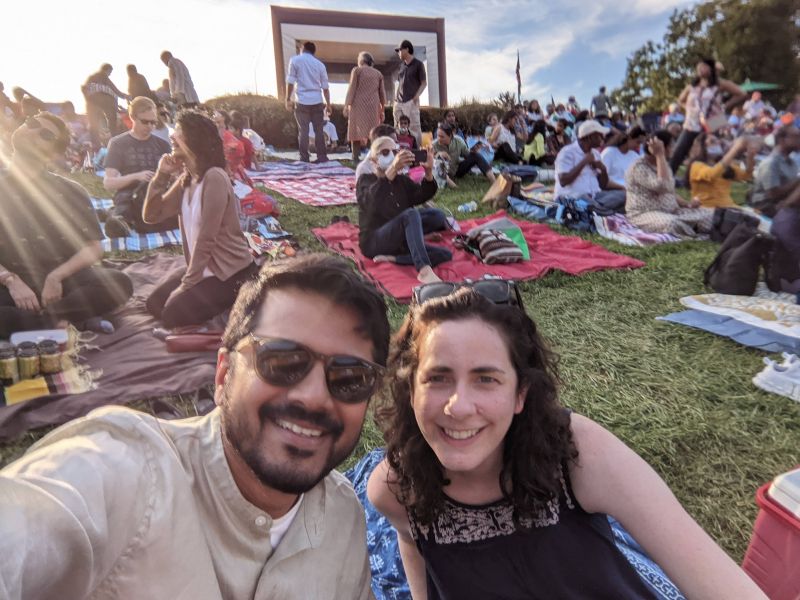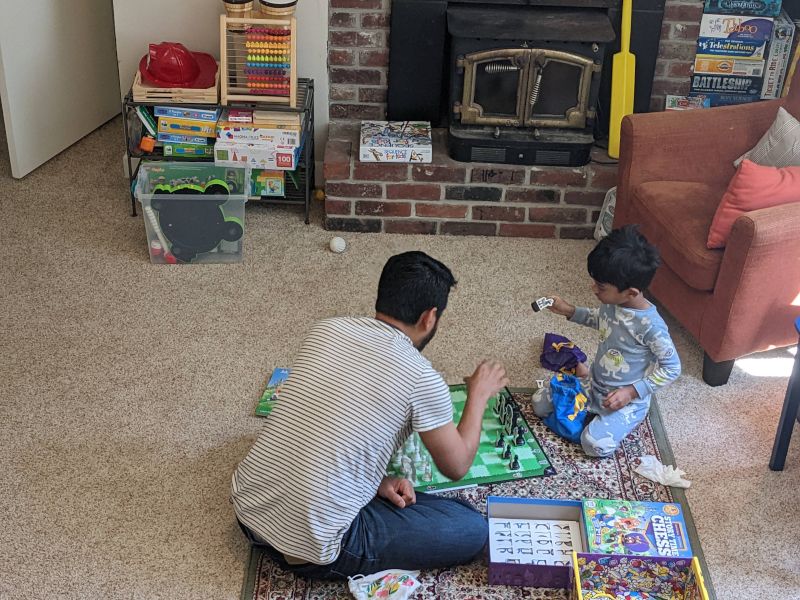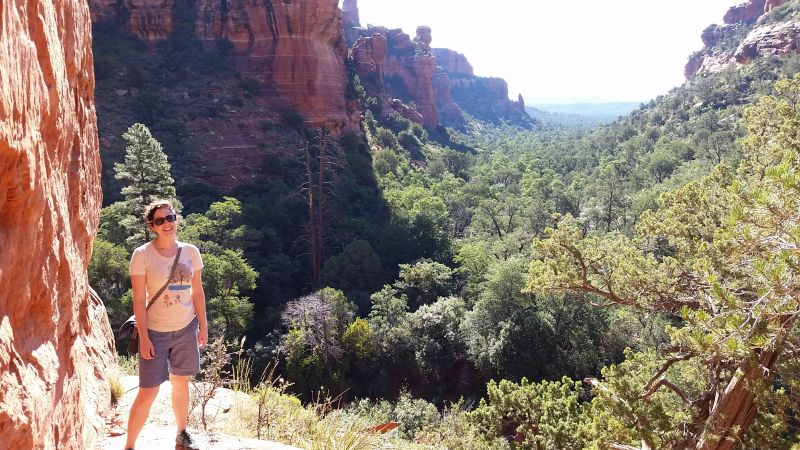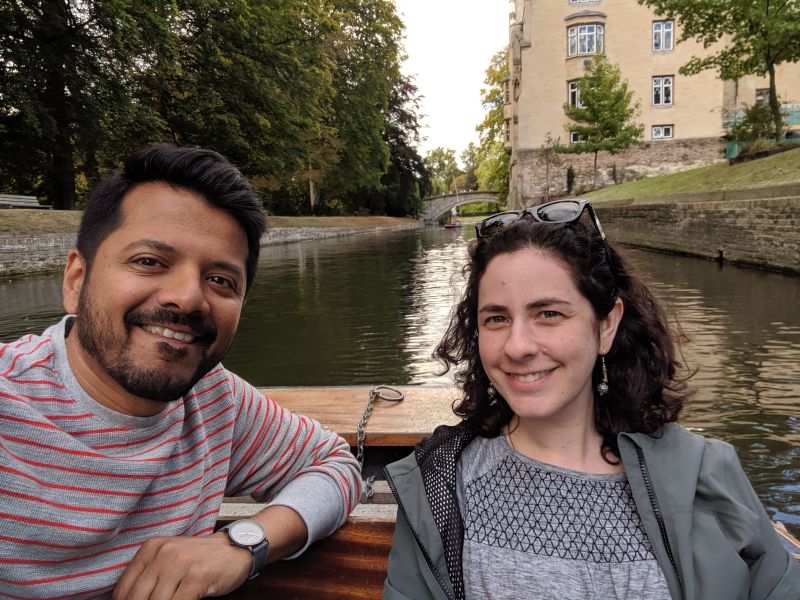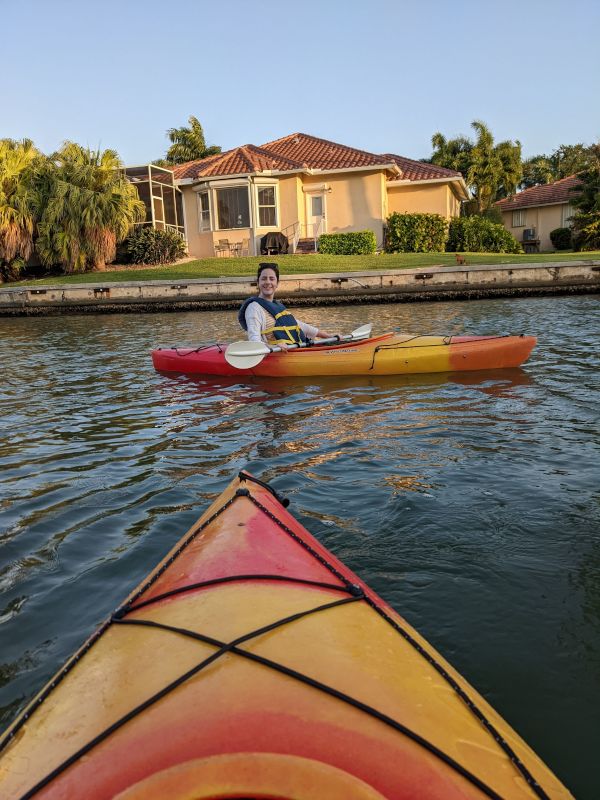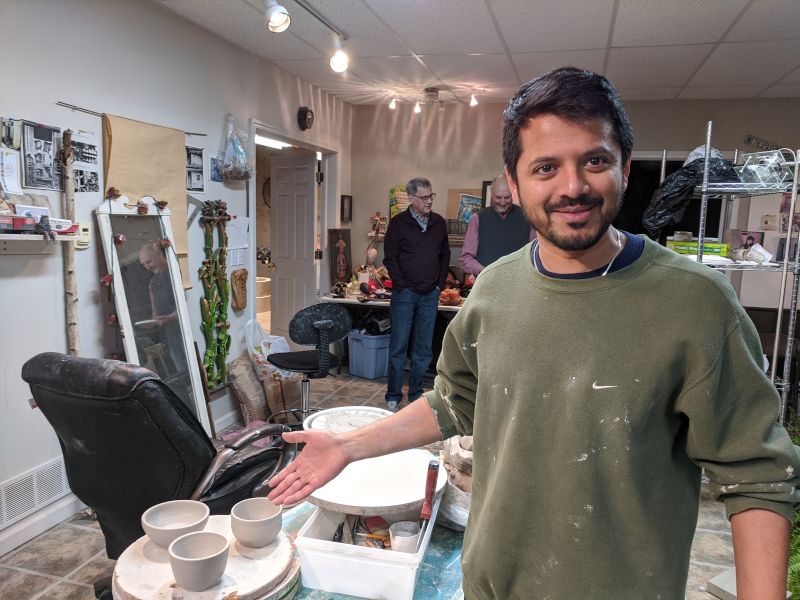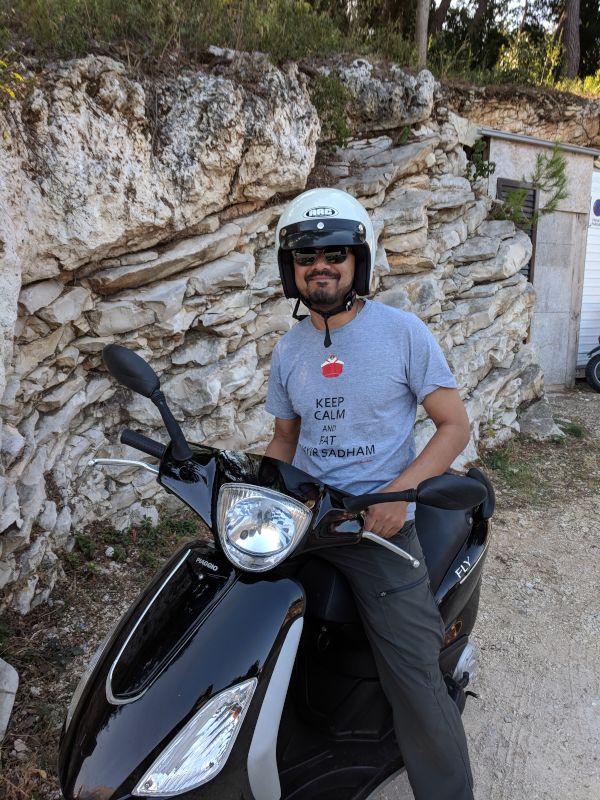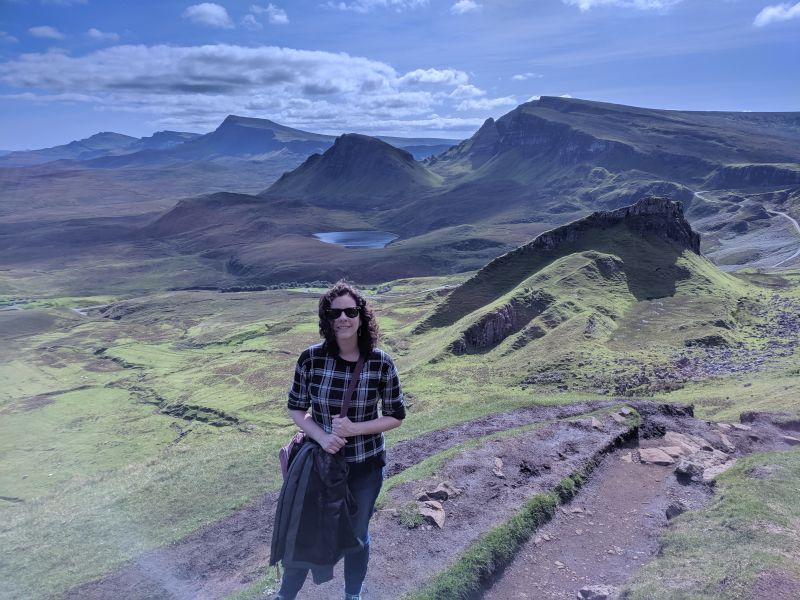 ×
1 / 12
2 / 12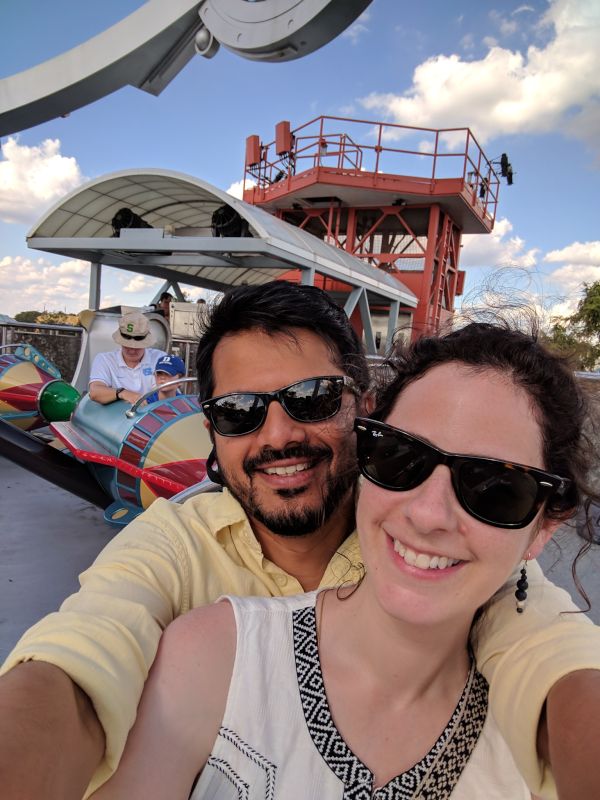 3 / 12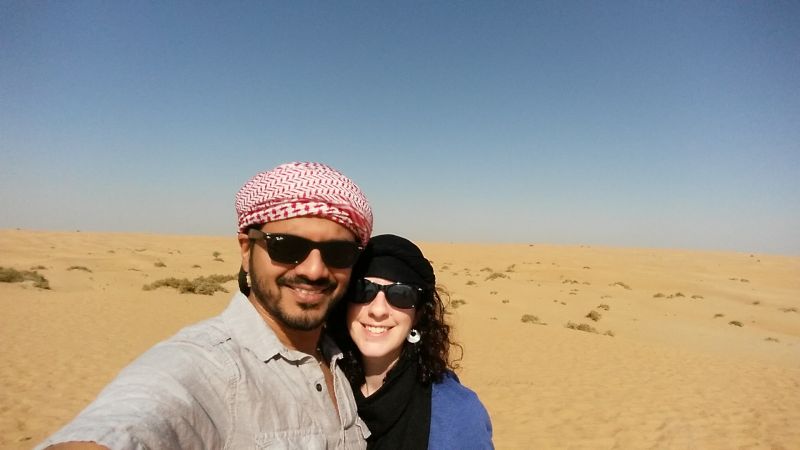 4 / 12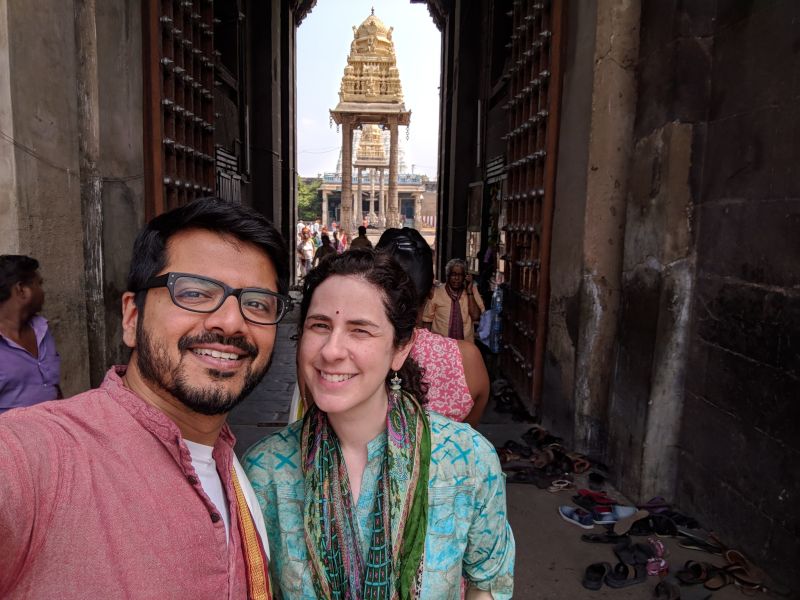 5 / 12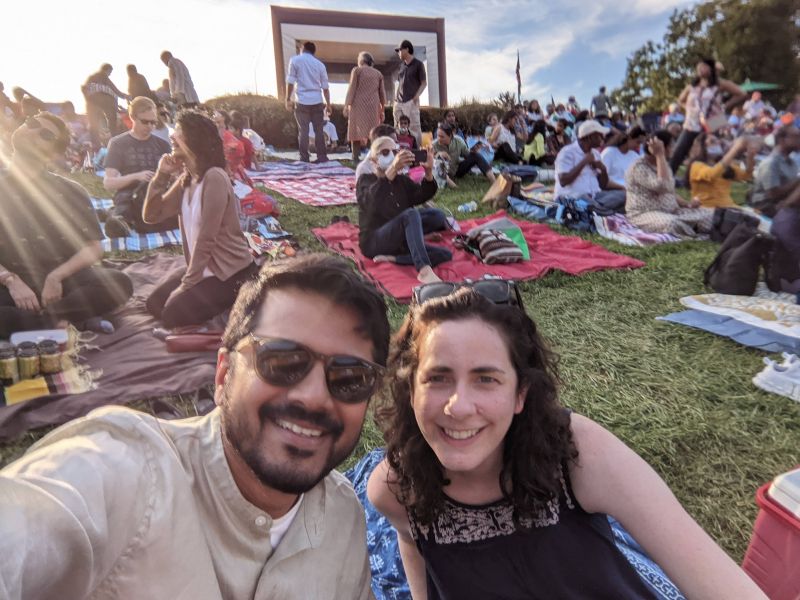 6 / 12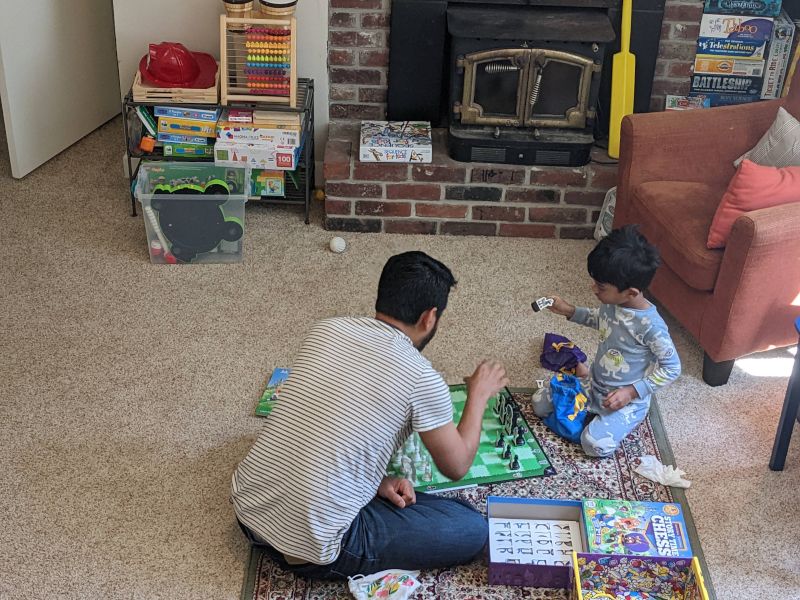 7 / 12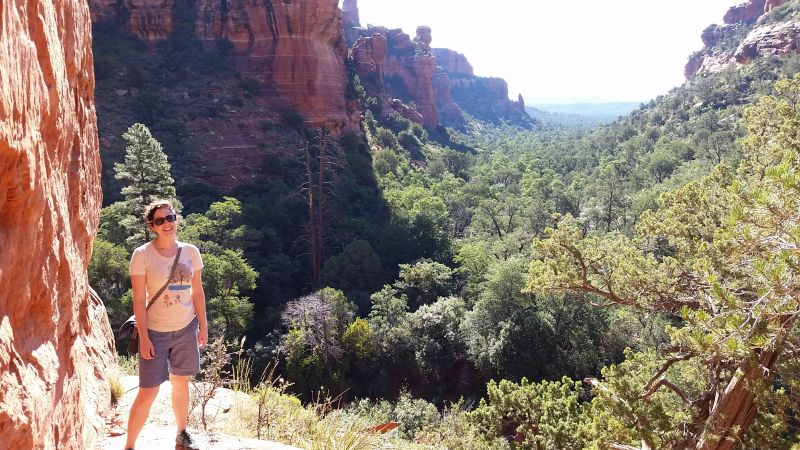 8 / 12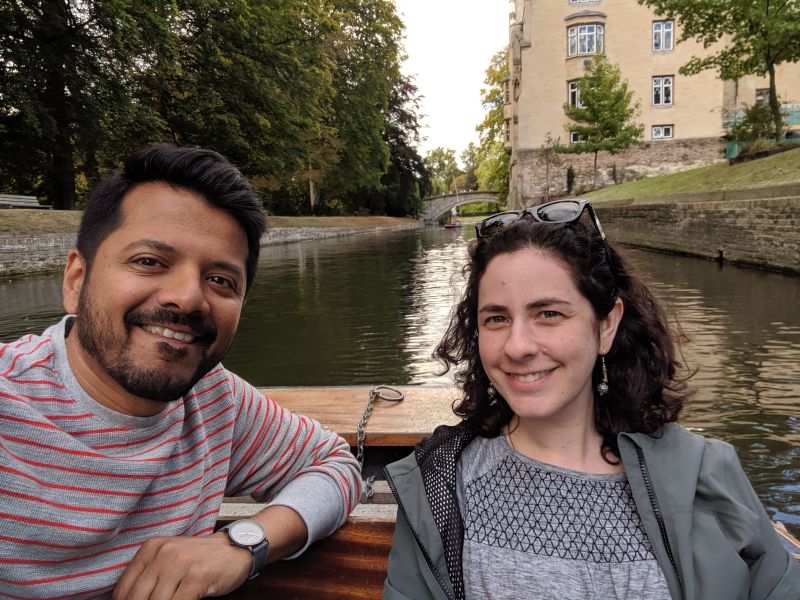 9 / 12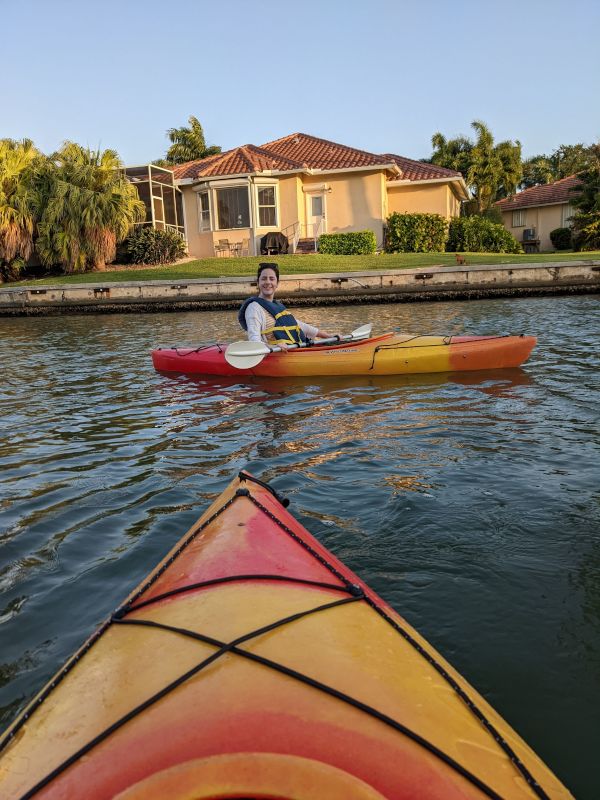 10 / 12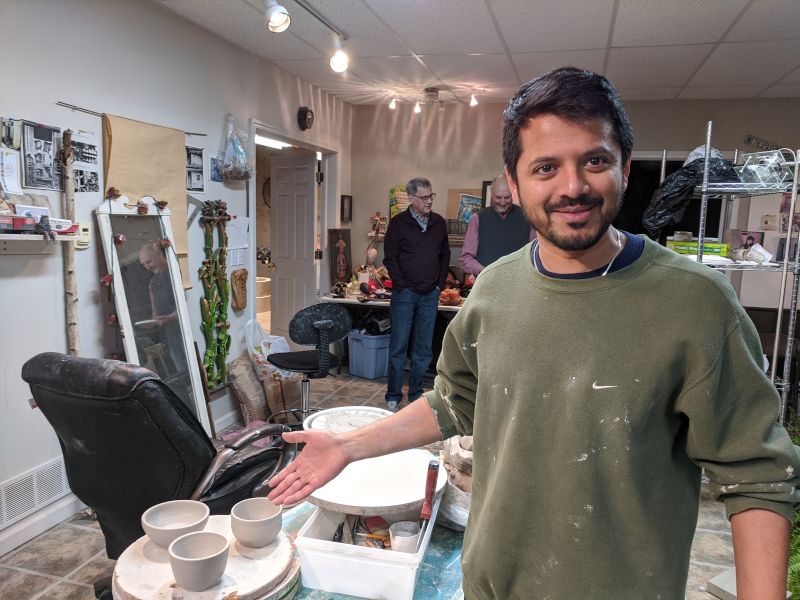 11 / 12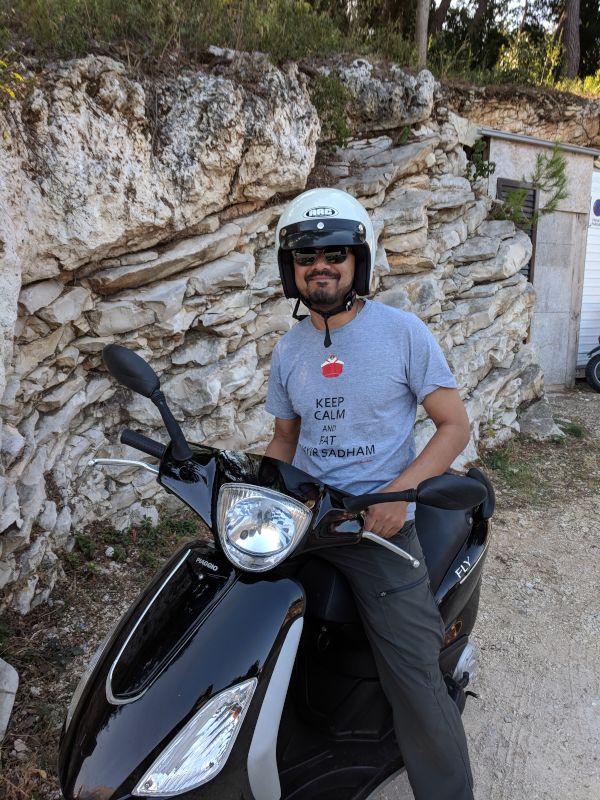 12 / 12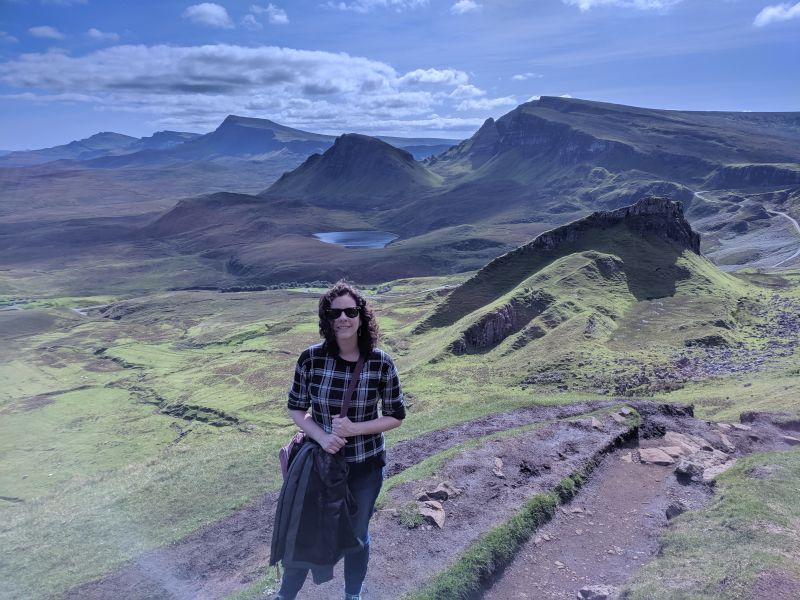 ❮
❯
Our House and Neighborhood
We LOVE where we live! Situated on a tree-lined cul-de-sac, our townhouse is part of a small community home to both young families with kids and older residents who have long been in the area. We enjoy barbecuing on our large deck that overlooks our garden or relaxing in our hammock.
Our neighborhood is very international, and our town recently ranked among the top 10 most ethnically and racially diverse cities in the U.S. Within walking distance are the elementary, middle and high schools, as well as at least three different parks with playgrounds, basketball courts, baseball fields and tennis courts. We're also close to community swimming pools and just a 10-minute walk to our historic city's town center. In addition to restaurants and shops, the town center has a big public library, a community arts studio (with art lessons for kids), a children's science center and a winter outdoor skating rink that transforms into a concert stage in the summer.
We're lucky to live less than half an hour from the museums, zoo and monuments of Washington, D.C., and just 45 minutes from all the offerings of Baltimore. We also have plenty of nature to explore. If we drive west, we can reach mountains and hiking trails in an hour or so, or head east and soon be on the beaches of the Chesapeake Bay and Atlantic Ocean.
Our Extended Families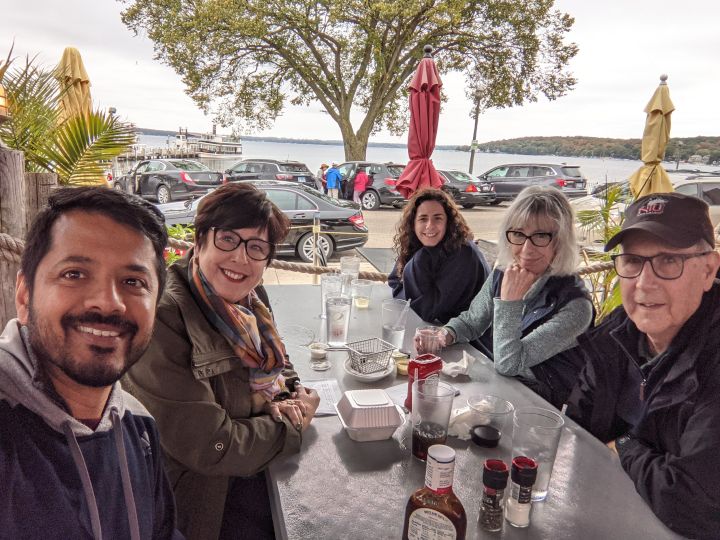 We come from different cultures, but both have close-knit families. Erin's parents live in Illinois, in the house where she grew up, and a short drive from her aunt and uncle. Erin's dad is a retired hardware store owner and her mom is an accountant, though she will retire once her first grandchild joins the family! We see Erin's family several times a year. Her brother works remotely, so he can come for long visits. As a fun way to keep in touch, Erin started a family virtual book club.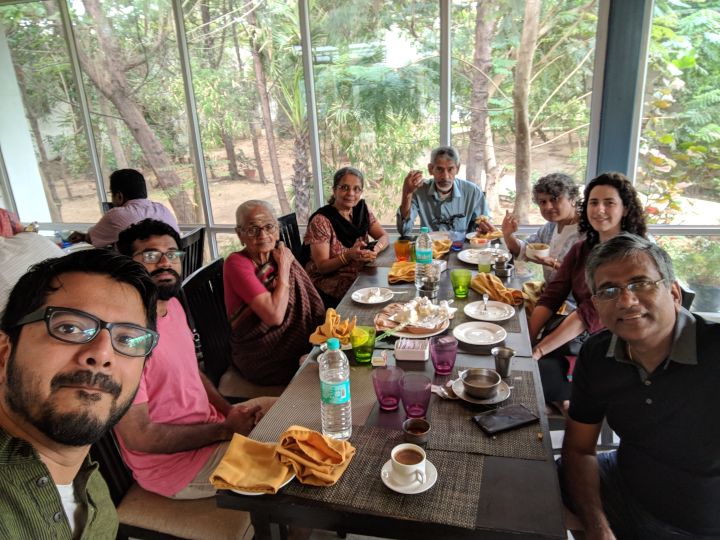 Kedar's parents, both retired, split their time between India and Scotland. Kedar's dad was a naval engineer and his mom was a school principal. We visit them abroad once a year, and they visit us for a few months at a time. Kedar's sister lives nearby, and we are in constant contact with his two nieces, in their 20s, through a group chat and frequent visits (one niece lives just 20 minutes away). Quality time in Kedar's family happens in the kitchen, whether it's sharing a simple bite or cooking an elaborate meal.
From Us to You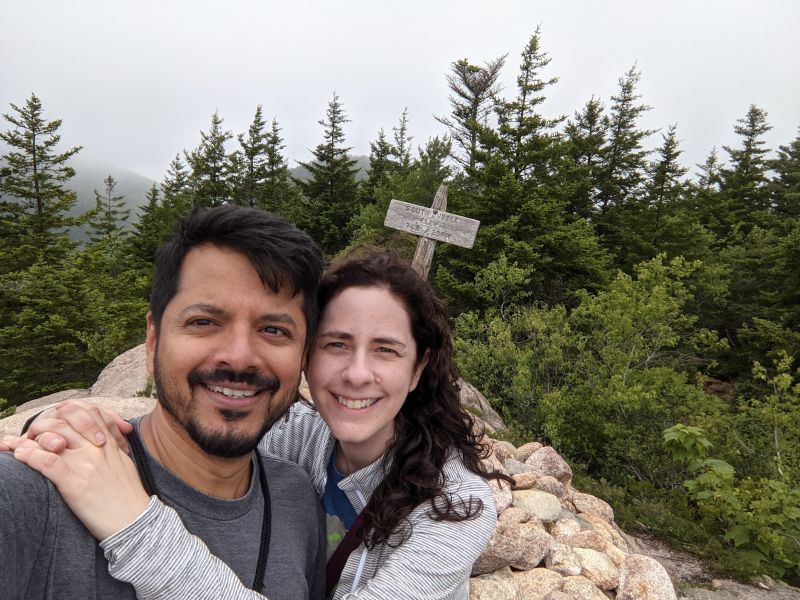 Words cannot express how honored we are that you are considering us while you make this big decision. First and foremost, we want to thank you for giving us a chance to tell you about ourselves.
We met online more than a decade ago, and the idea that "opposites attract" proved true. We have different personalities and come from different parts of the world. Kedar was raised in a progressive Hindu family in southern India before moving to the United States more than 20 years ago. Erin comes from an interfaith household?"her mom is Jewish and her dad is Methodist?"and spent her childhood in the Midwest.
After getting married in 2014, we combined parts of our culture and heritage to anchor our home, and our families also blended together to form a supportive network for us. We believe that a happy, thriving relationship is built on love, respect, honesty and openness?"openness to each other's families, cultures and histories, openness in communicating with each other, and openness to new experiences. We also believe that these should form the foundation of any parent-child relationship. And as an interracial couple, we recognize that race and culture are important aspects of a person's identity. So we would help a child explore their heritage?"through food, language, books, travel and more?"and incorporate those customs into our family life.
All of that might sound serious, but we are quite the fun-loving pair! We are each other's best friends and spend most of our time together laughing and joking around. We are equally comfortable just hanging out at home, socializing with friends and family, or exploring new places. We both love science and have a deep appreciation for the natural world. Kedar is a cancer biologist while Erin is a science writer. We prize curiosity and strive to have compassion and empathy for nature and the people around us. Life is an unfolding series of mysteries and surprises?"some good, some bad, but each one an opportunity to learn and grow.
We are so excited to someday share our lives with a child and help nurture their potential. We want to offer a child a wide variety of experiences and then let them choose which interests to pursue while we provide a fun and supportive environment. At the same time, we also look forward to learning from a child and seeing the world through their eyes. One thing we promise: We will always provide a child with unconditional love, support and care.
We know that adoption will not only forever tie us to a child, but also to the child's birth parents. We will enthusiastically share photos, stories and emails with you, and be completely open with a child about their adoption. A part of you will always be with the child, and we will honor you and your story when we talk about adoption. We will also help the child explore that story and background, and we are open to discussing what role you may want to play in the child's future, including possible visits.
We are excited to embark on this new chapter in life, and we are grateful that you have taken the time to learn more about us. Whatever decision you make regarding adoption, we wish you love, grace and strength on your journey ahead.
Sincerely,
Kedar & Erin
Favorites
Actor
Keanu Reeves
Steve Carell
Actress
Nicole Kidman
Amy Adams
Author
N.K. Jemisin
Tony Horwitz
Book
Watchmen
In the Garden of Beasts
Candy Bar
Snickers
Reese's Peanut Butter Cups
Cartoon
South Park
Muppet Babies
Childhood Memory
Playing competitive chess
Seeing wild dolphins in Florida
Childhood Toy
Legos
Barbies
Children's Book
Asterix comics
The Baby-Sitter Club books
Classic Movie
Apocalypse Now
Star Wars
Day of Week
Saturday
Saturday
Dessert
Lemon meringue pie
Brownie sundae
Dream Car
Formula One racecar
Ford Electric Mustang
Dream Job
Renewable tech inventor
Wildlife photographer
Dream Vacation
Hiking in Hawaii
Seeing gorillas in Rwanda
Family Activity
Playing board games
Playing board games
Flower / Plant
Hibiscus
Daffodil
Food
Indian food
Pepperoni pizza
Form of Exercise
Yoga
Walking
Holiday
Christmas
Christmas
Holiday Tradition
Opening presents on Christmas morning
Decorating the Christmas tree
Ice Cream
Pistachio
Cookies and cream
Junk Food
Potato chips
Popcorn
Leisure Activity
Hiking
Travel
Magazine
The Atlantic
The New Yorker
Memory with a Child
Pranking my sister with my nieces
Babysitting a friend's baby
Memory with Spouse
Honeymoon in Hawaii
Safari in South Africa
Movie
Pulp Fiction
Back to the Future
Movie Munchie
Popcorn
Popcorn
Movie Quote
I'll be back.
Roads? Where we're going we don't need roads.
Musical
Wicked
Singin' in the Rain
Musical Group
Led Zeppelin
U2
Nursery Rhyme
Ringa Ringa Roses
Little Miss Muffet
Olympic Event
Mile race
Figure skating
Personal Hero
Jane Goodall
Play
12 Angry Men
The Crucible
Poet
Ogden Nash
Robert Frost
Quality about my Spouse
Kindness
Sense of humor
Quote
Leap, and the net will appear.
Look before you leap.
Restaurant
Local Thai restaurant
Silver Diner
Sandwich
English pickle and cheese
Tomato and mozzarella
Shopping Store
REI
World Market
Song
I Am the Walrus
Where the Streets Have No Name
Sport to Play
Rowing
Does croquet count?
Sport to Watch
Soccer
Formula One racing
Sports Star
Esteban Ocon
Lewis Hamilton
Sports Team
Arsenal
The Bears
Subject in School
Chemistry
History
Thing to Cook
South Indian food
Tacos
Time of Day
Morning
Early evening
Tradition
Family Thanksgiving
Family vacation
TV Show
Stranger Things
Only Murders in the Building
TV Show Character
The ladies in the Golden Girls
Type of Music
British rock music
Rock
Vacation Spot
Hawaii
Marco Island, Florida
Get in Touch
Provide more information, so American Adoptions can connect you with this family.
---