1-800-ADOPTION
Thank you for viewing our profile
If you would like to learn more about us, please call 1-800-ADOPTION (2367846), fill out the form at the bottom of our on-line profile page, or email us at bp_information@americanadoptions.com.
To revisit our on-line profile page and view our profile video at American Adoptions, simply use your mobile phone to scan the QR code on the right. We are looking forward to hearing from you!
Jack & Emily
Being parents has been one of the greatest gifts in our life. Teaching and playing, laughing and dancing have come natural to us. We have a 3 year old daughter who brings so much light and life to our world. We wake up every day determined to give her a remarkable life full of laughter and adventure. We are excited to grow our family through adoption and truly look forward to expanding our family.
About Us
Job
Contractor
Associate Director, Regulatory Compliance
Education
Some College
Some College
Relationship
Legally Married
Our Lifestyle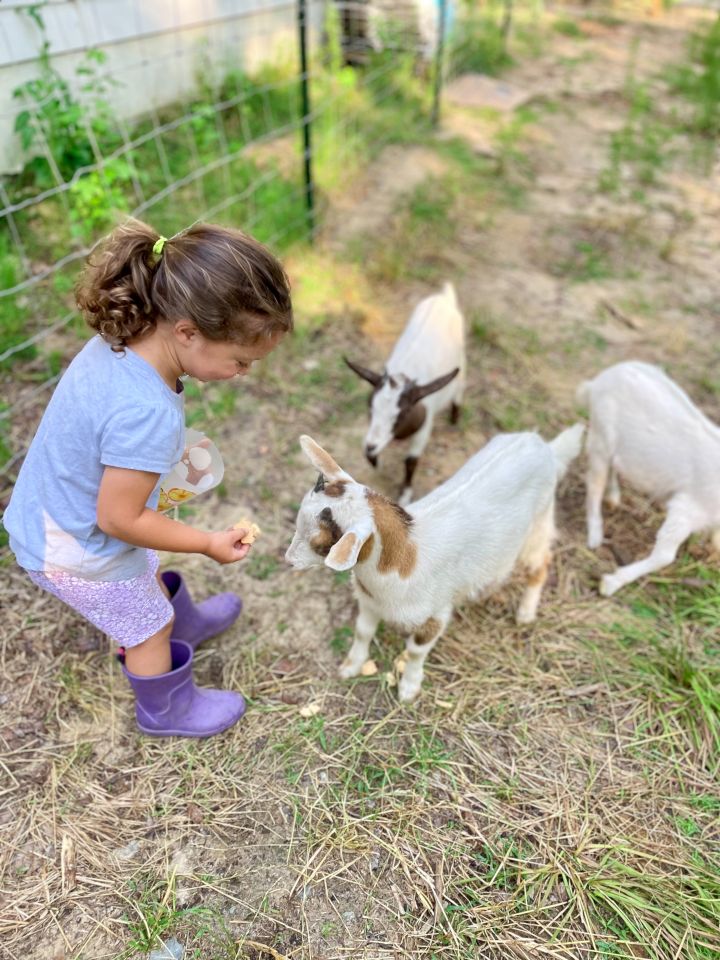 We spend a lot of time outside. When we moved to the country, our intention was very clear - to spend time outside playing, getting our hands dirty, and being active.
We love growing our own fruits and vegetables and watching our daughter pick berries right off the vines and eating them. Some of our most favorite things to do include riding four-wheelers, bikes, playing soccer and baseball, chasing goats and chickens around, catching fireflies, shooting off fireworks, and star gazing.
Our neighbors have acres of lavender plants and every summer we go over and pick the most fragrant lavender to bring into our home.
We love going to movie in the park nights and attending local fairs and festivals.
At the end of the day, we appreciate snuggling up on the sofa and watching a fun movie or TV show together.
Qualities We Love, Admire and Respect in Each Other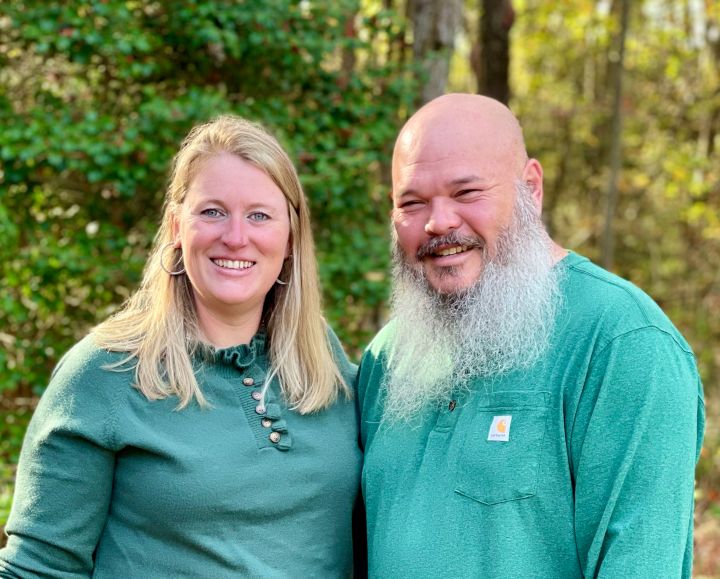 Emily About Jack: Jack has a real love of life and passion for laughing and having a fun time. He is kind and sentimental, he treasurers moments and is really good at being present. His greatest quality is his love and dedication to his family and closest friends. Jack has an unbelievable skill at making things. He built our home with his own hands and is an absolute master at his craft.
Jack About Emily: Emily loves to make jokes and get people laughing and smiling. She is very honest and trustworthy. Her generosity and loyalty to her friends and family is her greatest quality. She is fun and silly and loves to dance and sing with our daughter in the family room. She is a lover and nurturer and very creative.
Our Family Traditions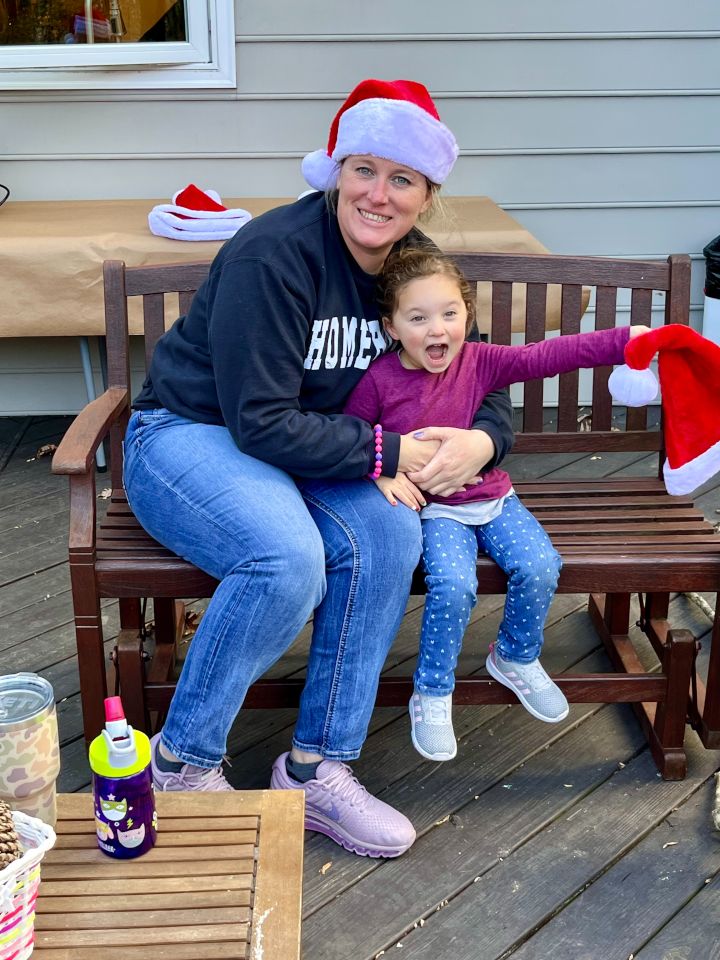 One of our favorite family traditions is that every year since Emily was in middle school her entire family gets together and goes on a summer vacation. There have been many destinations over the years along the east coast. Everyone stays in the same house together and we spend all of our time hanging out at the beach, swimming in the pool, shopping, sightseeing, or playing cornhole. It is a tradition that is very important to us as it keeps us close and connected.
Another favorite family tradition is Christmas time. Christmas is our favorite holiday and we love to be home surrounded by our family and friends. We start putting up decorations at Thanksgiving time including going to pick out our Christmas tree. We play Christmas music and hang our special ornaments on the tree while drinking hot cocoa. Our yard can probably be seen from outer space with all the blow-ups and Christmas lights. Christmas is a really happy time in our household.
Photos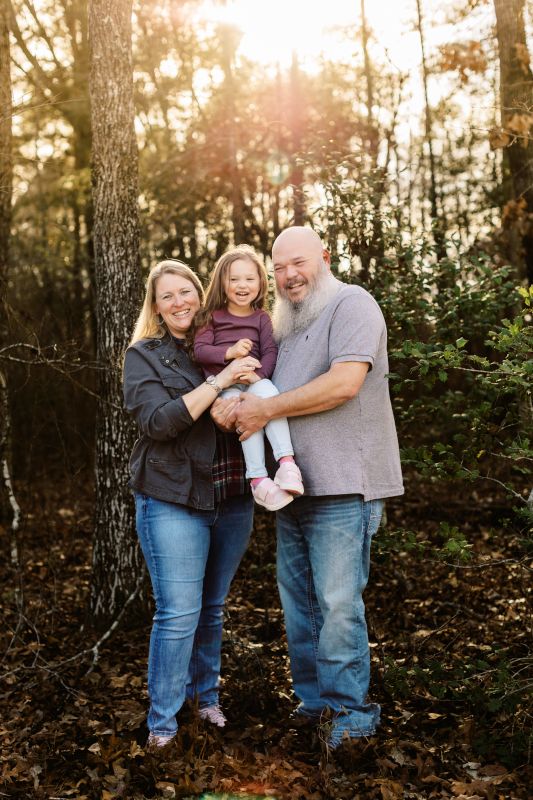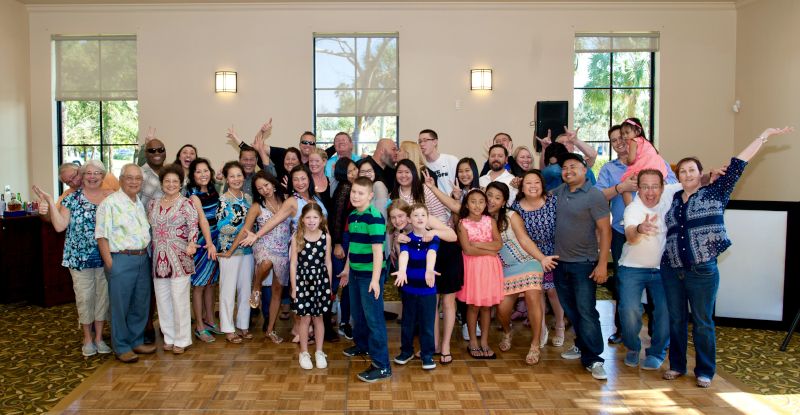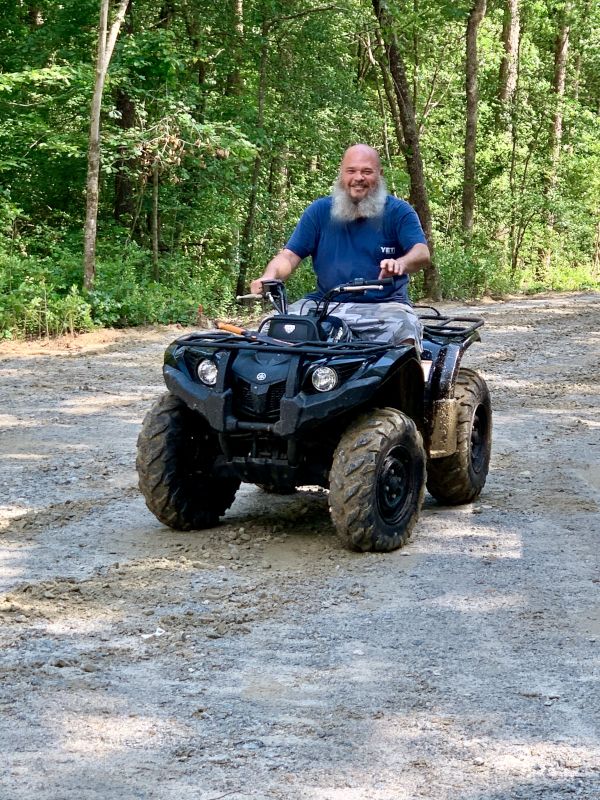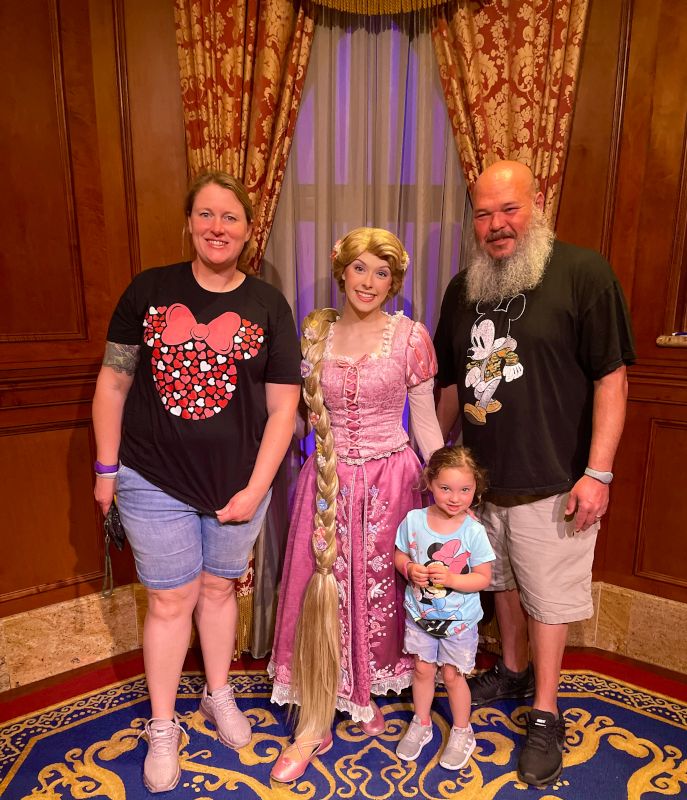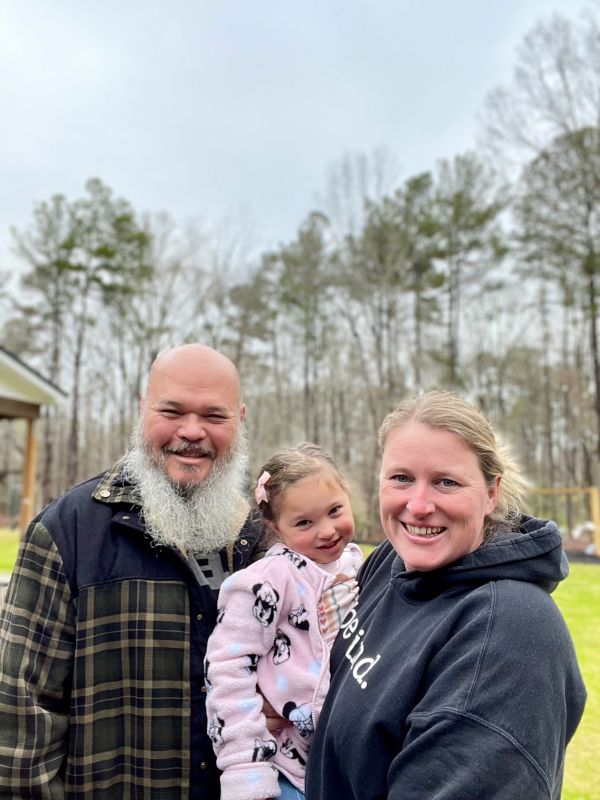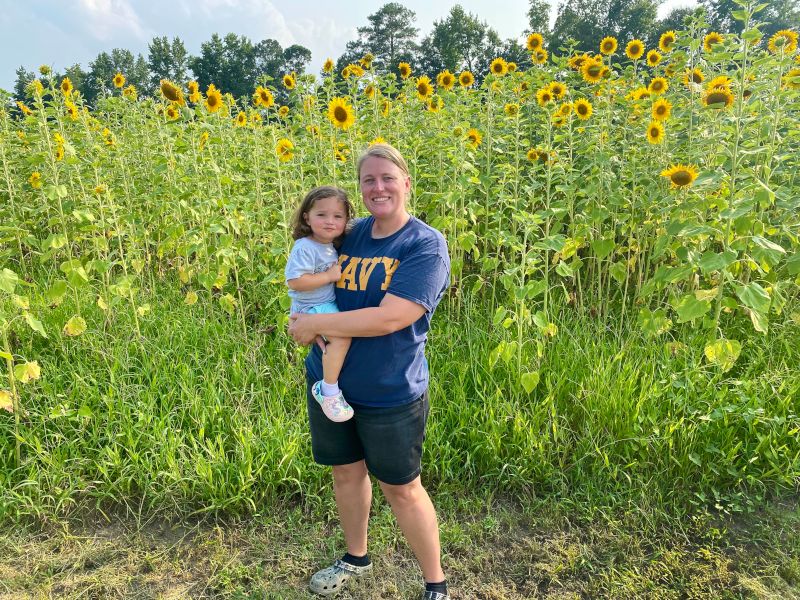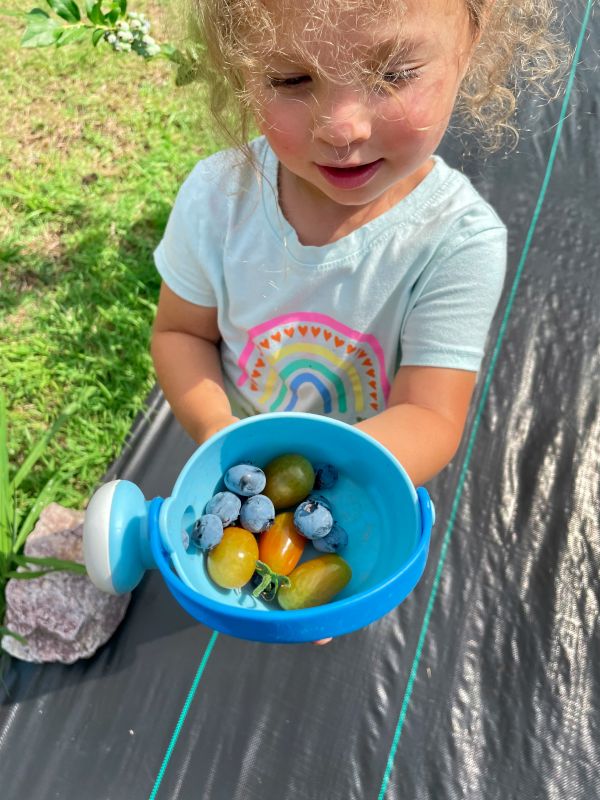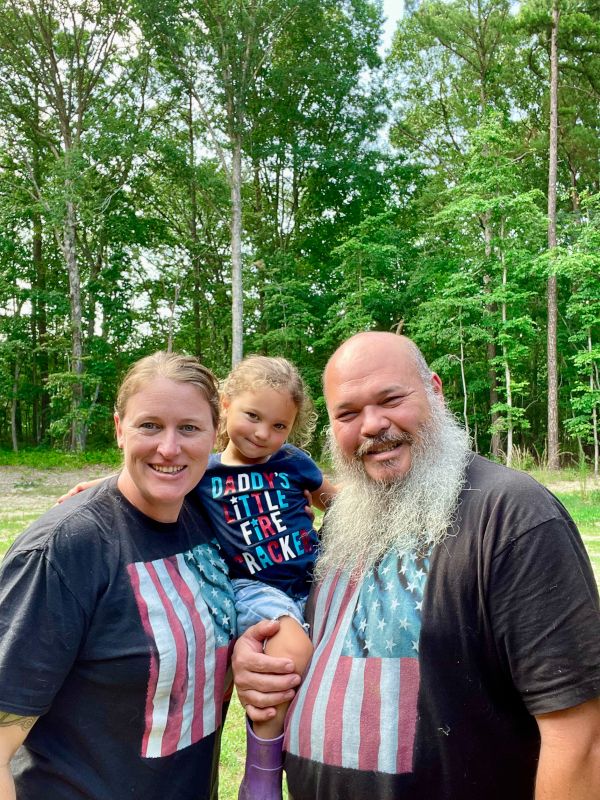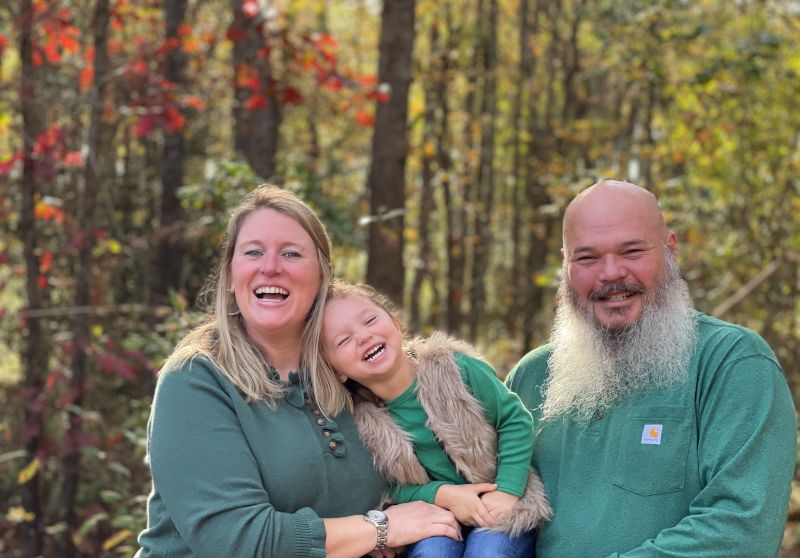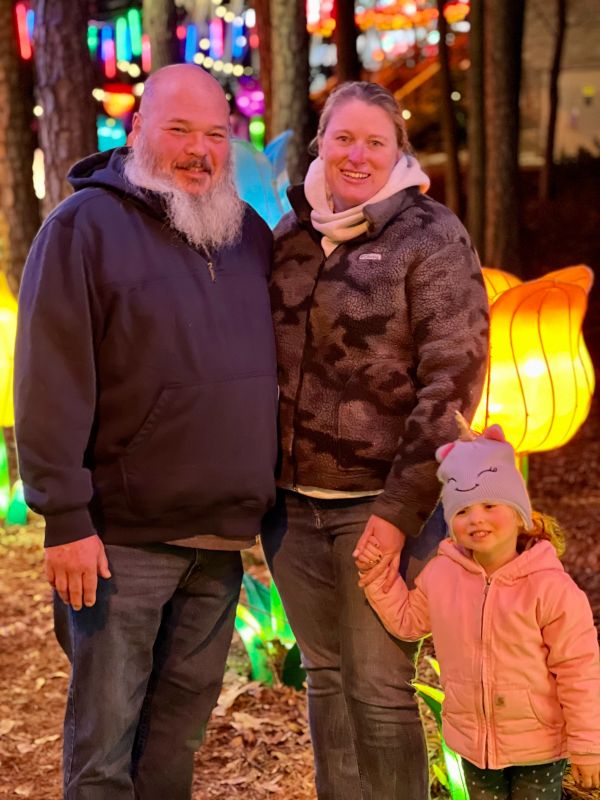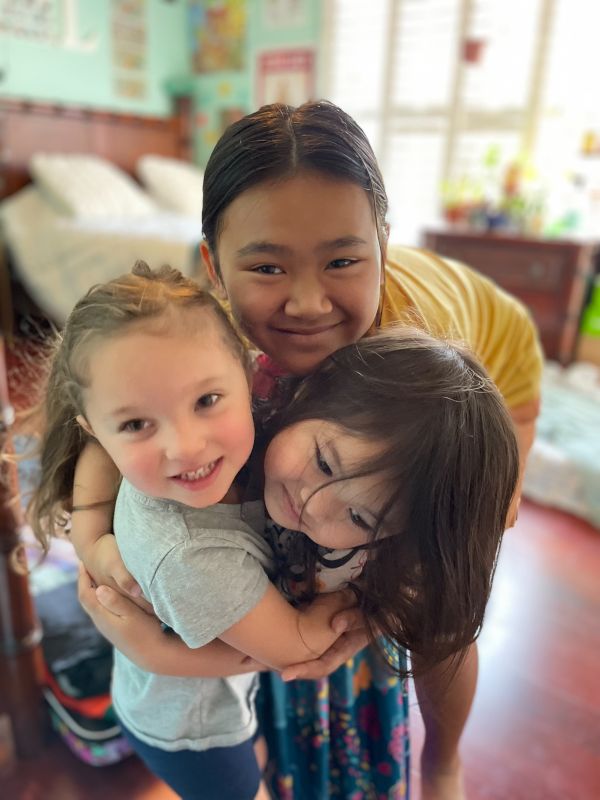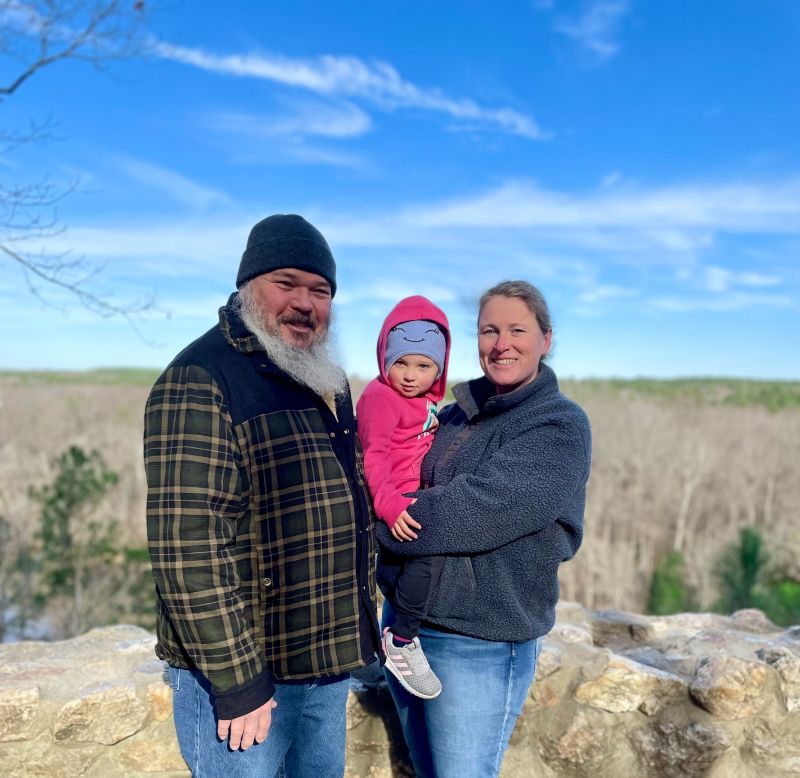 ×
1 / 12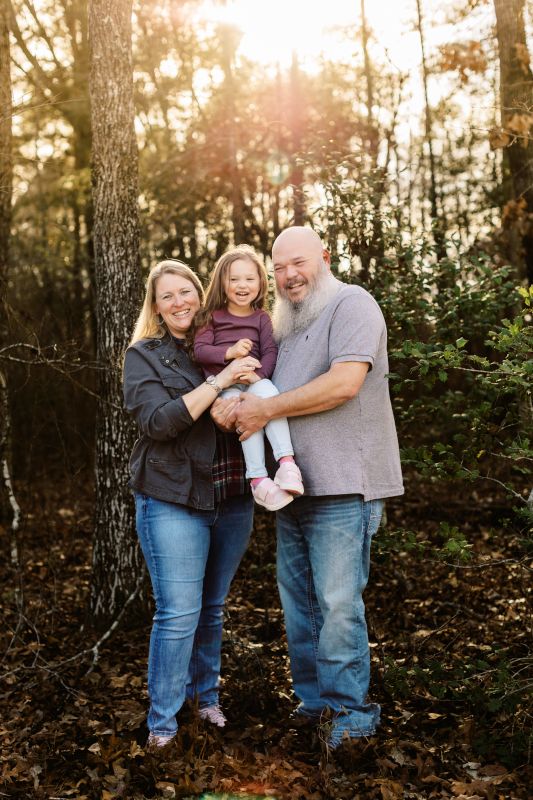 2 / 12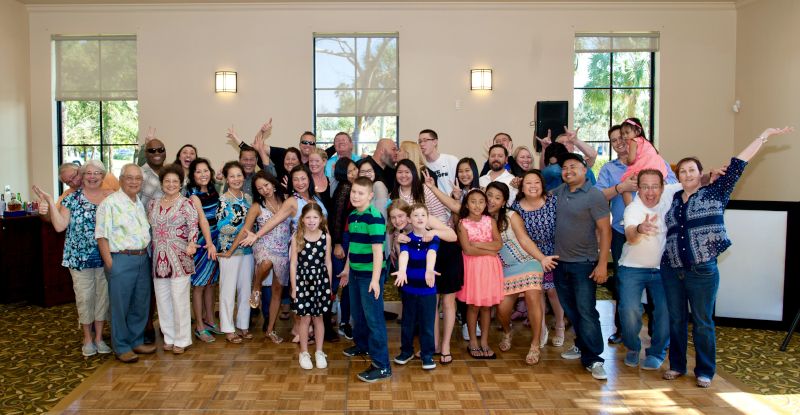 3 / 12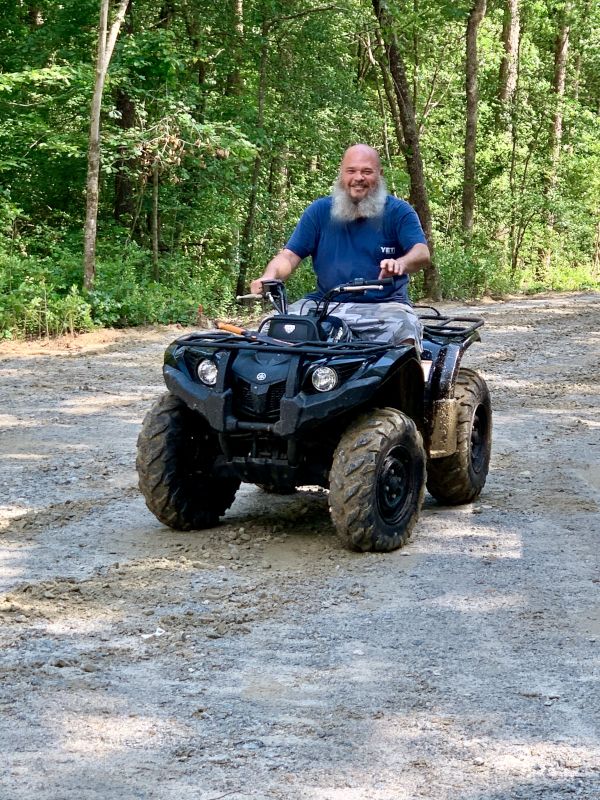 4 / 12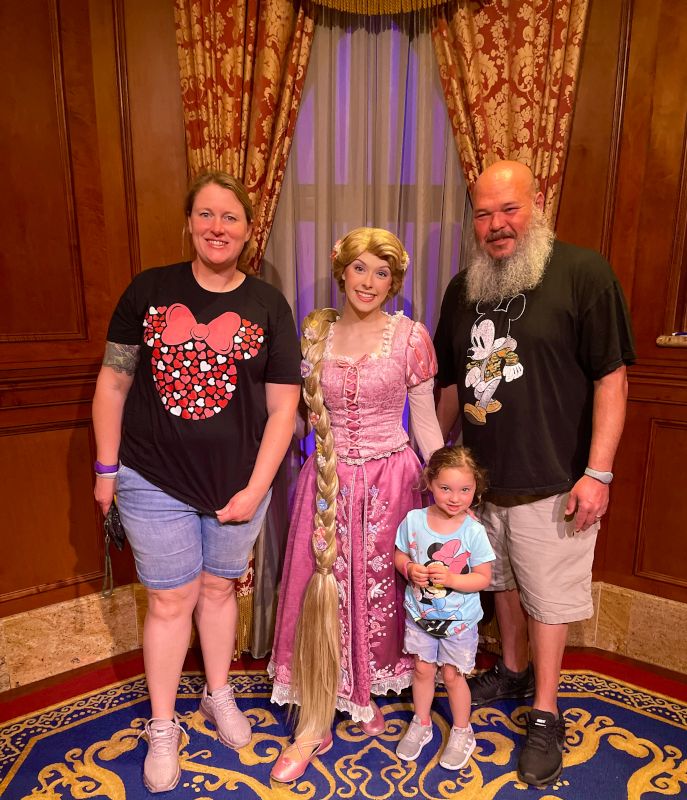 5 / 12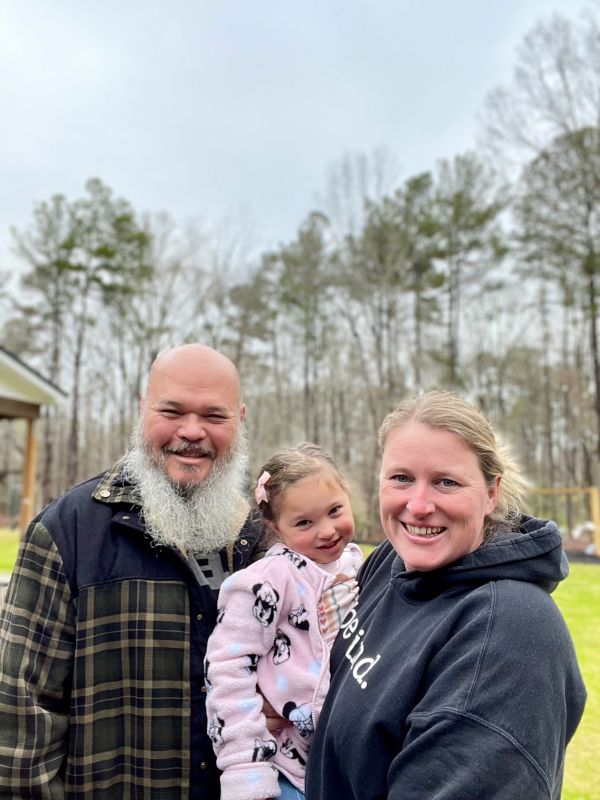 6 / 12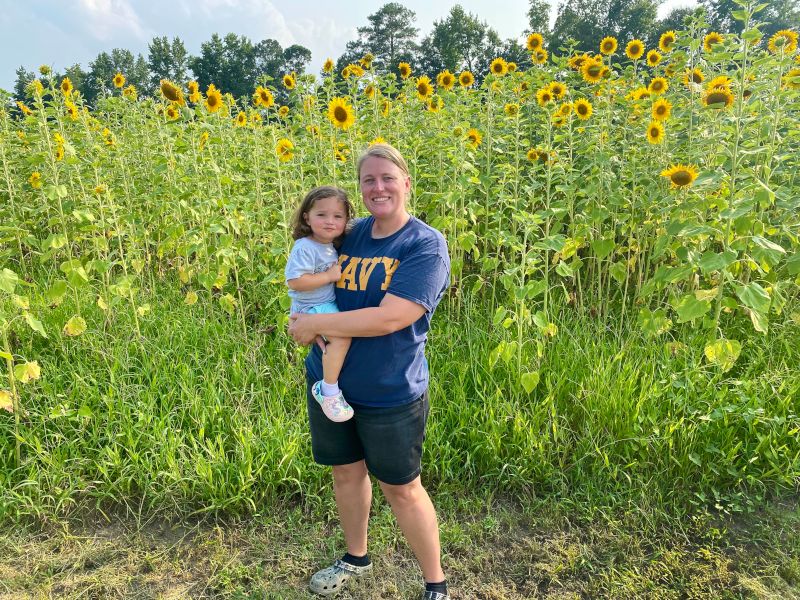 7 / 12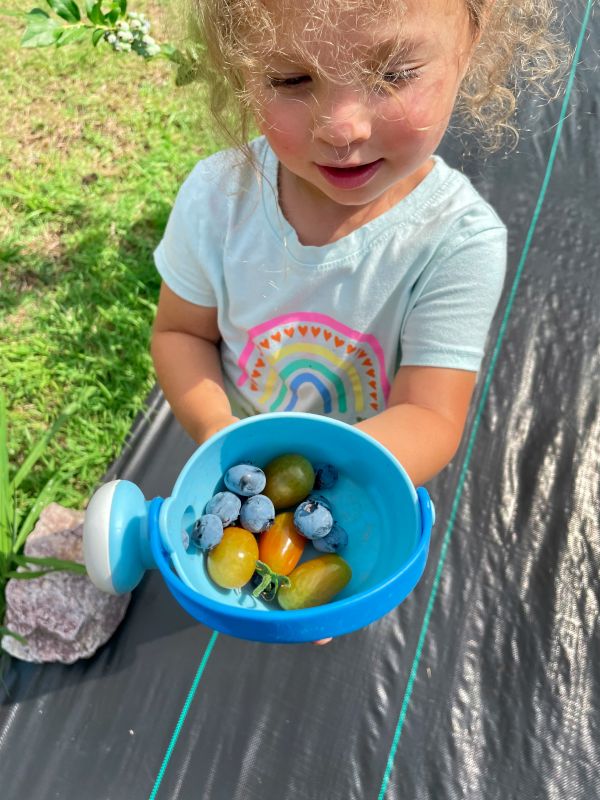 8 / 12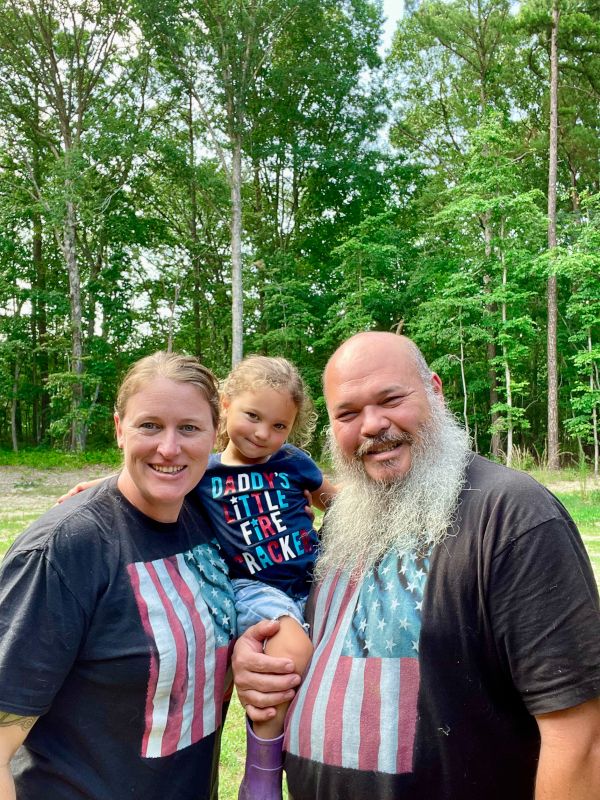 9 / 12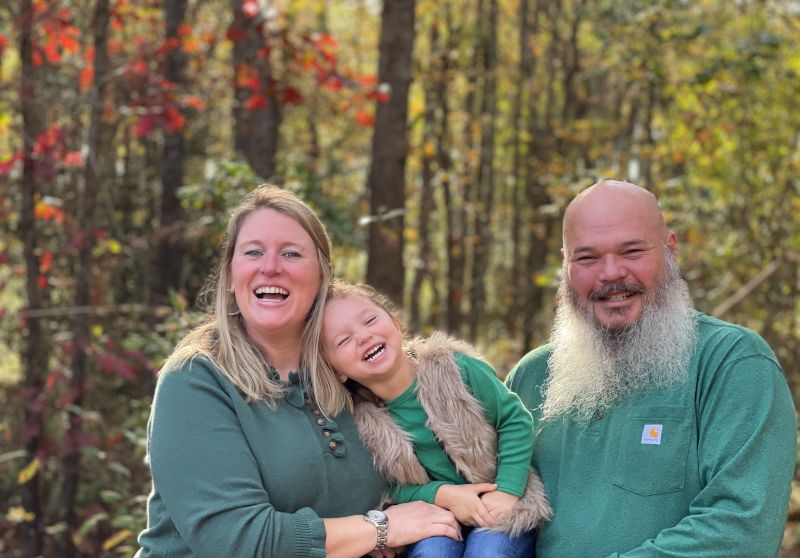 10 / 12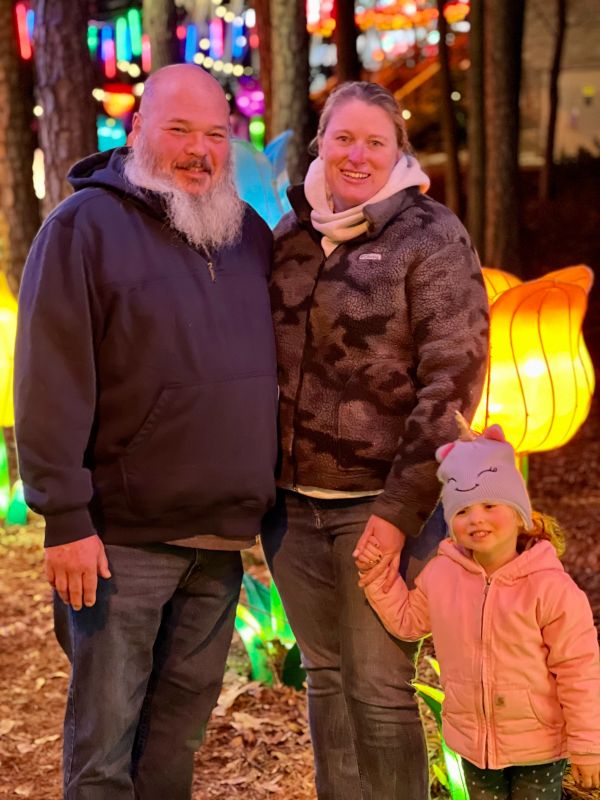 11 / 12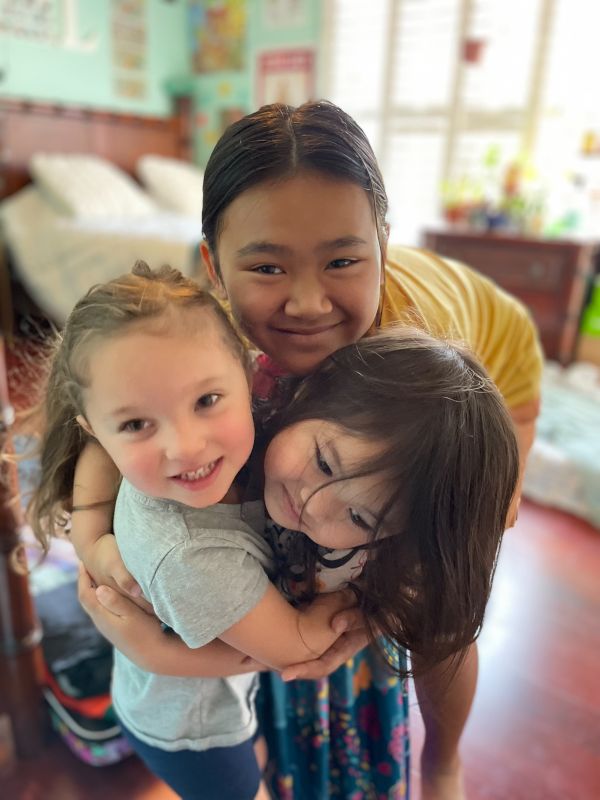 12 / 12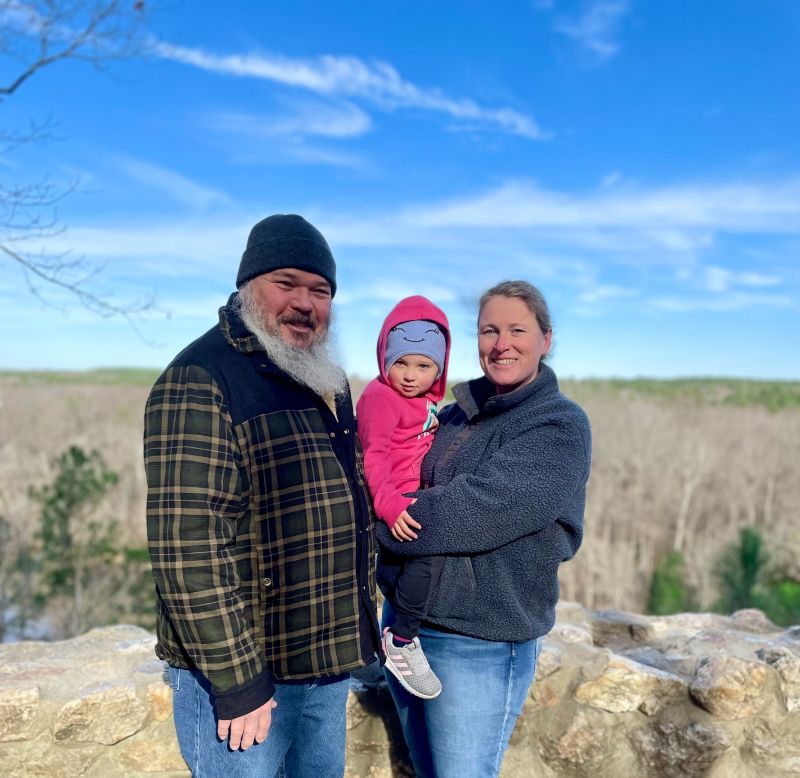 ❮
❯
Our House and Neighborhood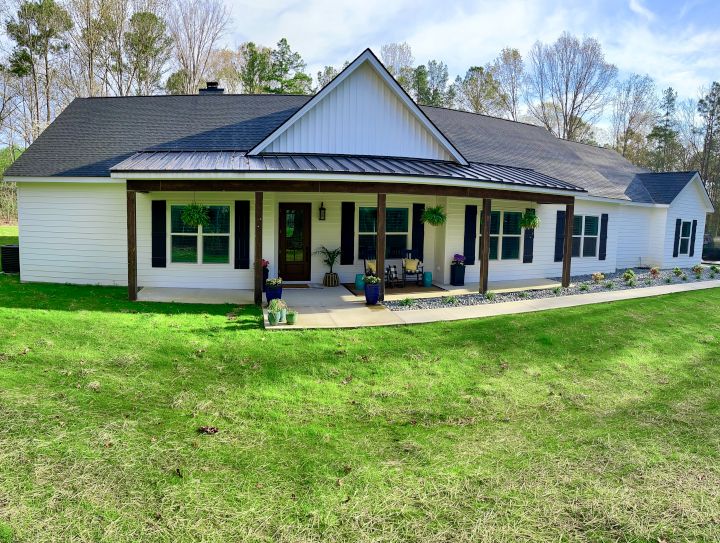 Our home is definitely where our heart is. We built our dream home on 17 acres of land out in the beautiful country of North Carolina. We have goats and chickens, a playground that has swings, rock wall, slide, zip-line, fort, trampoline, ladders and a hop scotch path. There is 2 acres dedicated to growing our own fruit and vegetables. So much space to run and play and dance and sing. Our surrounding neighbors have horses and cows and the silliest donkey named "Nacho".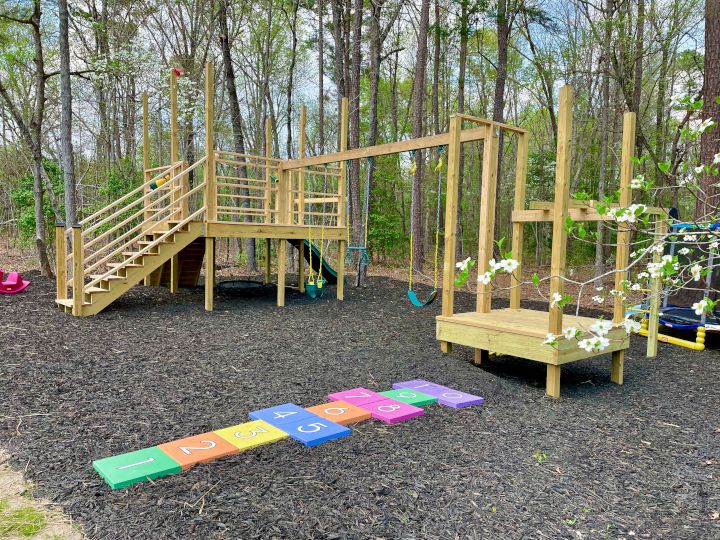 We are minutes away from some pretty amazing parks that have walking paths, playgrounds, disc golf areas and ballparks. Our local library is a really special place for us, they have a full team dedicated to educating and supporting kids. There are weekly story times, science labs, dance classes, yoga and special programs where the kids get together and create and interact. Santa and Mrs. Clause made an appearance where they read stories to the kids during the holidays and there was a Baby Shark party with singing and dancing last summer.
What we love so much about our home is the peace and quiet and calmness. When you walk outside you hear birds and crickets and goats and frogs.
Our Extended Families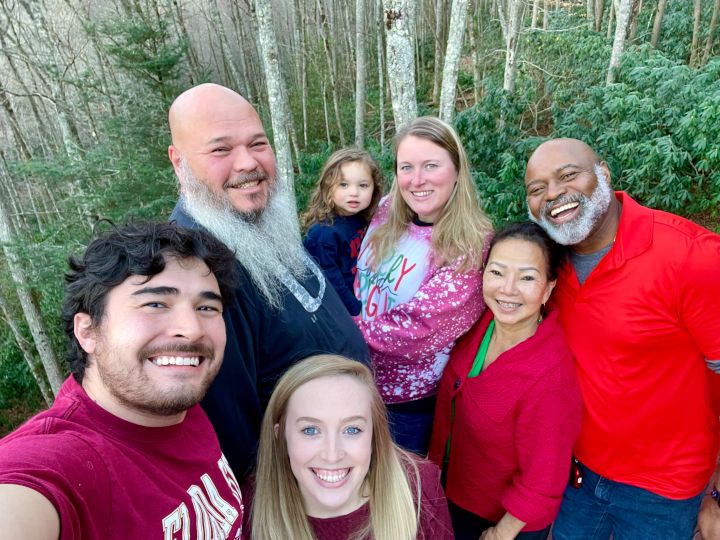 We both come from very close, large families. We moved to North Carolina a few years ago for many reasons but at the center of it all was to be closer to our families.
Our parents are very active in our lives and we love it that way. With everyone living close by we get great quality time together. Jack's mom is a phenomenal cook and she loves to come over and stock our freezer with her delicious authentic Vietnamese food. Emily's dad is an adventurer who is always up to spending the day with us like going to the zoo, Chinese lantern festival, Disney on Ice or just hanging around at the house.
Emily is the youngest of her siblings and Jack comes from a large extended family where he and his cousins were raised as siblings. We have a football team of nieces and nephews who we adore. All of our extended family is extremely important to us and we cherish our time together whether it is a quick meet-up for lunch, bowling competition, going to a concert, or taking an awesome trip together.
We are so fortunate to be surrounded by so many great relationships.
From Us to You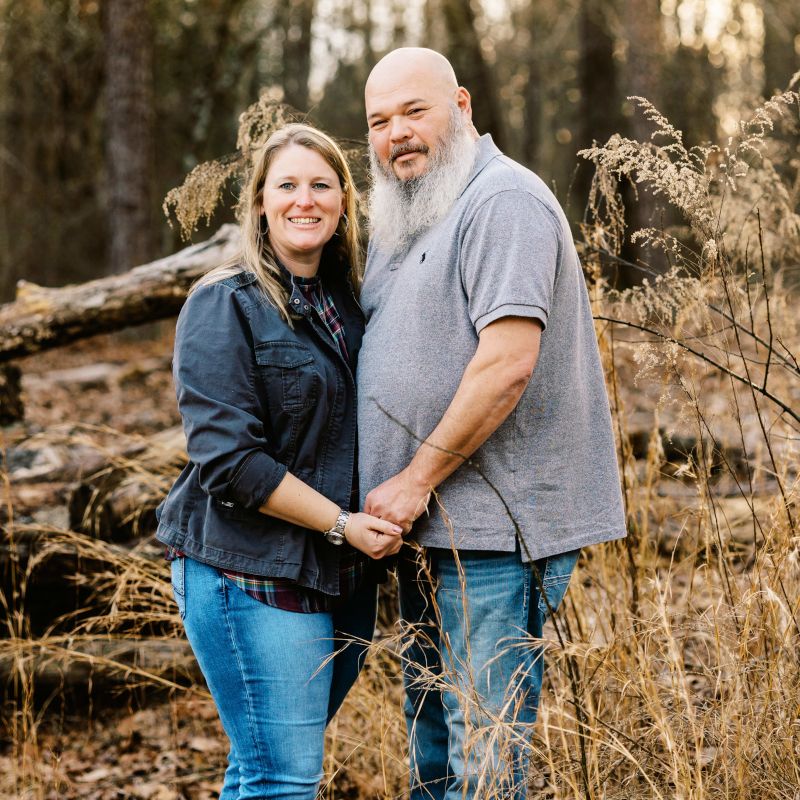 Thank you for taking the time to look over our profile and learn more about our family. We are Jack, Emily, and Lyla. We are so excited to add to our family through adoption. We respect your courage in considering adoption and want you to feel loved and supported throughout this journey.
When we met it was a very quick and natural connection. Both of us somehow were unknowingly waiting and needing the other one. We enjoyed each other's company and we were eager to be together as much as possible. Within 6 months of meeting each other we were living together, we were engaged within 2 years and married within 3 years. We got married in our backyard in a surprise wedding ceremony surrounded by some of our most treasured family and friends. We have been together for ten years now and we frequently look back on our life together and think how thankful we are for it all.
Since being together we've known that we have wanted children. We struggled with fertility issues up until we were blessed with our daughter, she immediately opened our hearts and brought a new type of love to our life. After the birth of our daughter, we quickly got back into fertility treatments. During the procedures, doctor visits, and waiting we started talking about what are our other options to grow our family. We started researching and educating ourselves on everything adoption. As we were researching our conversations naturally evolved and we knew this is exactly where we needed to be. Making the decision to stop fertility treatments and proceed with adoption was surprisingly an easy decision for us and it felt 100% right. We knew that our struggles with fertility brought us right to this moment, right to this decision. We are excited to add a child to our family through adoption and our daughter is eager to have a sibling.
Parenting is a true joy for us and our approach to parenting is quite simple we provide endless love and model behaviors we wish to see in return. We are strong believers in setting clear boundaries and then allowing exploration and play with the freedom that is aligned with their age. We are hands-on and truly enjoy being together by playing, creating or just hanging around. We are expressive with our love and feel comfortable with hugs, kisses, and providing positive affirmation. We put great emphasis on education and emotional intelligence for we know that these are the foundation to a successful life.
We feel that keeping open and honest communication with you is important. We are committed to sending pictures, providing updates, and arranging visits. We understand that you have a very big decision ahead of you and we hope you know that you are incredibly courageous for your consideration.
We make this commitment to you, we will always speak highly of you and honor you with our words and actions. Your selflessness will always be respected and our gratitude for you will be forever evident in our home.
All our love,
Jack & Emily
Favorites
Actor
Jack Nicholson
Tom Hardy
Candy Bar
Snickers
Reese Cup
Childhood Memory
Fishing with Dad
Sharing a room with my sister
Childhood Toy
Star Wars
Stuffed Pillow Doll named "Jenny"
Children's Book
Good Night, My Honey Bunny
Amelia Bedelia Book Series
Day of Week
Friday
Saturday
Dessert
Pie with Ice Cream
Chocolate Moose Pie
Disney Movie
Star Wars
Monsters University
Dream Car
Pickup Truck
Bronco
Dream Vacation
Bora Bora
Bora Bora
Family Activity
Being Outside
Vacation
Flower / Plant
Bonsai
Orchard
Holiday
Christmas
Christmas
Holiday Song
Baby it's Cold Outside
Baby it's Cold Outside
Holiday Tradition
Staying Home for Christmas
Staying Home
Ice Cream
Rocky Road
Chocolate with Peanut Butter
Leisure Activity
Fishing
Shopping
Memory with a Child
Daughters Birth
Daughters first steps
Memory with Spouse
Day I met her
Vacation in Punta Cana
Movie
Star Wars
Purple Hearts
Movie Munchie
Popcorn
Popcorn
Musical Group
George Strait
Pink
Olympic Event
Speed Skating
Gymnastics
Personal Hero
My Wife
My husband
Quality about my Spouse
Her Honesty
Laid back
Sandwich
Steak and Cheese
Turkey & Cheese
Shopping Store
Home Depot
Target
Song
Hey Pretty Girl
Boyfriend
Sport to Play
Basketball
Kick Ball
Sport to Watch
College Football
Sports Team
Miami Hurricanes
Subject in School
Math
Recess
Superhero
The Hulk
Spiderman
Thing to Cook
Breakfast
Steak
Time of Day
Morning
Morning
Tradition
Kissing my wife in the morning
All things Christmas
TV Show
Yellowstone
Peaky Blinders
TV Show Character
John Dutton
Mindy Kaling
Vacation Spot
Alaska
Alaska
Get in Touch
Provide more information, so American Adoptions can connect you with this family.
---