1-800-ADOPTION
Thank you for viewing our profile
If you would like to learn more about us, please call 1-800-ADOPTION (2367846), fill out the form at the bottom of our on-line profile page, or email us at bp_information@americanadoptions.com.
To revisit our on-line profile page and view our profile video at American Adoptions, simply use your mobile phone to scan the QR code on the right. We are looking forward to hearing from you!
Chris & Julie
We are so excited to expand our family through adoption. We will provide any child that joins our family with love, a safe and supportive environment, a large extended family, humor, and plenty of adventures. We have been blessed with so much in our lives, and we can't wait to share our lives with a child. Thank you for taking the time to read our profile.
About Us
Job
High School Teacher
Director of a College-in-Prison Program
Education
Master's Degree in English
Master of Theological Studies
Relationship
Legally Married
Our Leisure Time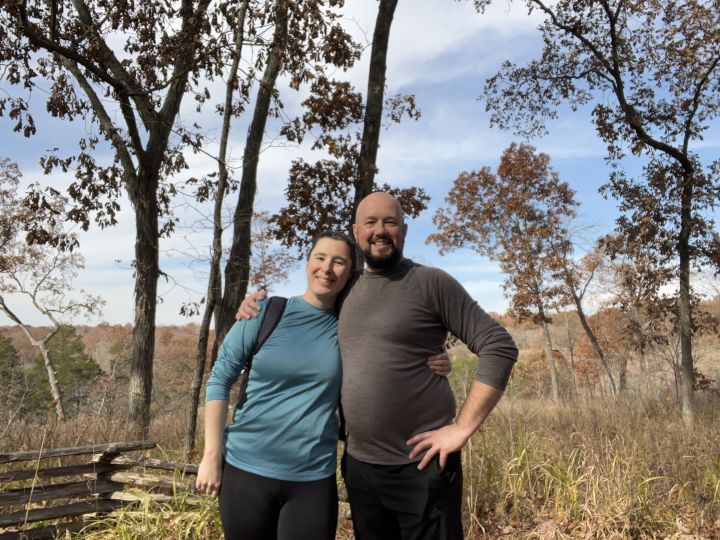 We love to be outdoors and spend lots of free time walking, hiking, and biking around the city. We live near a few big public parks and gardens and enjoy seeing natural beauty in our bustling, diverse neighborhood. Julie is an excellent cook and can often be found in the kitchen making delicious and creative dishes or baking bread, cakes, and cookies. Chris is a music fanatic and is usually either playing his piano or listening to records; he plays in bands and frequently attends music concerts of all types. On the weekends we love to spend time with our family and friends, trying new restaurants together or hanging out with our nieces, nephews, and our friends' children. We are both avid readers and spend many evenings catching up on our favorite TV shows or films. We have fun playing card games, word games and puzzles. We love to entertain in our home – friends and family gather for barbecues on the back patio and festive parties during the holidays.
Qualities We Love, Admire and Respect in Each Other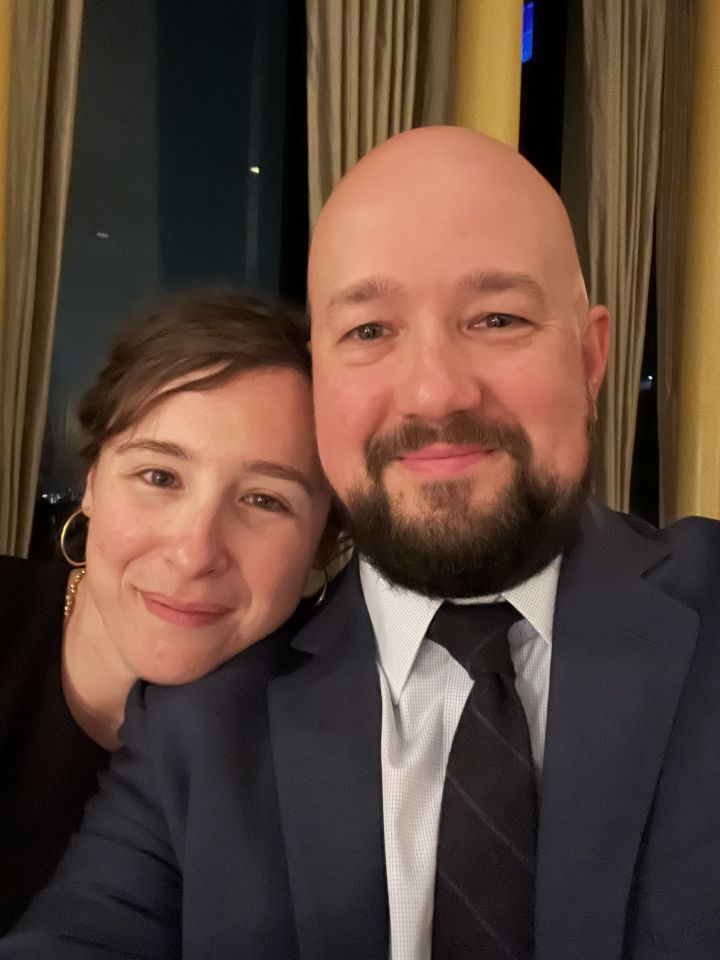 Julie About Chris: I admire Chris's dedication to his family and friends, the local artistic community, and the students he teaches and coaches. He is never too busy to take a phone call, respond to a text message, or meet up with friends. Chris is happiest when he is in a room with the people he loves. He believes strongly in the importance of participating in your local arts scene and in keeping it accessible to all people. Chris wrote for the local paper and hosted a radio show for years highlighting local musicians and promoting their performances. Chris comes home from school every day with a story about how talented and hard working his students are. He never fails to see the potential in other people.
Chris About Julie: I love Julie for her loyalty to her loved ones and for her drive to always do the right thing. Julie is a selfless and compassionate family member and has been an ideal partner – she loves and supports those around her and uses her big heart and her problem-solving skills to allow those in her circle to thrive. In her professional and personal life, Julie is committed to justice and fairness, and her thoughtful and empathetic nature has rubbed off on those around her. Best of all, Julie is funny, silly and very sweet! She shows her love in big and small ways: through thoughtful conversations, tasty baked goods and big hugs.
Cultural Diversity
We will address cultural diversity by directly engaging with our local community, through exploring the child's culture (hopefully in conjunction with birth parents), and by speaking openly and often with the child about cultural diversity. We have experience addressing cultural diversity personally and professionally, and we have a community that supports that diversity.
We live in a culturally diverse neighborhood in a large city. The city and the neighborhood have many minority- and immigrant-owned businesses, including restaurants. Chris teaches in one of the most culturally diverse school districts in the state, and Julie's job at the local university involves supporting students from cultures traditionally excluded from higher education as they navigate college life. There are a variety of school options available in the neighborhood –the child will not attend a school where they would be the only Black or brown child. We hope that birth parents can share with us their cultural backgrounds, especially what they want the child to know and experience. We plan to travel with the child to experience their culture and other cultures.
We look forward to learning more from our friends and family about living in multi-cultural families. Many of our friends and their families are multi-racial and from cultures different than our own, many with interracial children. Further, Julie's brother-in-law is from a different culture (Cameroon), and we talk to him and Julie's sister often about how they promote diversity within their family through books, music, food, clothing, and cultural celebrations.
Photos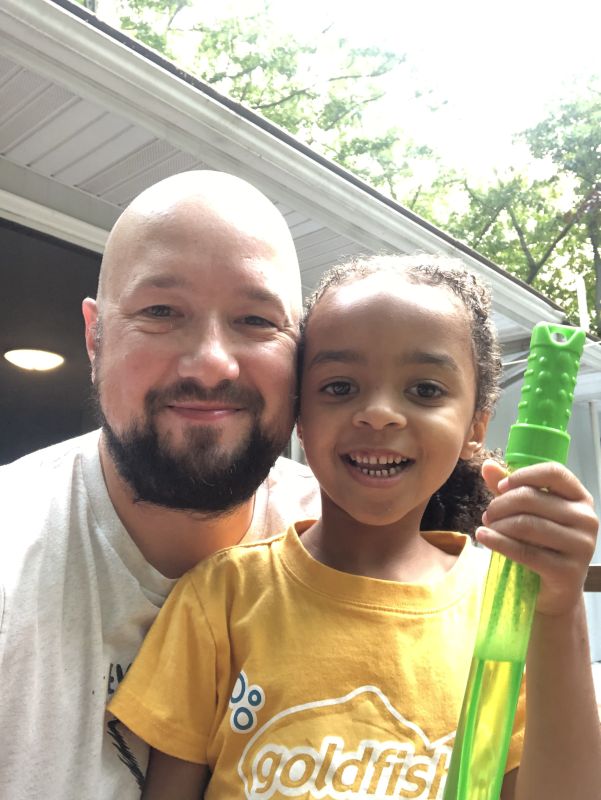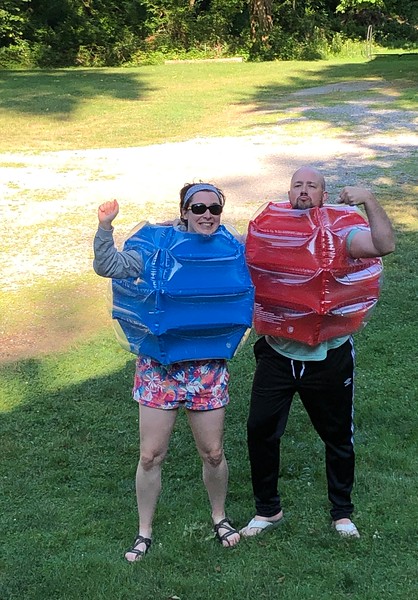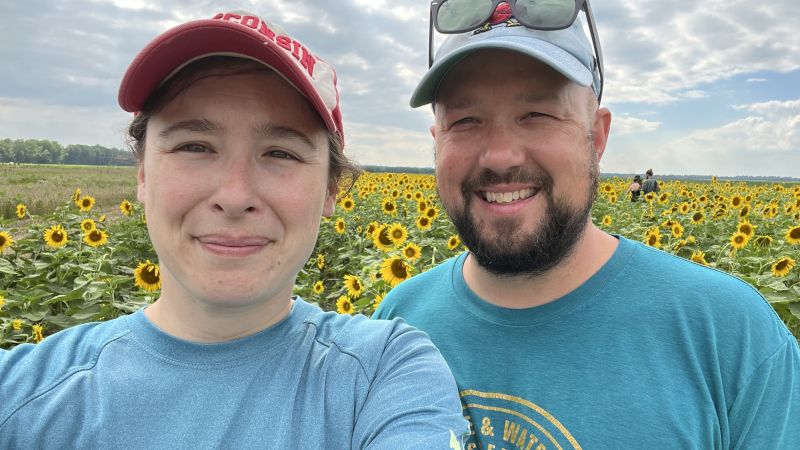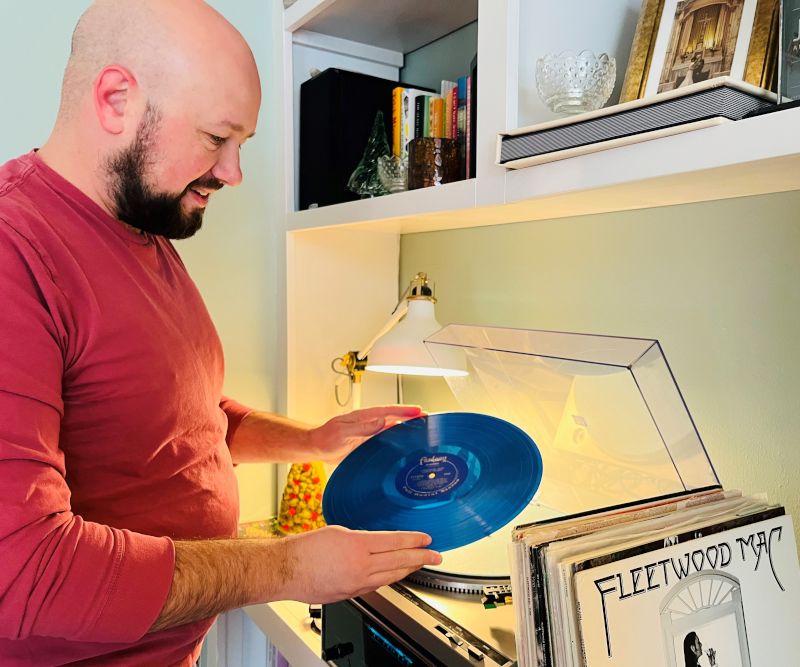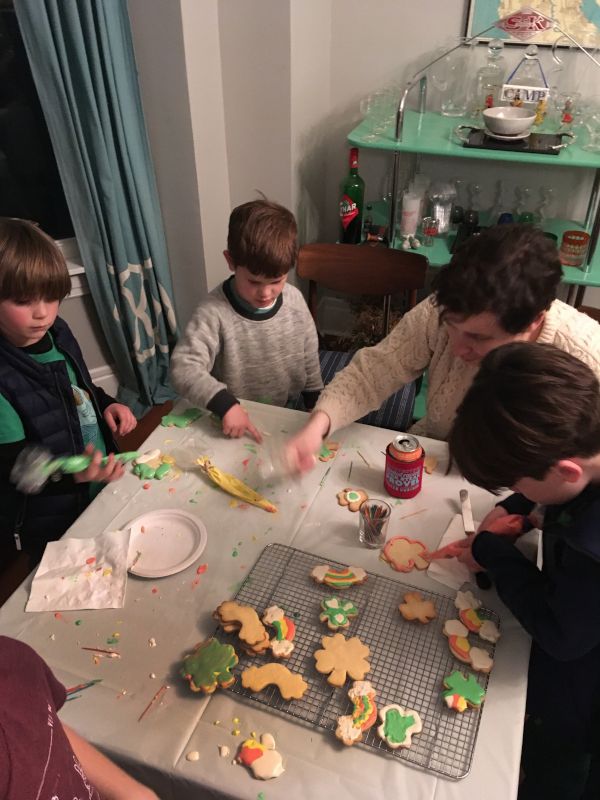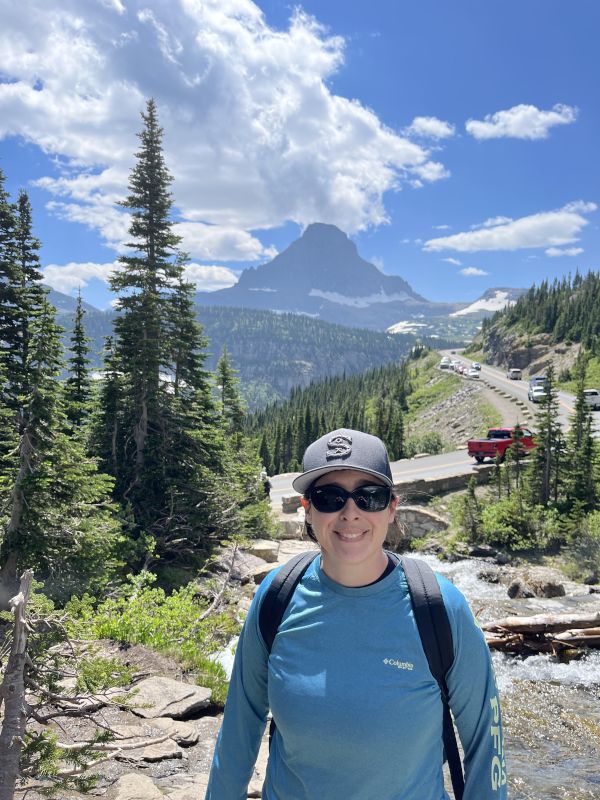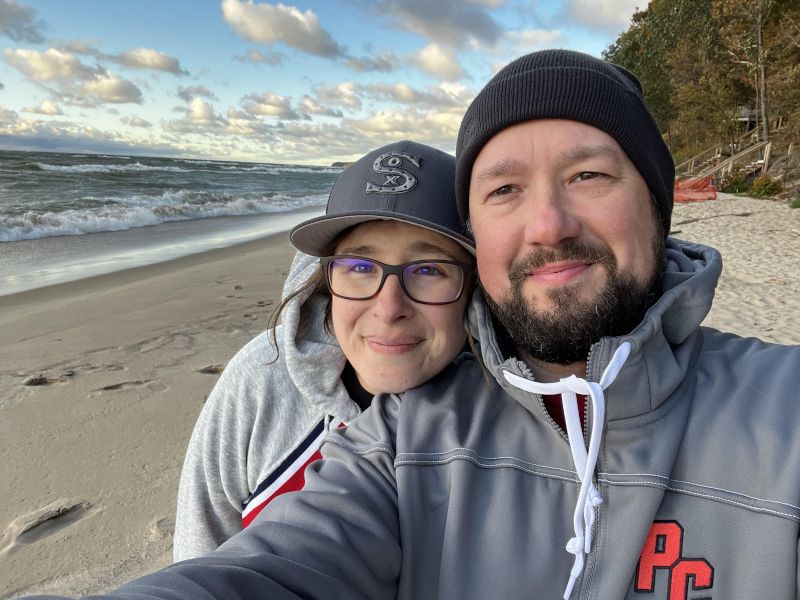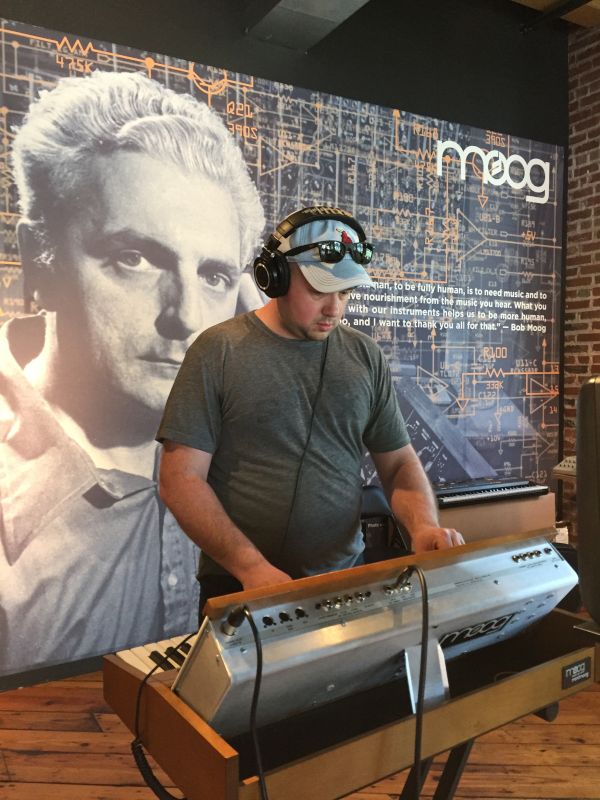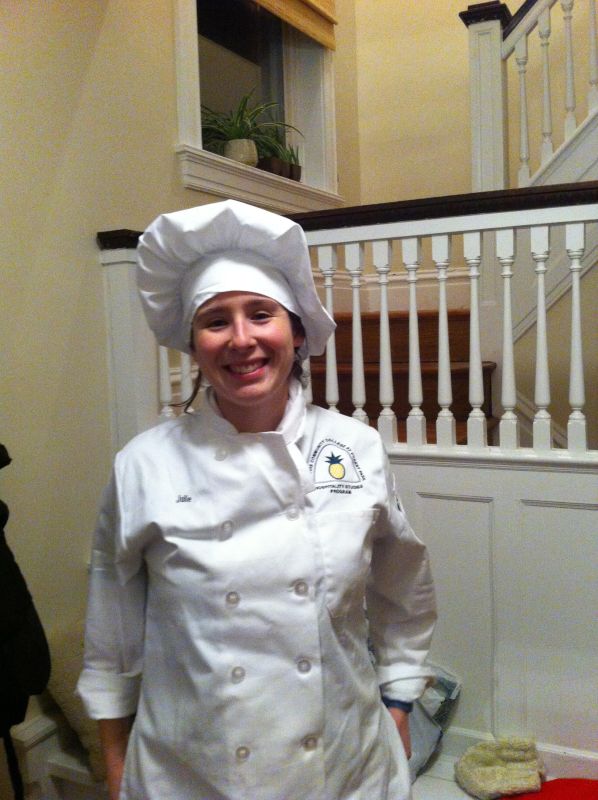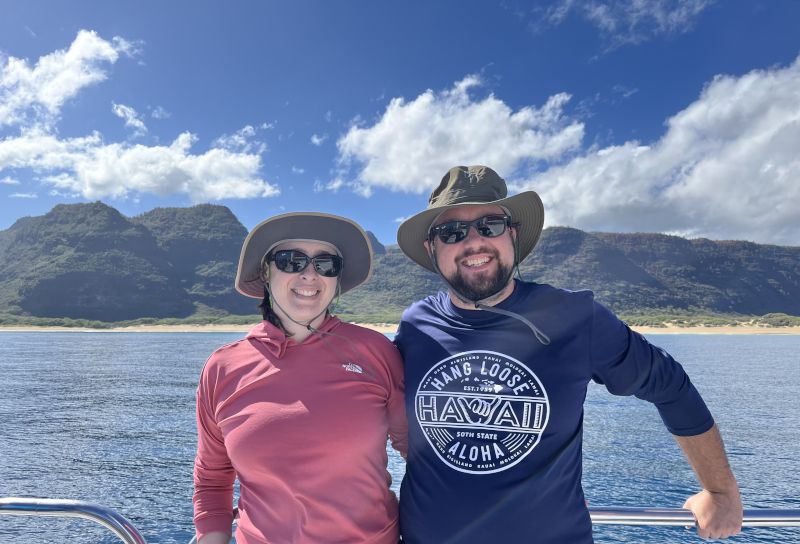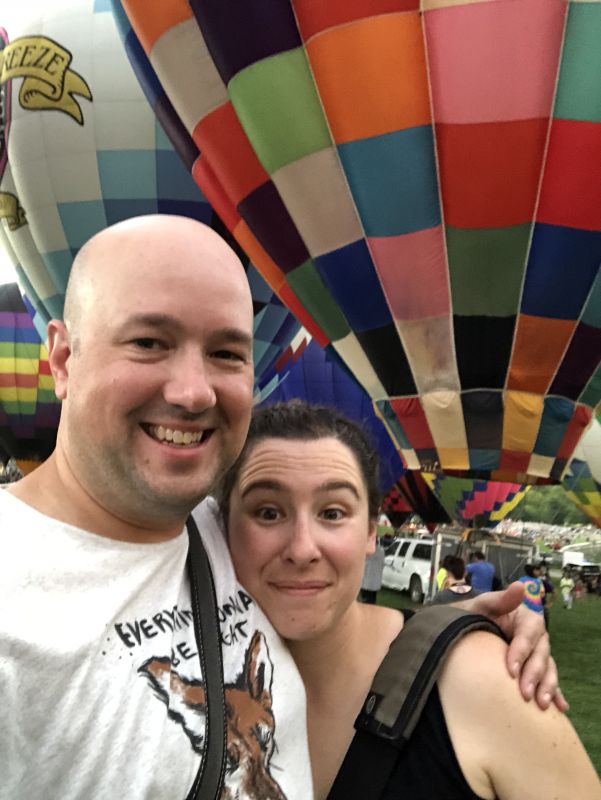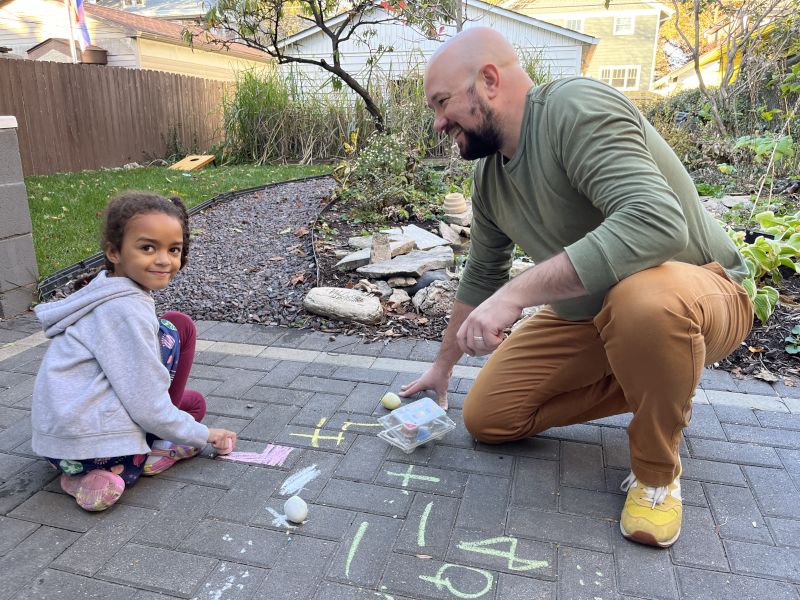 ×
1 / 12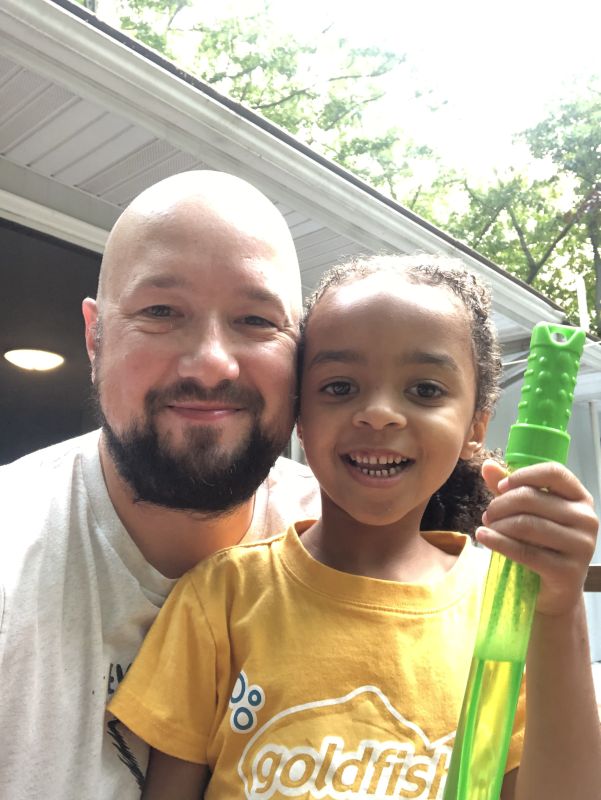 2 / 12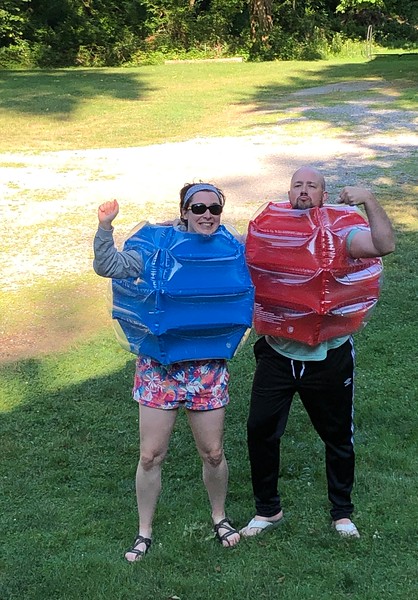 3 / 12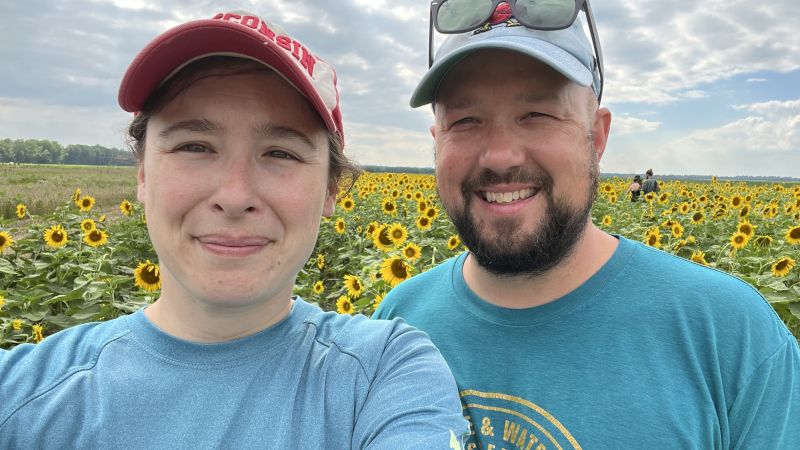 4 / 12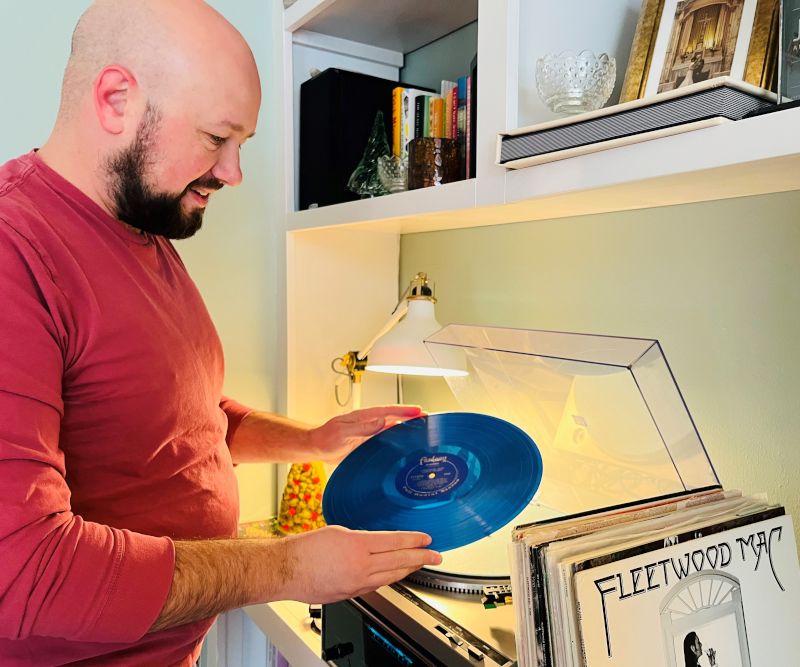 5 / 12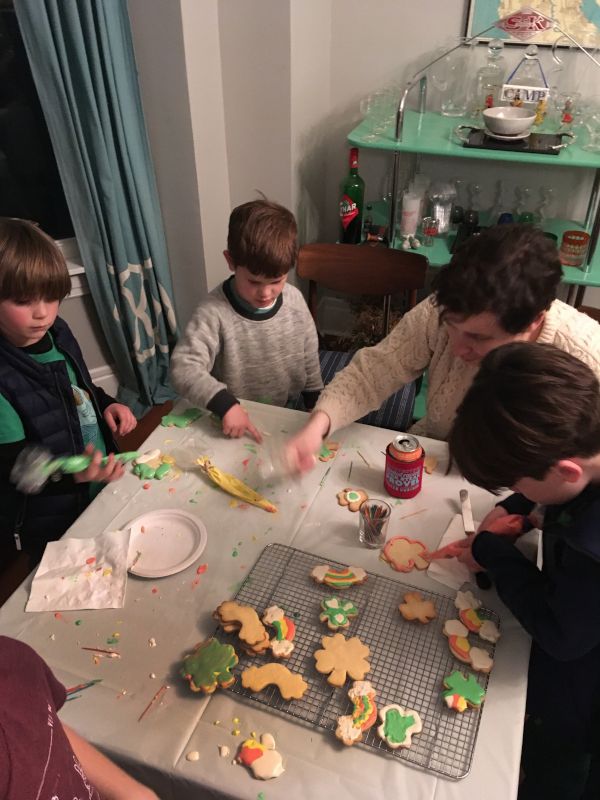 6 / 12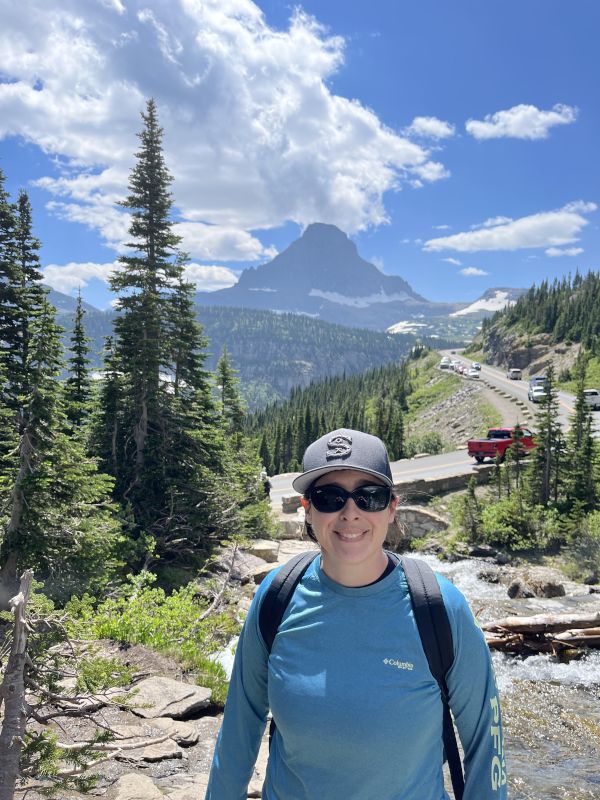 7 / 12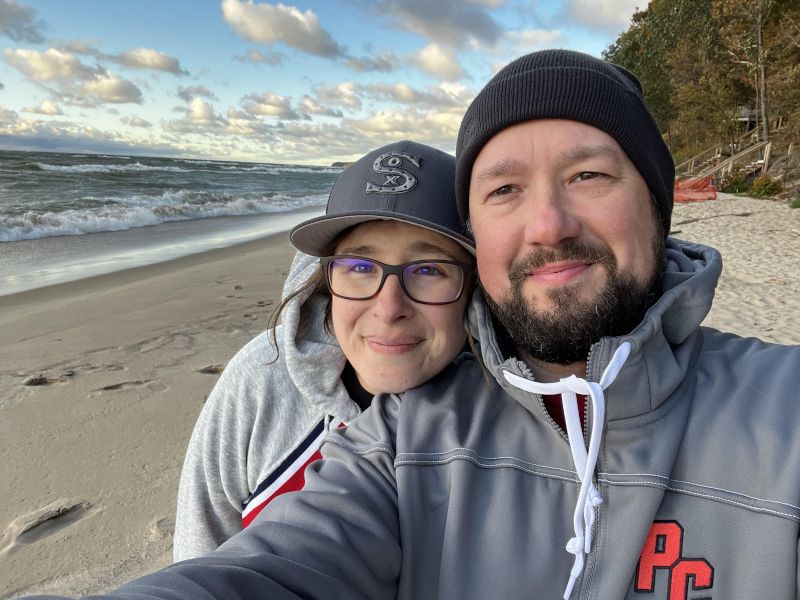 8 / 12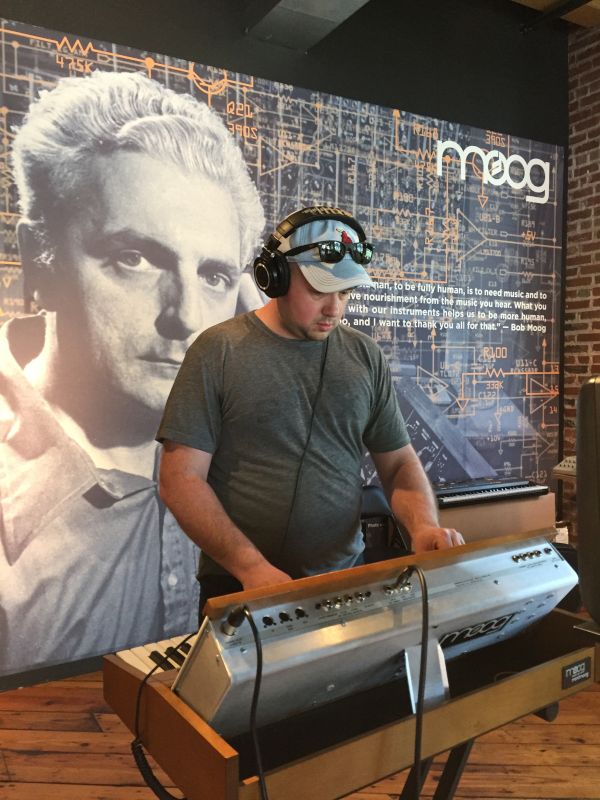 9 / 12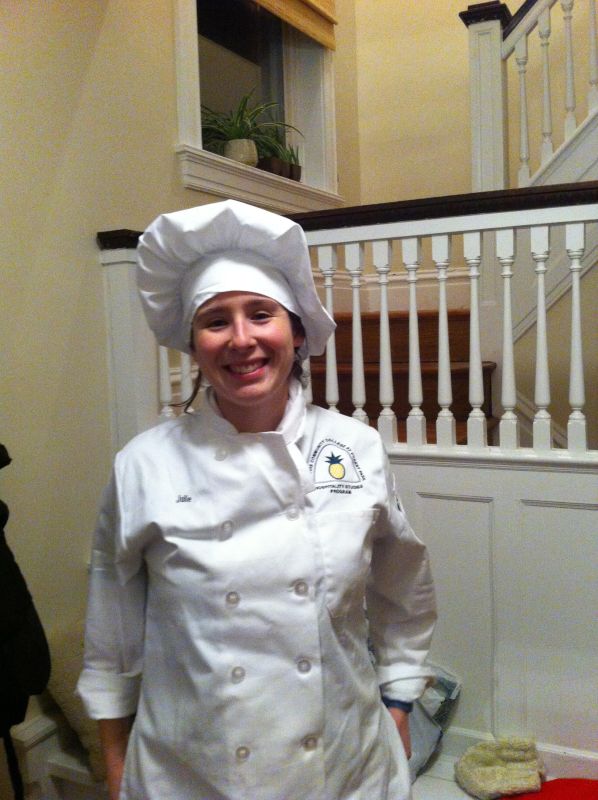 10 / 12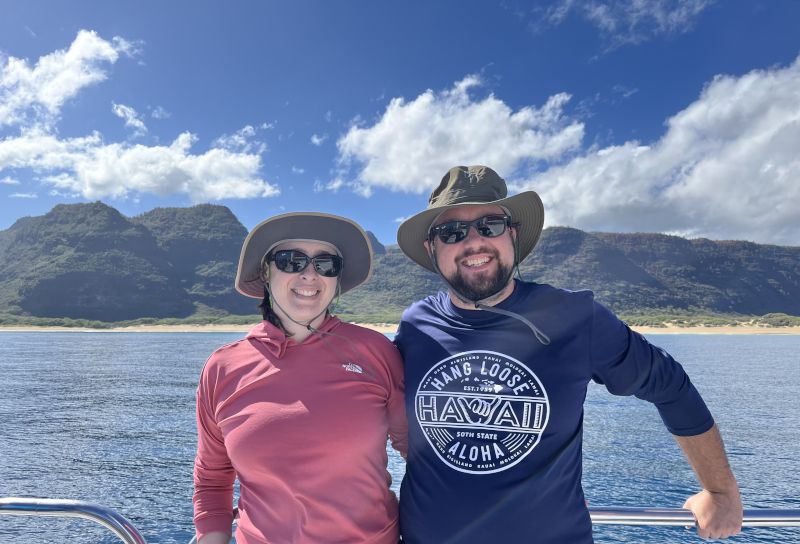 11 / 12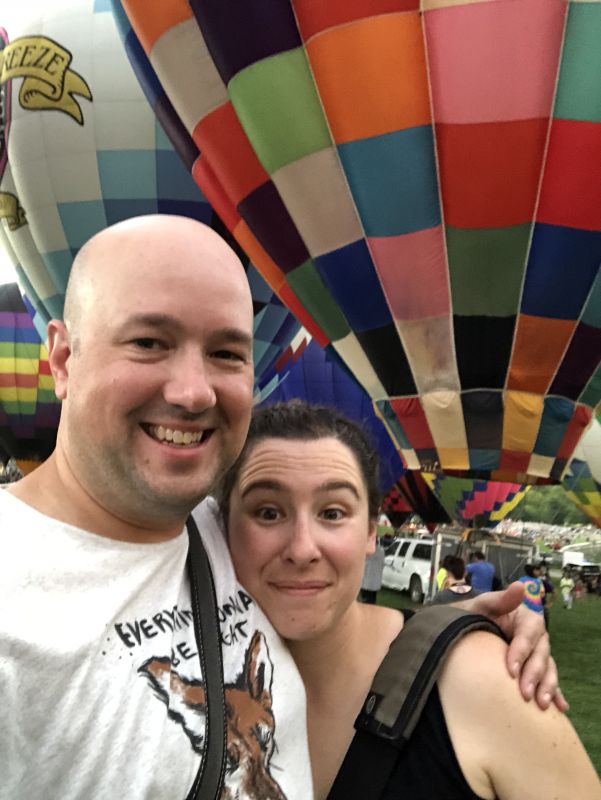 12 / 12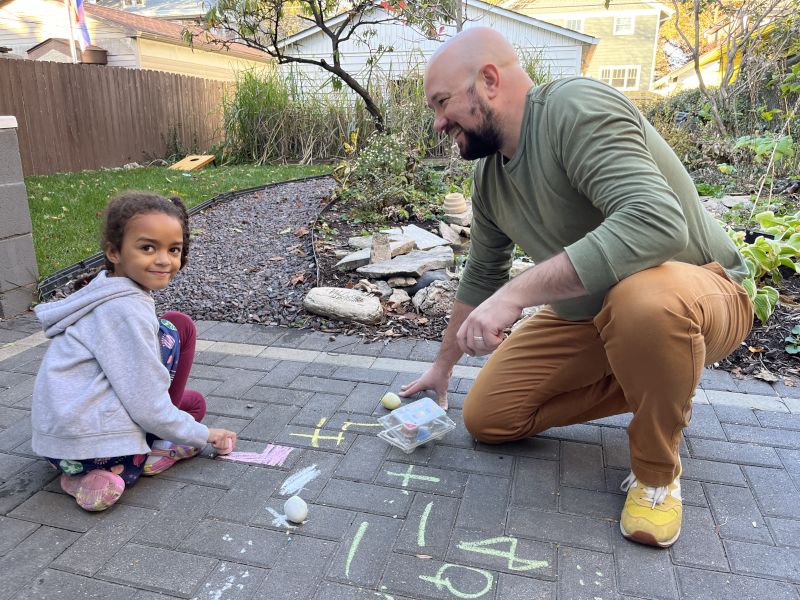 ❮
❯
Our House and Neighborhood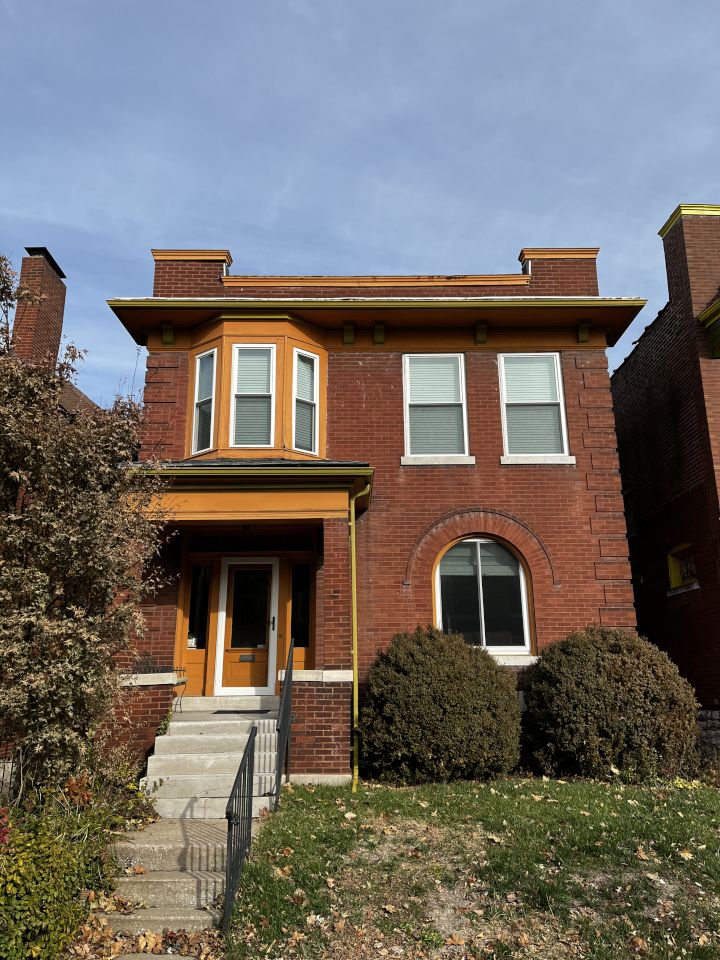 We live in a wonderful community. Our neighborhood and home have been in this city for over 100 years. Many families live in our neighborhood, which is a combination of apartment buildings and family homes. Our home is a traditional "four-square," with three bedrooms, two baths, a back porch, and a backyard where we host friends and family. We spend most of our time in our kitchen and on the back porch. In our kitchen, we keep our refrigerator covered with the previous year's Christmas cards so that we can be reminded daily of the wonderful people in our lives.
Our neighborhood is family-oriented. Most days we walk to the large park or gardens near our home. There are two playgrounds in the neighborhood and three more in the nearby park. Our neighborhood hosts annual Halloween costume parades and a Fourth of July bicycle parade. There are three schools within walking distance, and many shops and restaurants too. If we want to stay in our neighborhood all weekend, we have everything we need. We often visit with close friends who live down the street.
Our Extended Families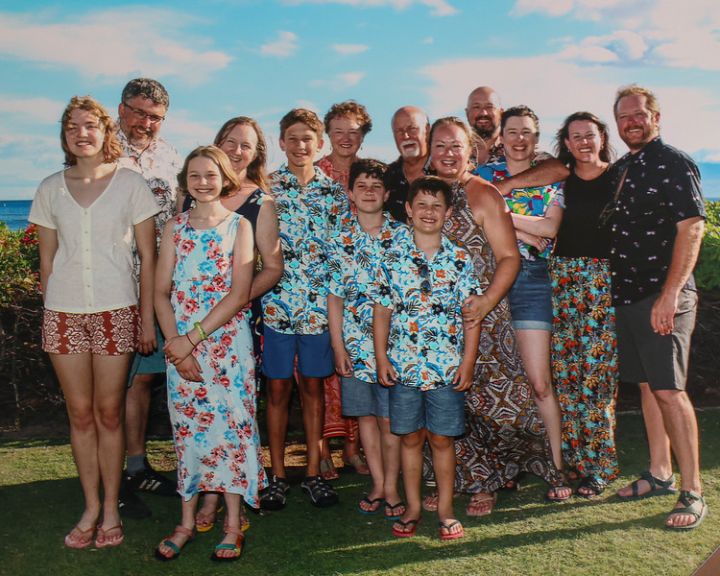 We are lucky to have family where we live and family we get to travel to visit throughout the Midwest and on the East Coast. We regularly visit with Chris's family, who live in the same city as us. Chris's parents host Sunday dinner, and they are eager to welcome another grandchild. They attend every sports game, school event, play, and scouting event for their grandchildren, and they travel with them too. We go to our niece's plays, our nephews' games, and gather to take advantage of events in our city, like ice-skating, the zoo, holiday lights, or to go swimming at the pool.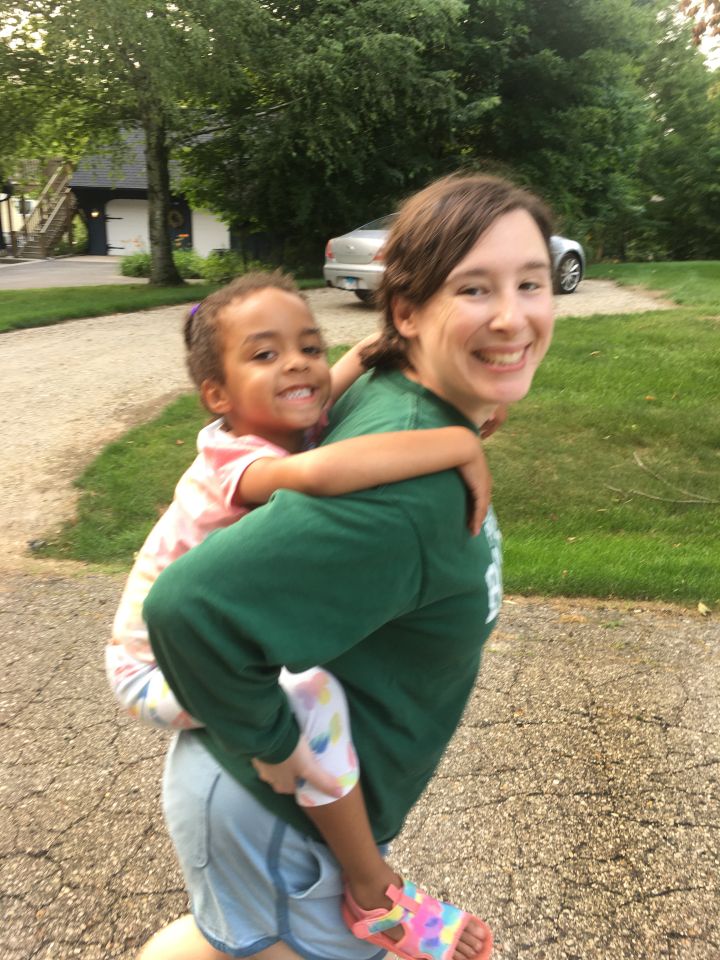 Julie has family (her father and siblings) in another Midwestern city, where we travel often and stay with Julie's dad and his dog Thunder. No visit is complete without eating all of Julie's favorite foods from her home city, the most important of which is pizza. We plan trips to see White Sox games or spend time at Lake Michigan. We also travel to the East Coast to visit with another of Julie's sister and brother-in-law, and their daughter, Helen, who is also our god-daughter.
Every summer, we travel with one of our extended families. Recent destinations include Michigan, South Carolina, and Hawaii, where we stay together for a couple of weeks.
A child who joins our family will have three grandparents (Chris's parents and Julie's dad), and many aunts, uncles, and cousins!
From Us to You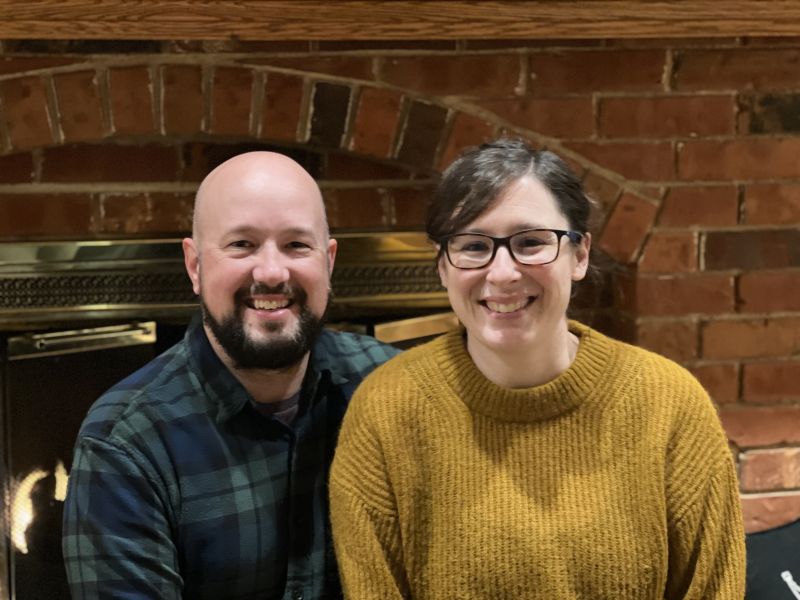 As a birth mother, we cannot fully understand the choices that you have to make for this child. We thank you for considering us to become adoptive parents; we look at this as a profound decision on your part, and the gift you will give to your chosen family is immense. We hope that we can show you how much love and support we can give a child and assure you that they will be part of an amazing, supportive family.
It is hard to express in words the community of love, joy, and laughter that the child will enter. We are overwhelmed by the support of our loving families and friendships, and everyone in our circle is thrilled to welcome a new child into our family. Along with grandparents, aunts, uncles and cousins, the child will be part of a diverse collection of friends and neighbors, whose kids are already a big part of our everyday life. Our home will be filled with laughter, stories, music, dancing, and lots of good food; our lives will be focused on helping raise the child to be confident, curious, and caring and to help them understand their own unique, beautiful role in the world.
We have been a couple for over 11 years and married for 9. In that time, we have grown in our love and appreciation for each other and have seriously considered how best to share that love with the world. Raising a child together is a natural outgrowth of our love as a couple, and we know that our skills and personalities will combine to make a wonderful, love-filled home for this child. In our professional lives we are committed to transforming lives through education, and in our personal lives we desire to help guide a child to be a force for good in the world. We believe in every human's worth and value; we believe that fairness, equality, and understanding are crucial tools to create a better world; and we know that raising a child with these values will help make a better world for all children.
We know that families are created in different ways, and our family will have its own unique story as well. We know that you will be a central part of that story, in our child's life and in our own. We talk often about how we want a child to experience the world. We both value our own experiences of closeness with our families, and we do not wish to deny that to you or the child. We will communicate with you regularly on the child's growth and development; we will send pictures, videos, and art projects so you can experience the changes as well. We are happy to send letters and emails and to do video calls as well and are open to in-person visits as works best for you and your life. We trust you to decide what level of contact is best after adoption and will seek to honor your wishes, whatever you decide. We look forward to teaching the child about where they came from and the culture and community of your family.
Sincerely,
Chris & Julie
Favorites
Actor
George Clooney
Idris Elba
Actress
Viola Davis
Julia Louis-Dreyfus
Author
George Saunders
Leslie Jamison
Book
The Great Gatsby
Life of Pi
Cartoon
The Smurfs
The Simpsons
Childhood Memory
Swimming at my grandparents' house
Christmas at my grandfather's house
Children's Book
There Is a Monster at the End of this Book
The Ear, the Eye, and the Arm
Classic Movie
White Christmas
The Godfather
Day of Week
Friday
Saturday
Dessert
Chocolate chip cookies
Chocolate
Disney Movie
The Emperor's New Groove
Mulan
Dream Car
Convertible Volkswagen Bug
I prefer my feet and my bicycle!
Dream Job
Radio DJ
Professional baker
Dream Vacation
Japan
Ireland
Family Activity
Bowling
Eating dinner together
Flower / Plant
Magnolia
Ferns
Form of Exercise
Biking
Running
Fruit
Grapefruit
Strawberry
Holiday
Christmas
Thanksgiving
Holiday Song
Silent Night
"The Last Month of the Year," by the Staples Family Singers
Holiday Tradition
Trimming the Christmas tree
Big family meals
Ice Cream
Strawberry
Chocolate
Junk Food
Jalapeno poppers
Nacho Cheese Doritos
Leisure Activity
Swimming
Reading or watching a movie
Memory with a Child
Amusement park with our nieces
Staying with my niece the first weeks after her birth
Memory with Spouse
Traveling to Hawaii
Traveling the West Coast on our honeymoon
Movie
Raising Arizona
Clueless
Movie Munchie
Snow Caps
Pretzels
Musical
The Music Man
Jesus Christ, Superstar
Musical Group
Elvis Costello
Olympic Event
Curling
Gymnastics
Personal Hero
My dad
My mom
Poet
William Butler Yeats
Gwendolyn Brooks
Quality about my Spouse
Julie has a clear sense of right and wrong
Chris has endless amounts of love to give
Scripture
Matthew 25:34-40
Song
"These Arms of Mine," Otis Redding
Girl from the North Country, Bob Dylan
Sport to Play
Basketball
Running
Sport to Watch
Baseball
Baseball
Sports Star
Albert Pujols
Michael Jordan
Sports Team
St. Louis Cardinals
Chicago White Sox
Subject in School
English
English
Thing to Cook
Chili
Rice and beans; brownies
Time of Day
Evening
Evening
Tradition
Sunday family dinners
Celebrating St. Patrick's Day with my family
TV Show
The Simpsons
The Office
TV Show Character
Homer Simpson
Type of Music
Soul
Hip hop; classic rock
Vacation Spot
Seattle
Lake Michigan
Video Game
Super Mario Brothers
Katamari Damacy
Get in Touch
Provide more information, so American Adoptions can connect you with this family.
---