1-800-ADOPTION
Thank you for viewing our profile
If you would like to learn more about us, please call 1-800-ADOPTION (2367846), fill out the form at the bottom of our on-line profile page, or email us at bp_information@americanadoptions.com.
To revisit our on-line profile page and view our profile video at American Adoptions, simply use your mobile phone to scan the QR code on the right. We are looking forward to hearing from you!
Matt & Jenn
Hello, thank you for taking the time to get to know us! For many years we have dreamed of growing our family to share our love, laughter, and passion for adventure. To consider us to be your child's parents means more to us than we can fully express as we recognize the gravity of this decision. We would be humbled if you considered us in this journey of adoption.
About Us
Job
Firefighter
Tour Boat Captain
Education
Professional Firefighter Training
Bachelor's Degree in Psychology
Relationship
Legally Married
Our Professional Lives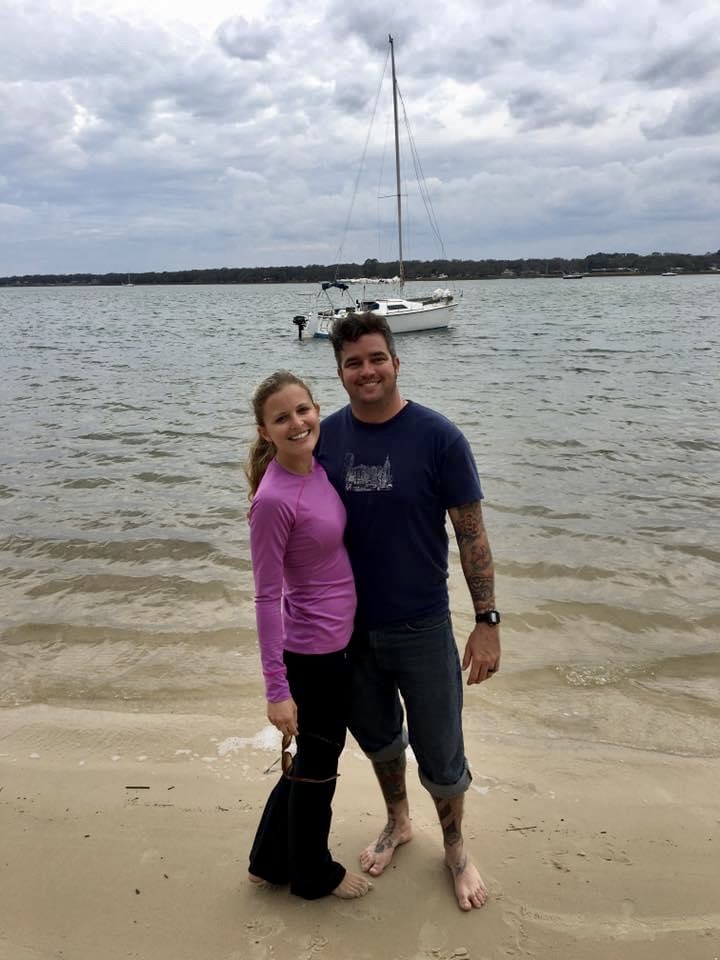 Both of us lead an active lifestyle so it is fitting that our professions mirror that. Matt joined the fire academy right out of high school and has been a firefighter now for 13 years. Matt could not see himself doing anything else as a career and Jenn could not agree more. One of Matt's favorite aspects about fire fighting is the brotherhood. The brotherhood expands outside of the station walls and is something we cherish greatly.
Jenn is a boat captain. Actually, we both have our boat captain licenses. Matt utilizes his captain's license with his specialty in the Fire Department of Marine Rescue. Jenn captains a local wildlife, history, and dolphin tour boat where she gets to share her love of the water and the wildlife that inhabits it. Somedays, Jenn even gets to bring the dogs to work which she loves. Jenn always said that she wanted an ocean front office and she achieved it.
We feel grateful to have careers which we enjoy and have pride in. We look forward to helping our future child find their passion and accomplishing their dreams.
Our Passions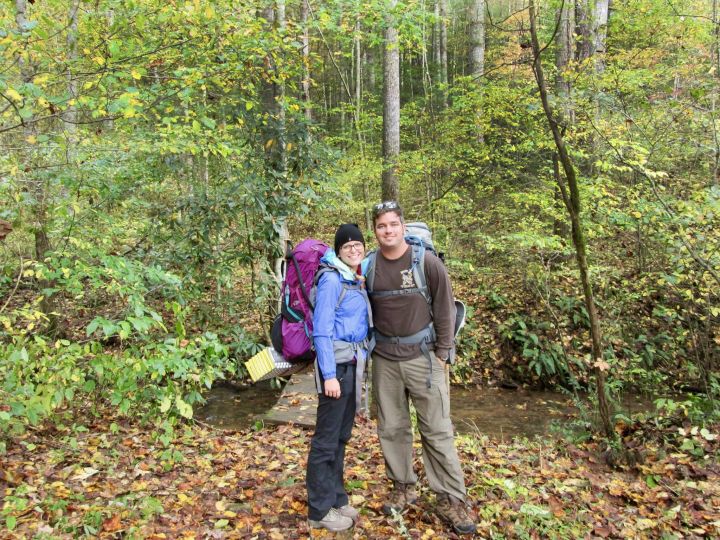 Our passions are rooted in exploration and the outdoors. Our love story grew through our passion with the ocean but, we love to explore lots of different hobbies. We have explored bee keeping, wood working, photography, gardening, and hiking.
Matt is always up for the challenge to learn something new. From a young age, Matt taught himself how to sail with a Hobie cat and a small sail boat. Most recently, Matt has learned how to foil board and that has become a favorite summer activity.
Jenn loves to be creative while learning new hobbies. When we were learning about wood working Jenn started to make homemade wax from the bee's wax we collected from our hives. The wax was used to seal all the wood working projects that Matt had finished.
Together, we have mapped and hiked through a portion of the Application Trail, sailed to the Bahamas, and expanded our photography skills through our travels. We cannot wait to expand our family and continue to learn and explore new hobbies together.
Our Pets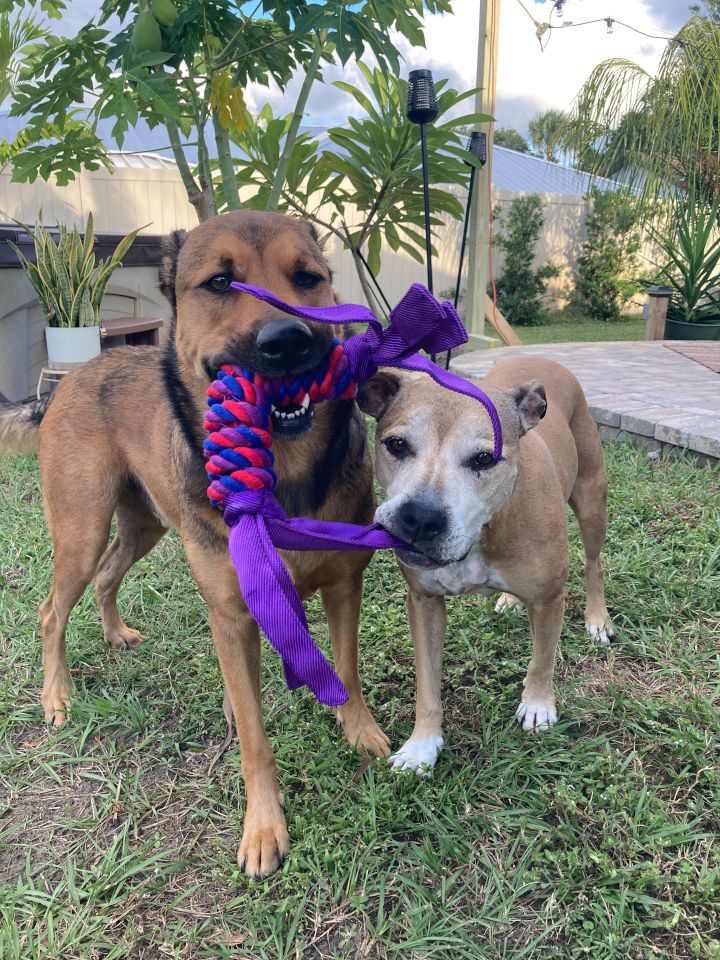 We both grew up with animals in our life. Currently, we have two dogs or "fur children" who enjoy hanging out and participating in our outdoor activities and traveling adventures. One of their favorite activities is playing ball out on one of our local sandbars. We adore spending time with our dogs and plan to always have dogs in our lives. We feel having pets teaches wonderful qualities such as: loyalty, patience, compassion, and responsibility. Our dogs remind us to stop and enjoy the moment and they never skip a beat in comforting us when we need it the most. We feel growing up with animals is a wonderful way to learn how to connect to our emotions and teach us important life lessons. We know that our dogs are as excited as we are for our family to grow as they have so much love to share. Since we have told them that we are going to grow our family their tails have not stopped wagging.
Photos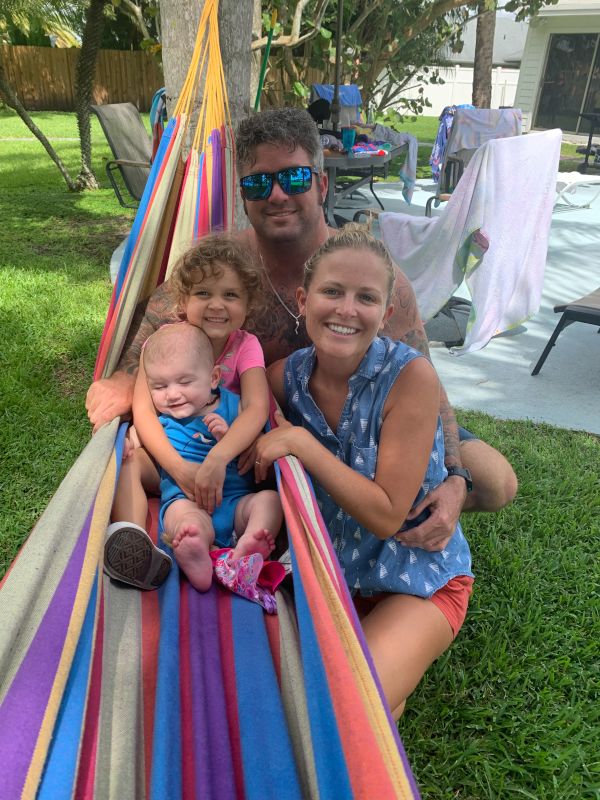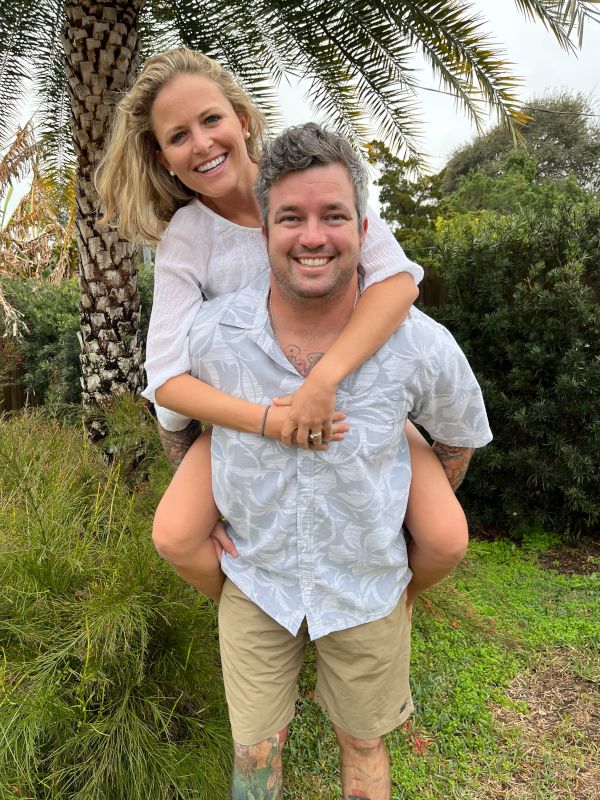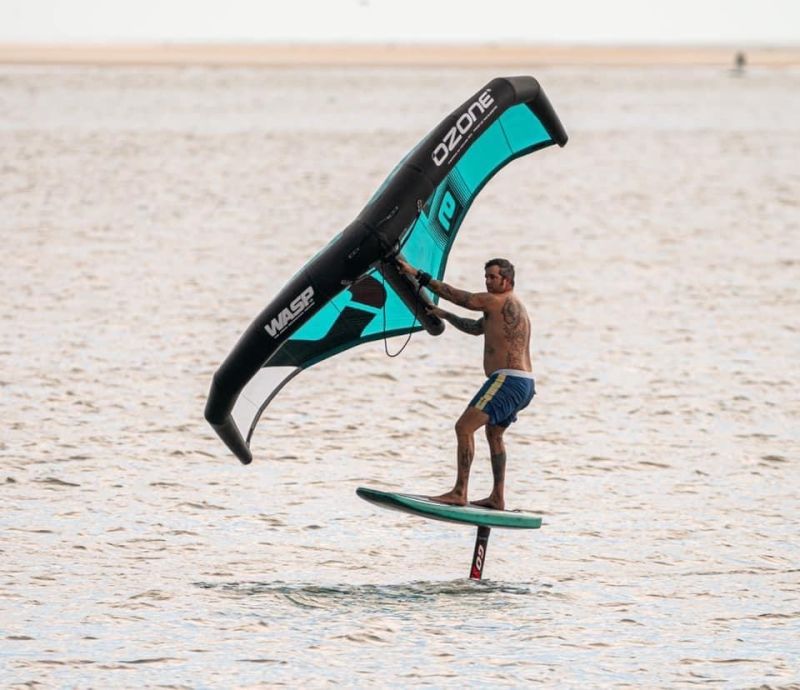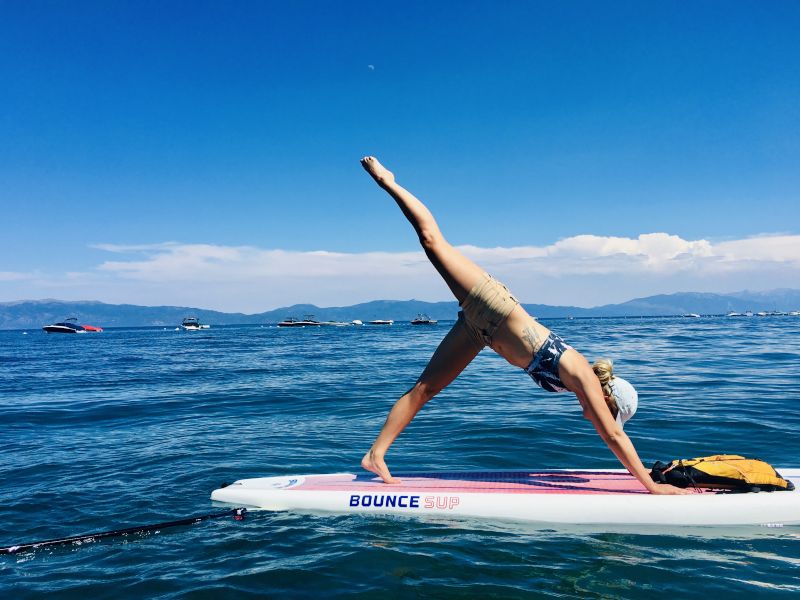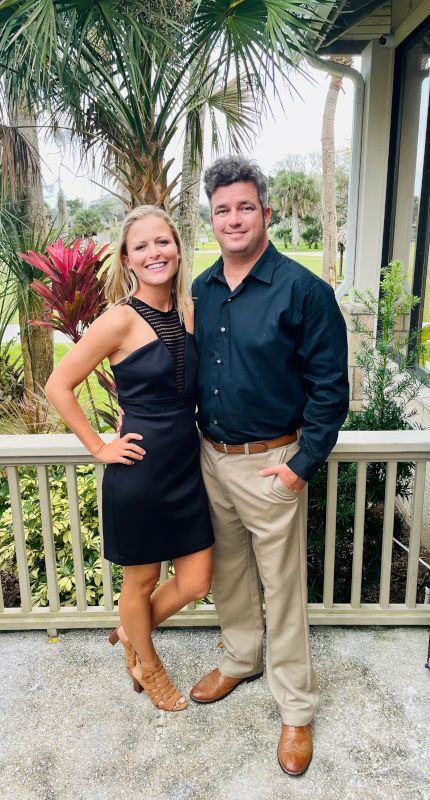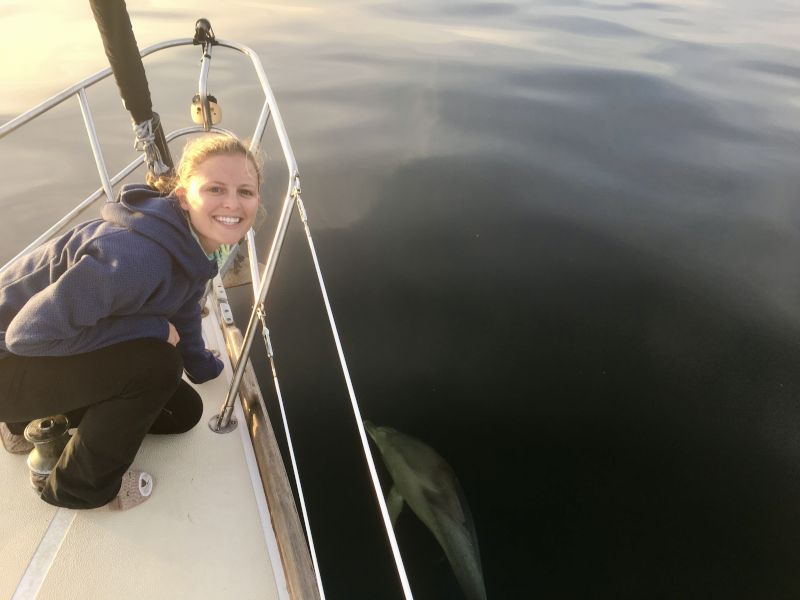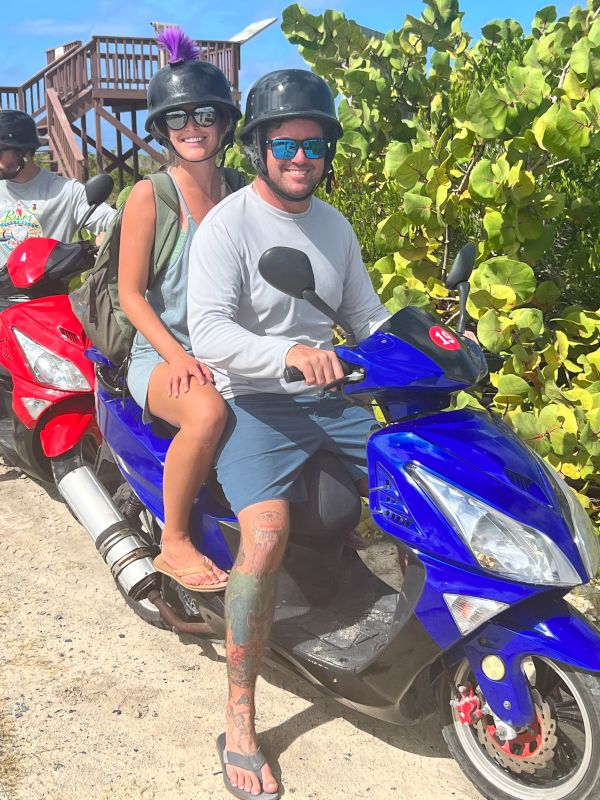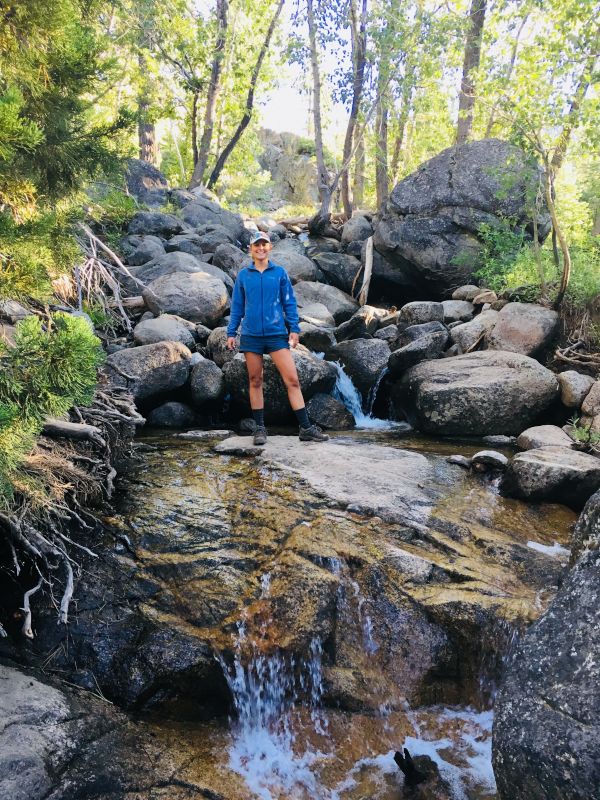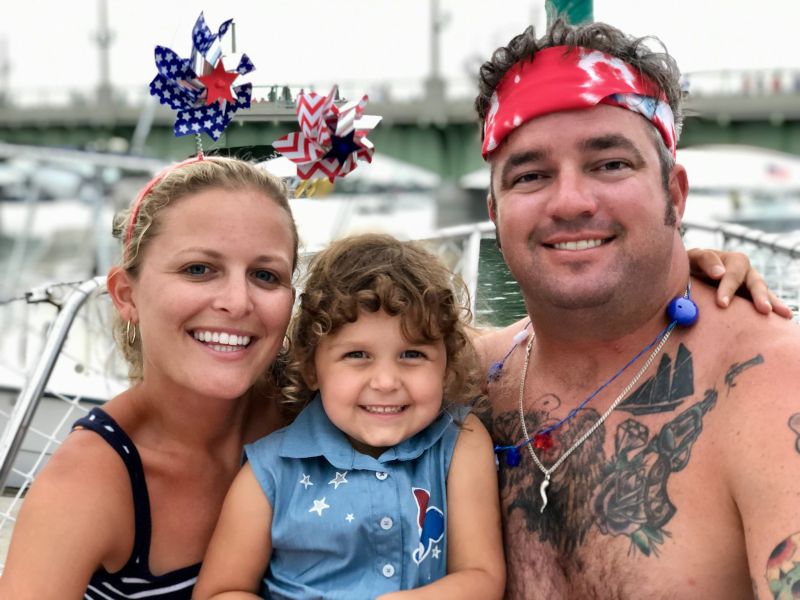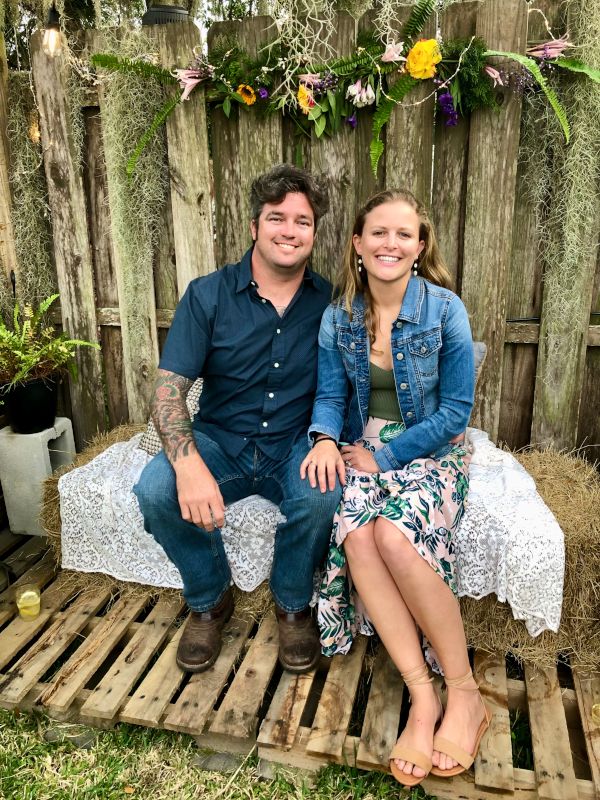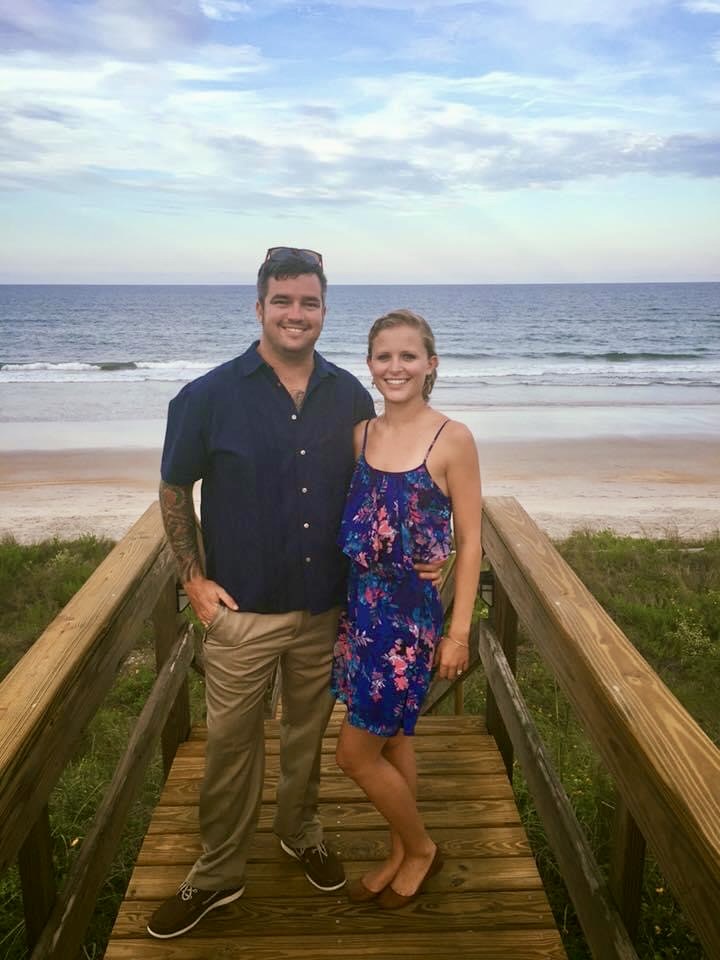 ×
1 / 12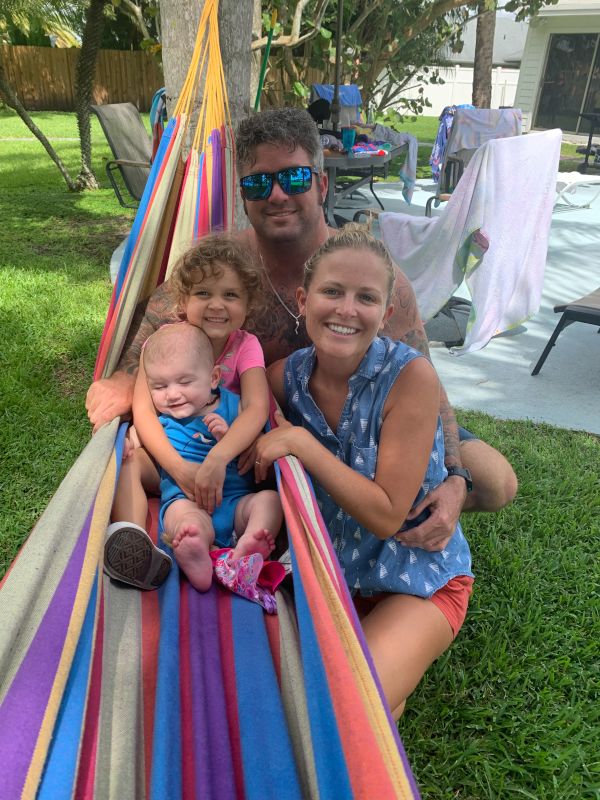 2 / 12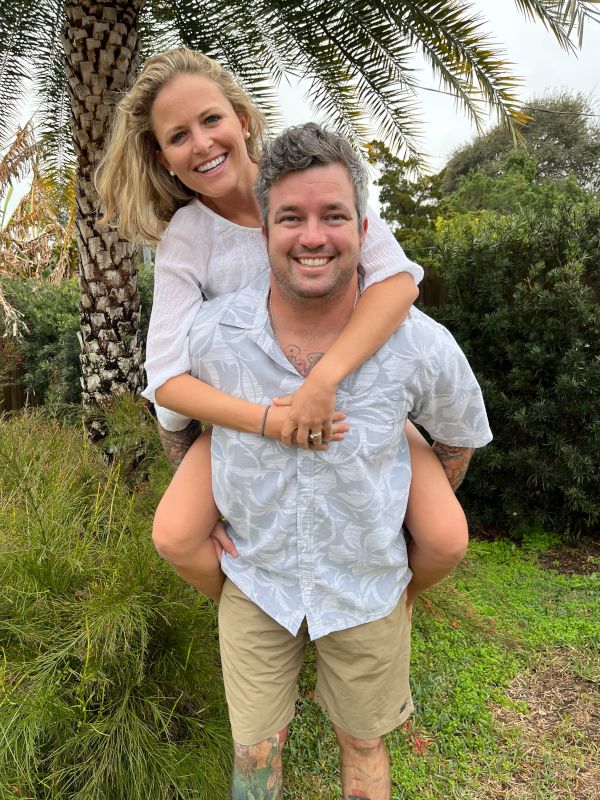 3 / 12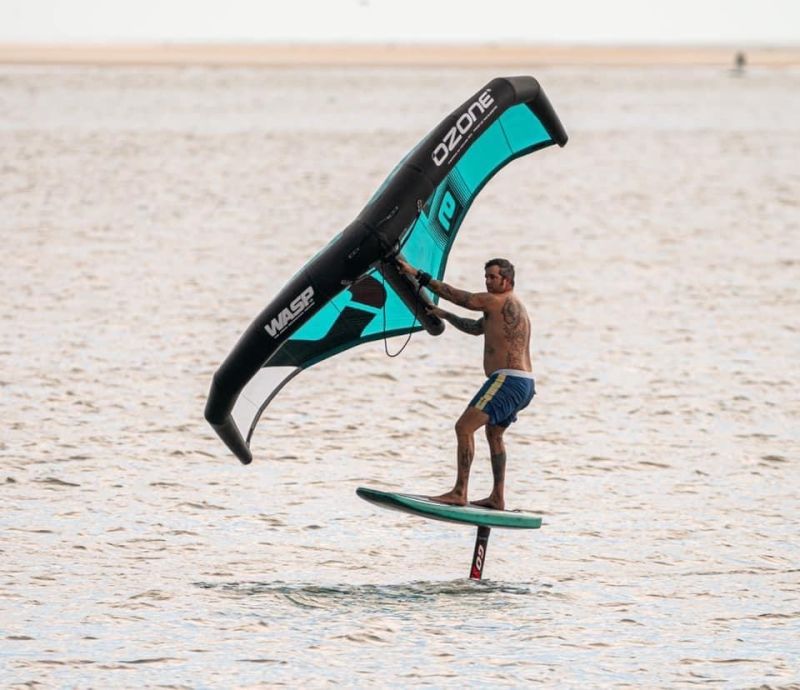 4 / 12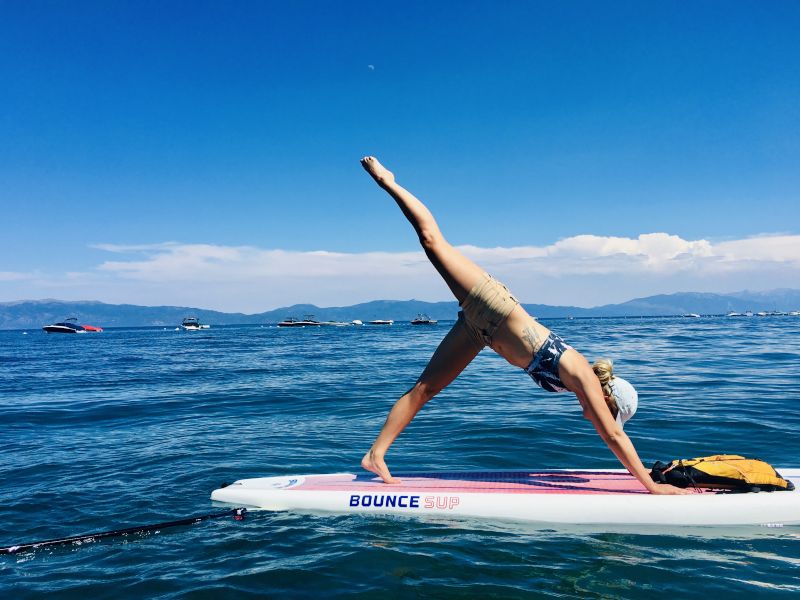 5 / 12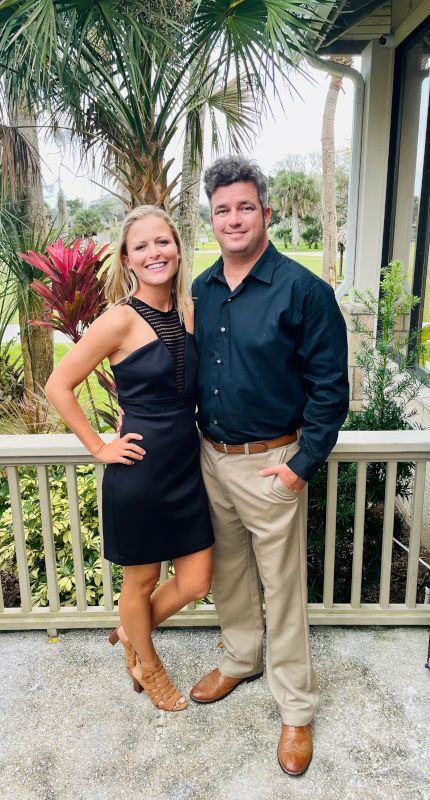 6 / 12
7 / 12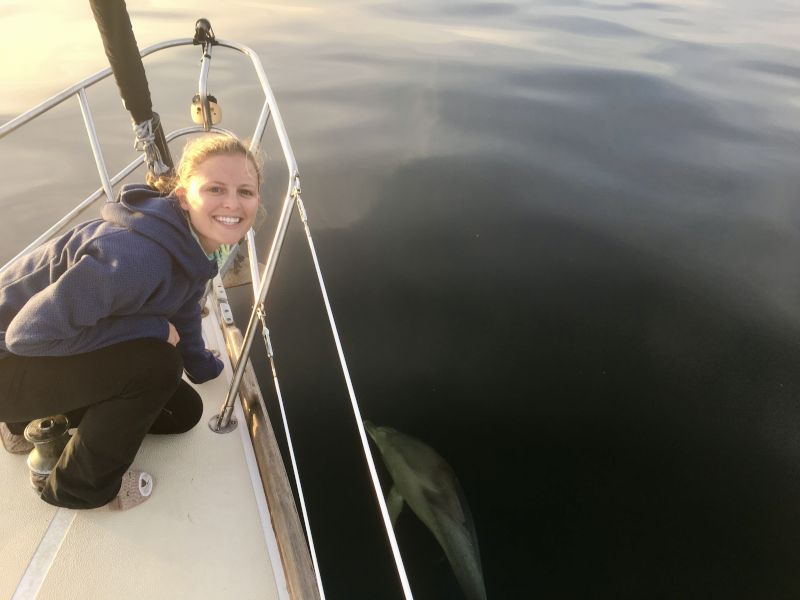 8 / 12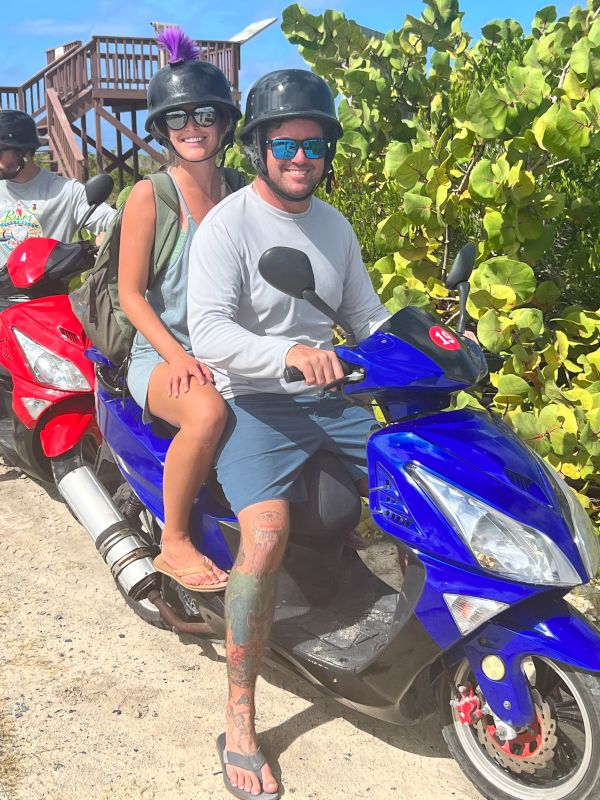 9 / 12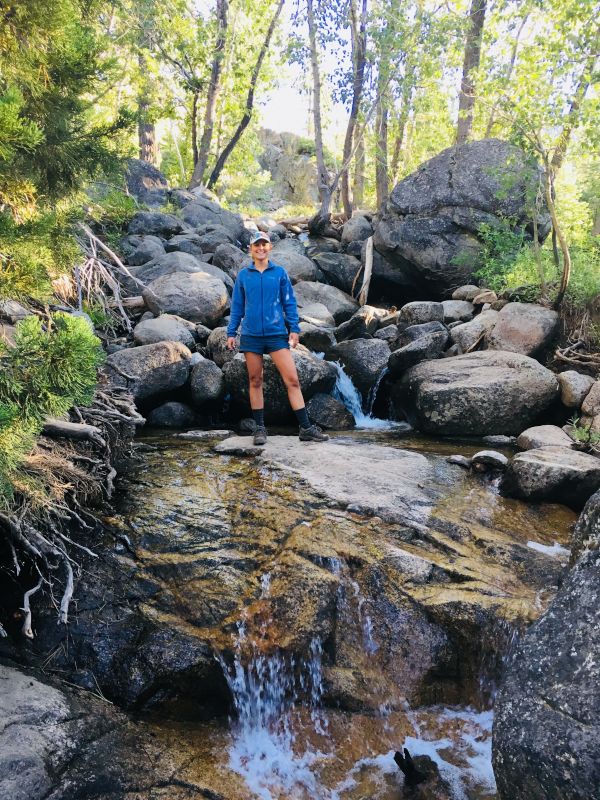 10 / 12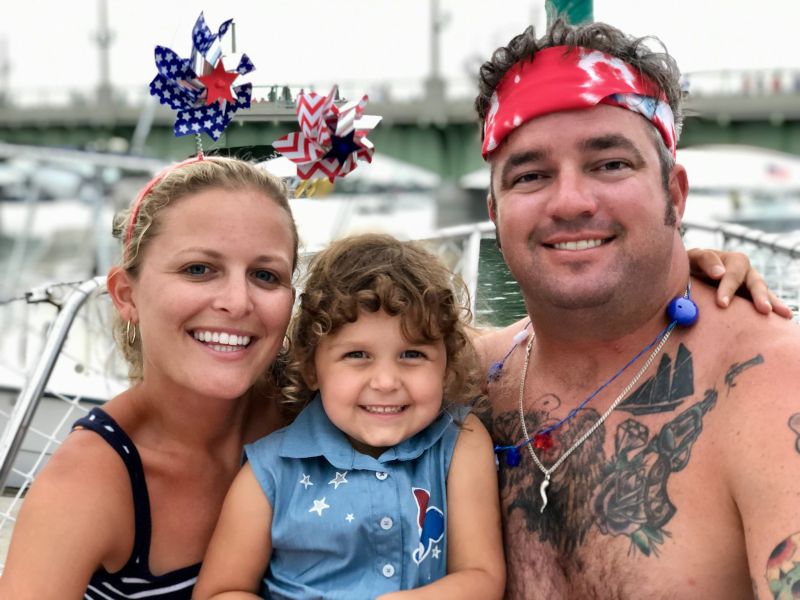 11 / 12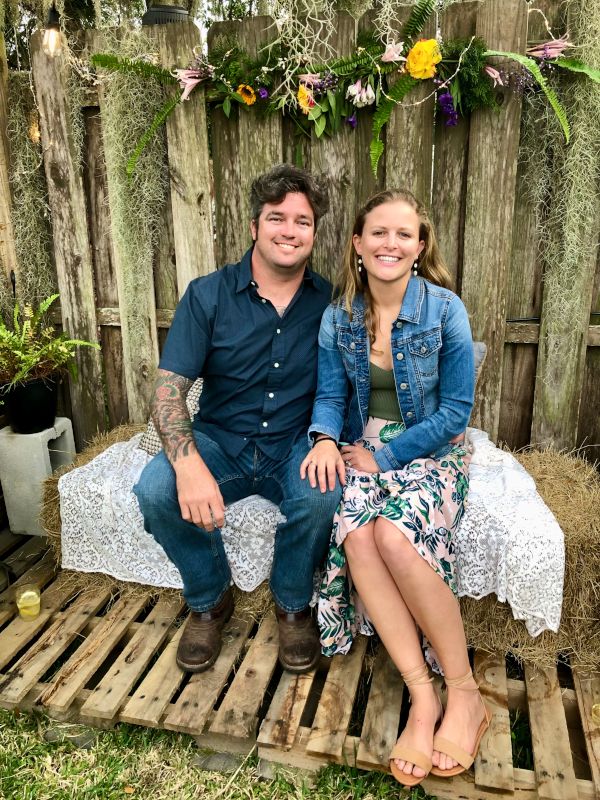 12 / 12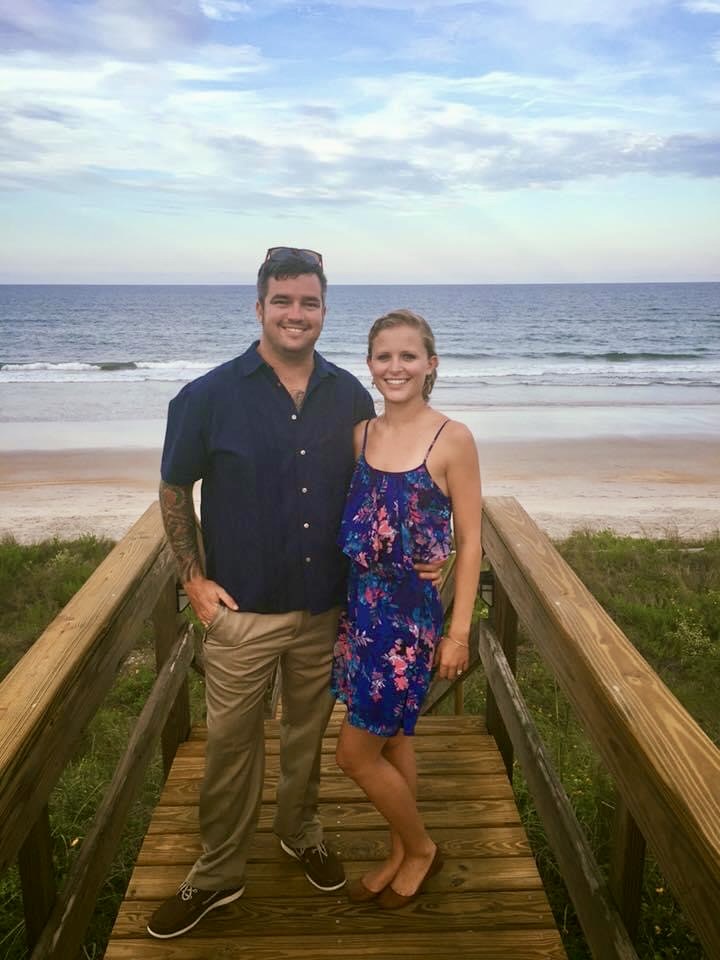 ❮
❯
Our House and Neighborhood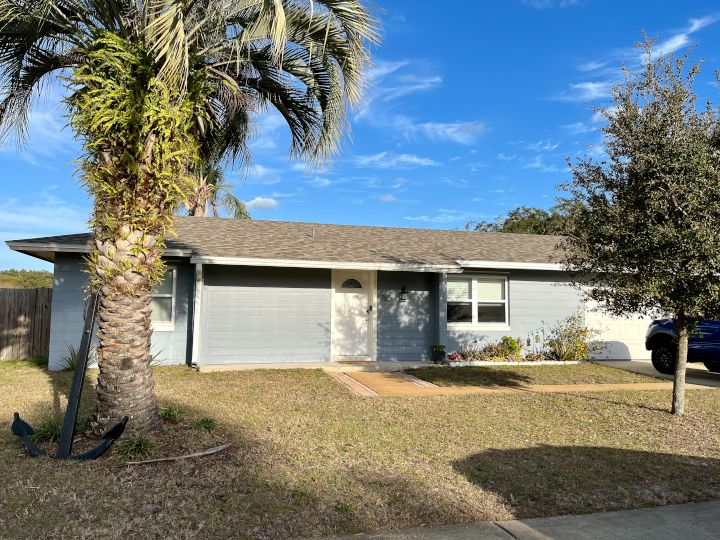 We live in a historical city near the ocean. Matt was born and raised in our city so he is a "true local" which means he knows a lot of people!
We have an adorable two-bedroom house that is 10 minutes away from the beach and just under two hours away from Disney World. We also have two amazing zoos nearby which we love to visit often.
At home, our favorite spot is on our back porch. In the evenings we enjoy watching the sunset out on the porch while the dogs play in our fenced-in backyard.
Our neighborhood has two big playgrounds, walking trails, a community pool, and community events such as, 5Ks and farmers markets. Our neighborhood has lots of children who attend the elementary school down the road from us.
Our city holds many events throughout the year such as: amazing concerts and events at our local amphitheater, 4th of July and New Year's firework displays on the water, award-winning holiday light displays, concerts by the sea, and movies on the lawn in the summer.
We have multiple state parks nearby which provide opportunities for hiking, biking, or even horseback riding. We love our community as it is constantly growing which allows us to continue to explore right in our own backyard.
Our Extended Families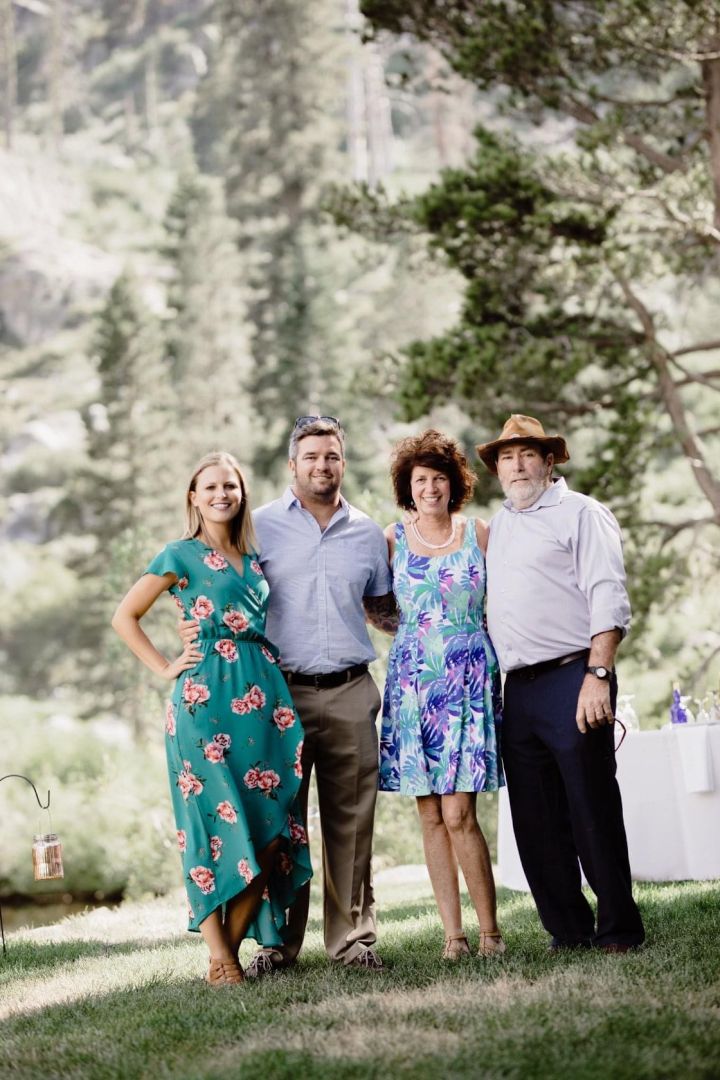 Our family and friends are some of the silliest, most supportive, and loving people we know. Both of our parents live in the same city as us and it allows us to be able to get together often for dinners and birthdays.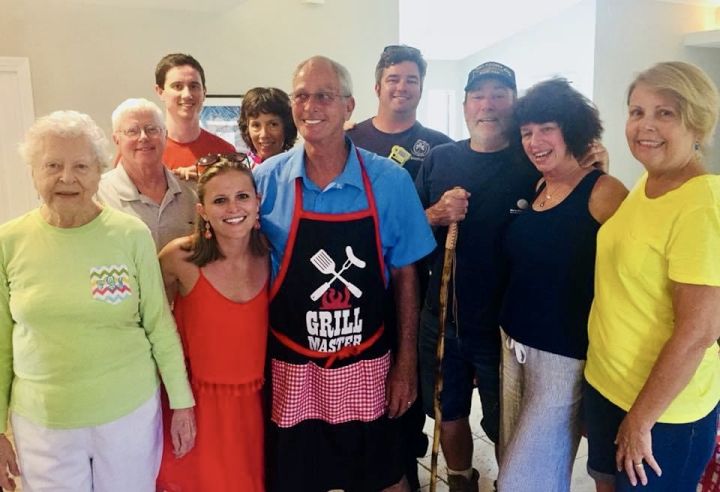 Matt's brother lives down the street from us and Matt's sister lives in a neighboring city. Matt's sister has a little boy and girl who bless us with the best titles of aunt and uncle. Since Matt's sister lives nearby, we have been able to be very involved in our niece's and nephew's life which is something we are elated about.
Our friend group is an extension of our family. We frequently have friends over either out on our sailboat or grilling at the house for game nights. Our favorite get togethers with friends involve oyster roasts in the winter, shrimp boils in the summer, and yearly family style Friendsgivings.
Our family and friends are so excited to be on this adoption journey with us and are waiting with open arms for us to expand our family.
From Us to You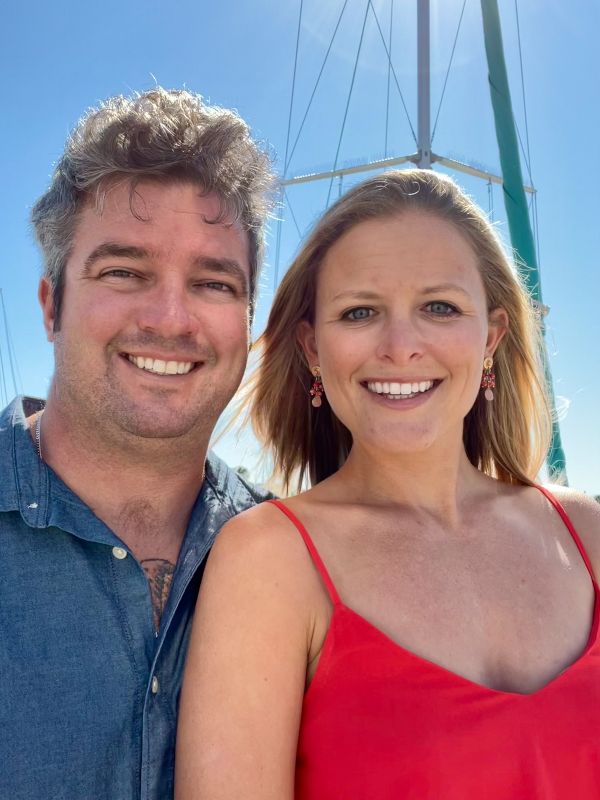 Thank you for considering us as potential parents for your child. Even though we have never met, we admire your strength and courage for choosing adoption. We know that the path you are walking is one with many decisions. We are humbled that you are allowing us to share a little about ourselves and we hope that by learning more about us it will bring you peace of mind.
Our story started at a local dive shop where Matt was working as a dive instructor. One spring Jenn got scuba certified with Matt before participating in a study abroad. As fate would have it, Jenn started working at the dive shop not long after getting certified. Once Jenn started working at the dive shop we started to get to know each other more. Jenn loved Matt's ability to make anyone feel comfortable and his sense of humor. Matt loved Jenn's contagious smile and bubbly personality. As our love grew, so did our passion for adventure and the water. We plan to continue going on adventures and look forward to sharing them as we expand our family.
In 2016 we got married. Since we said "I do" we have been looking forward to expanding our family. Family roots us and is something we have always prioritized. We choose adoption as we would not be able to grow our family otherwise. Our families are very close and extremely supportive of our adoption journey. We know that our families will be greatly involved in the child's life teaching them positive values and creating beautiful memories. We love that as our family expands our child will have cousins to play with and we look forward to them growing up together.
One of our greatest strengths as a couple is our ability to work together. We feel this strength will help us be the best parents we can be. There are many things we promise you if you choose us to be the parents of your child. We promise: that we will honor you with gratitude and respect, we assure you that your child will have all of our devotion and love, we will do our very best to provide every opportunity to him or her, we will positively nurture them as they grow, and we promise to be fully present throughout their life. We plan to adjust our roles outside of the home as our family grows so that we can give him or her all of our undivided attention throughout their life.
It is important to us that you know that you are loved and your baby is loved. We want you to be a part of your child's life so that he or she can have an understanding of the tremendous sacrifice that you made out of love. We will send letters and keepsakes that mark milestones in your child's life. We are eager to get to know you and work together to maintain a happy and healthy relationship.
As we count our blessings each day, we are thankful for you and your selflessness. Thank you again for allowing us to share our heart with you. We hope our paths cross in this journey of adoption.
Matt & Jenn
Favorites
Actor
Kurt Russell or Jim Carey
Dwayne Johnson
Actress
Jennifer Aniston
Jennifer Lawrence
Author
Ernest Hemingway
Dr. Seuss
Book
The Count of Monte Cristo
Zoobiquity by Barbara Natterson-Horowitz and Kathryn Bowers
Cartoon
The Simpsons
Scooby Doo
Childhood Memory
Building and riding go carts with friends
Pool Parties at the house
Childhood Toy
Tonka Truck
Mermaid Barbie
Children's Book
Giving Tree
Magic School Bus
City
Key West
Denver, Colorado
Classic Movie
Captain Ron
Original Jurassic Park
Day of Week
Wednesday
Saturday
Dessert
Creme Bruele
Tiramisu
Dream Car
Restored CJ5 Jeep
Restored 1971 Coyote Bronco
Dream Job
Sailing Captain for a J Boat in the Americas Cup
Veterinarian or Pixar Imaginer
Dream Vacation
Sailing to Hawaii
Hiking MountBlanc in Europe
Family Activity
Taking the dogs out to a local sandbar to play fetch
Camping
Flower / Plant
Mango Tree
Plumeria
Form of Exercise
Foil Boarding
Stand Up Paddle Boarding
Fruit
Strawberries
Pineapple
Game
Paint Ball
Clue or Pictionary
Holiday
Fourth of July
Thanksgiving
Holiday Song
Little St. Nick by The Beach Boys
You're a Mean One, Mr. Grinch
Holiday Tradition
Grilling with Family and Friends
White Elephant
Ice Cream
Cookies and Creme
Butter Pecan
Junk Food
Little Debbies Christmas Tree Cakes
Cheddar Sour Cream Ruffles
Leisure Activity
Scuba Diving
Horse Back Riding
Magazine
Sail time
Womens Health
Memory with a Child
Taking our niece out on her first boat ride
Slumber Party with our Niece
Memory with Spouse
Sailing to the Abacos
Sailing to Cumberland Island, GA
Movie
Jaws
The Grinch featuring Jim Carry
Movie Munchie
Popcorn
Sour Patch Kids
Movie Quote
"If it's going to Happen, It's Going to Happen Out There."-Captain Ron
"Just Keep Swimming, Just Keep Swimming"-Finding Nemo
Movie Type
Adventure
Comedy
Musical Group
Red Hot Chili Peppers
Zac Brown Band
Nursery Rhyme
Twinkle, twinkle little star
You are my Sunshine
Olympic Event
Sailing or Swimming
Figure Skating or Artistic Gymnastics
Personal Hero
My dad
My Mother
Play
A Christmas Carol
Rumors by Neil Simon
Poet
Edgar Allen Poe
Shel Silverstein
Quality about my Spouse
Her Humor
Eagerness to try new things
Quote
Not all treasure is silver and gold
You must go on adventures to find out where you truly belong
Restaurant
Food Trucks
Japanese Hibachi
Scripture
Mark 5:36- Don't be afraid just believe
1 Corinthians 16:14 Let all that you do be done in love
Shopping Store
Home Depot
Farmers Markets
Song
Africa by Toto
Somewhere Over the Rainbow by Isreal Kamakawiwo'ole
Sport to Play
Frisbee Golf
Soccer
Sport to Watch
Hockey
Football
Sports Star
Gardner Minshew
Tim Tebow
Sports Team
Tampa Bay Lightning
Gators
Subject in School
History
Science
Thing to Cook
Ribs on the Smoker
Cheese Cake
Tradition
Taking the boat out on Christmas
New Ornament on the Christmas tree each year
TV Show Character
Sawyer from Lost
Winston from New Girl
Type of Music
Classic Rock & Alternative
70's-80's Classics & Blues
Vacation Spot
British Virgin Islands
Anywhere Tropical
Video Game
Mario Bros
Beat Saber
Get in Touch
Provide more information, so American Adoptions can connect you with this family.
---