1-800-ADOPTION
Thank you for viewing our profile
If you would like to learn more about us, please call 1-800-ADOPTION (2367846), fill out the form at the bottom of our on-line profile page, or email us at bp_information@americanadoptions.com.
To revisit our on-line profile page and view our profile video at American Adoptions, simply use your mobile phone to scan the QR code on the right. We are looking forward to hearing from you!
Alicia & Lianne
Thank you for taking the time to learn more about us. We promise that if you chose us to be your child's parents, they will be loved unconditionally, given every opportunity possible, and raised to know your strength. We hope that you consider us because we have lots of love we are ready to give. Our hearts are full and our arms are open.
About Us
Job
Nurse Manager
Director of Finance
Education
Bachelor's Degree in Nursing
Master's Degree in Chemical Engineering
Relationship
Legally Married
Adoption in Our Lives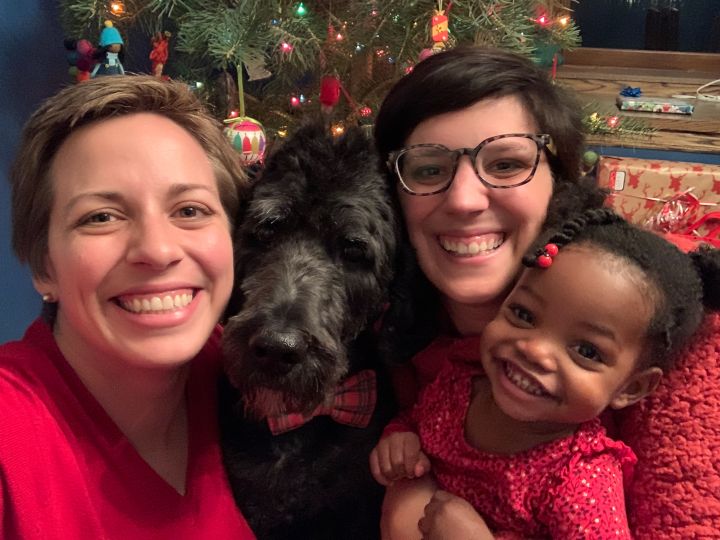 Adoption has always been the right path for us! As a couple, we knew for a long time that we wanted to have children. Since the very beginning, adoption has always been the plan to expand our family. In 2020 our daughter Tia was born. Her birth mother requested a closed adoption and we respect her wishes fully, even though we hoped for an open adoption. However, that does not stop us from talking with Tia about her regularly, sharing how special, strong, and courageous she is. We also are working to ensure Tia not only knows her culture and has racial mirrors in her life, but also embraces her power and celebrates her strength as a Black girl.
We feel strongly that we should talk openly with our children about adoption. We want them to know the strength and love of their birth parents, and feel comfortable sharing any feelings about being adopted. We always find ways to include Tia's birth mother in special days by drawing a picture for her, saying prayers for her, or buying special flowers for her to have in our home. We want Tia to always feel her love. We consider ourselves beyond fortunate to have adoption be a part of our family's story and we are so excited to start writing the next chapter.
Our Leisure Time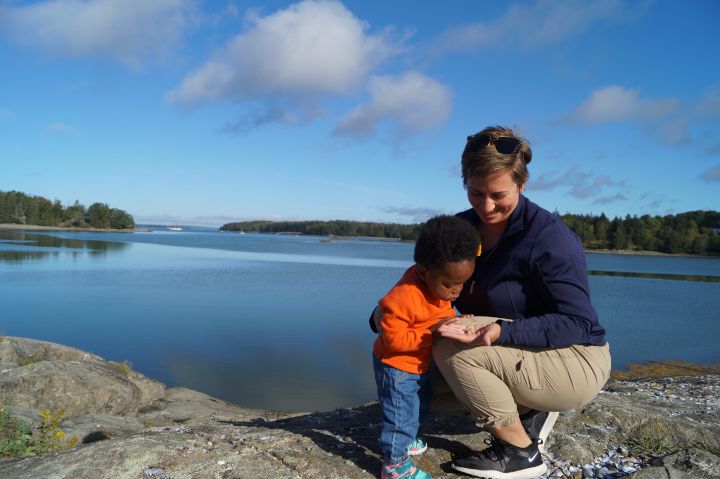 We both have a wide variety of interests and love trying new things. As a family, we really enjoy spending time together outside exploring nature. We go on several camping trips each summer. It is our goal to eventually camp at all of the state parks in Wisconsin. We love hiking, going on bike rides, playing in the snow with Tia, and even mowing the lawn because it gets us outside.
We also enjoy exploring our local community. We frequent makers markets, art festivals, farmers markets, and small businesses that align with things our family values: love for all people, supporting diversity and inclusion, social justice, and environmental stewardship.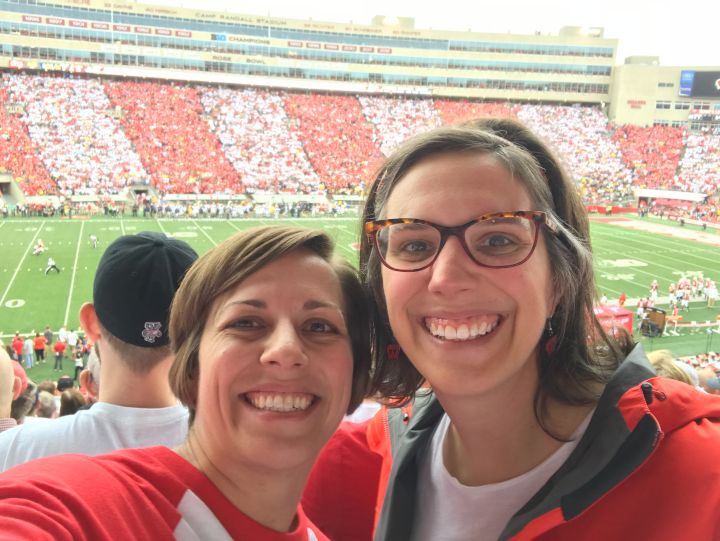 When we have alone time as a couple, we spend it seeing musicals, attending concerts, trying new restaurants, and cheering on our beloved Wisconsin Badgers. We also make traveling a priority, recently visiting Boston, Japan, Tucson, and Paris. Last year we took a road trip to Maine, where we hiked Acadia National Park, Tia went in the ocean for the first time, and we ate lots of lobster.
Lianne likes to spend her leisure time renovating our house and doing yard work, but also enjoys unwinding with a puzzle. Alicia spends her free time getting creative with sewing, craft projects, and listening to music. Tia is starting to develop her own interests, which include dancing, reading, and anything involving animals or airplanes. Then there is Abe, his main hobbies are eating treats and getting belly rubs.
Cultural Diversity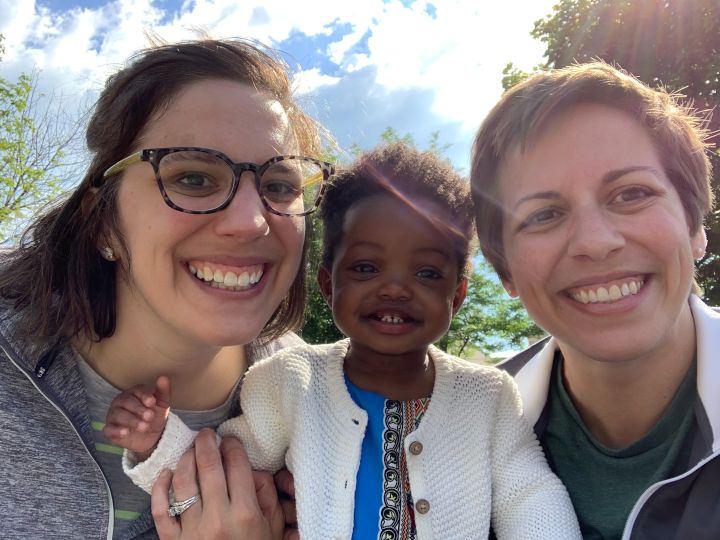 We are a transracial family and having a culturally fluent family is a responsibility we take very seriously. In our home, we respect, value, and celebrate cultural differences. It is our number one priority to raise Tia to be a proud Black woman. No matter the culture of our second child, we will ensure they know and appreciate their own culture, and the cultures of the rest of the family.
We are committed to learning and growing to be the best parents we can be for a child of a different race. We've joined a parent group organized by Black mothers focused on raising Black children. We frequently attend events celebrating Black culture and support Black-owned businesses. We're not afraid to talk about race with other people and have had some very difficult, but necessary, conversations.
We know representation is important and always want our children to be reflected in the people they see. This is why we think about diversity and representation in every decision we make for our children. It impacts our choices regarding art and books in our home, the daycare Tia attends, the church we belong to, the stores we shop at, the toys we buy, the activities we do, even the pediatrician and dentist Tia sees.
We recognize we alone cannot provide everything our children need to be connected to their culture. So we are fully committed to having people in our circle who can be racial mirrors for our children.
Photos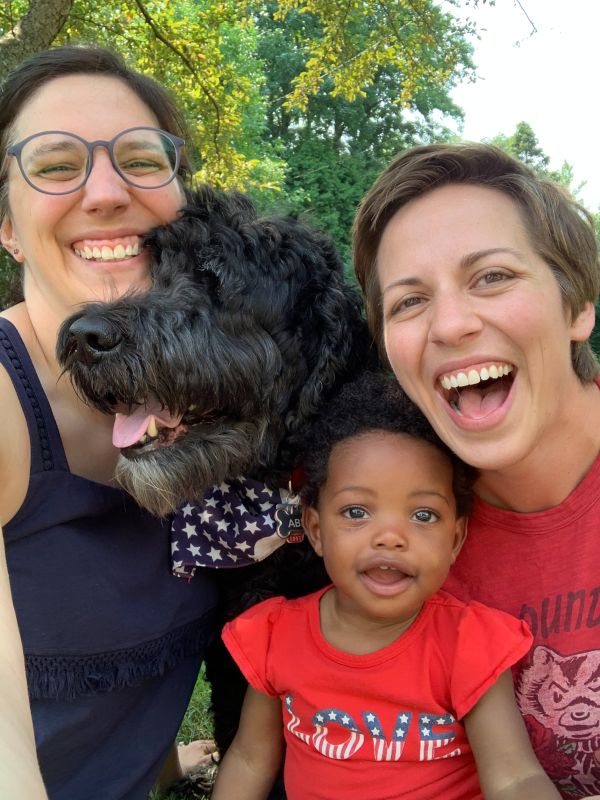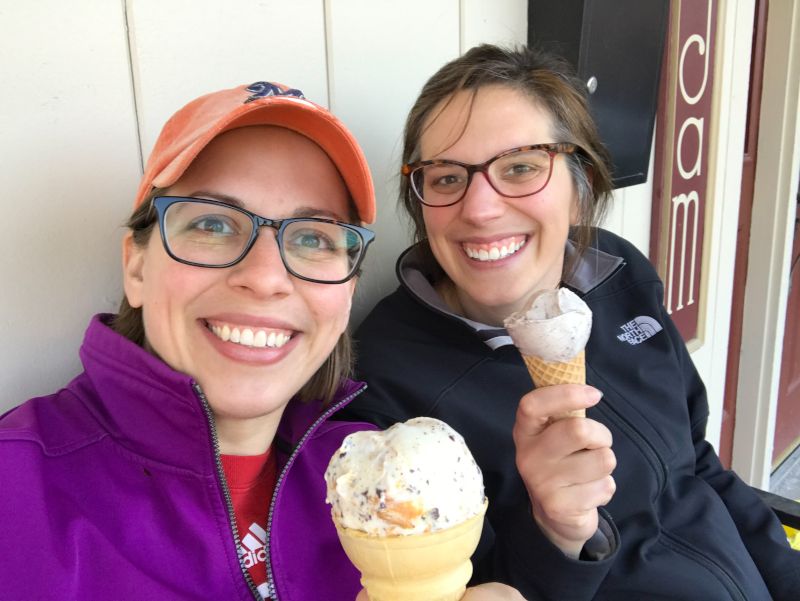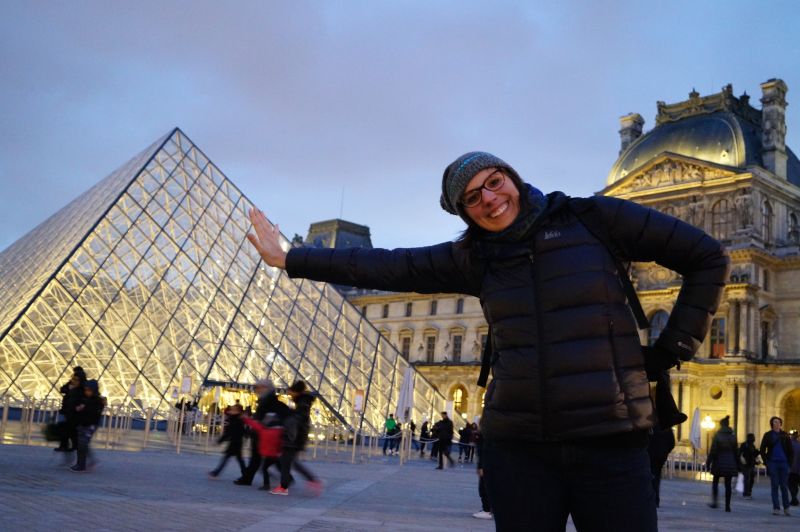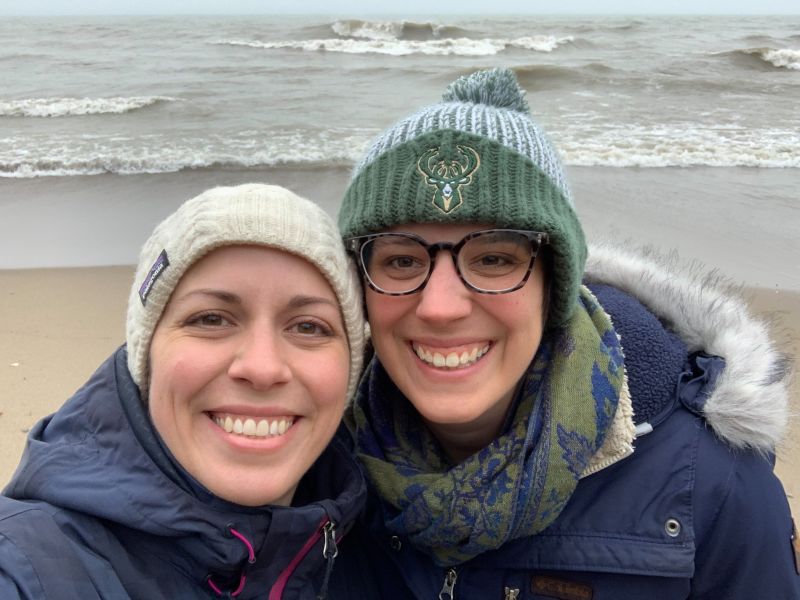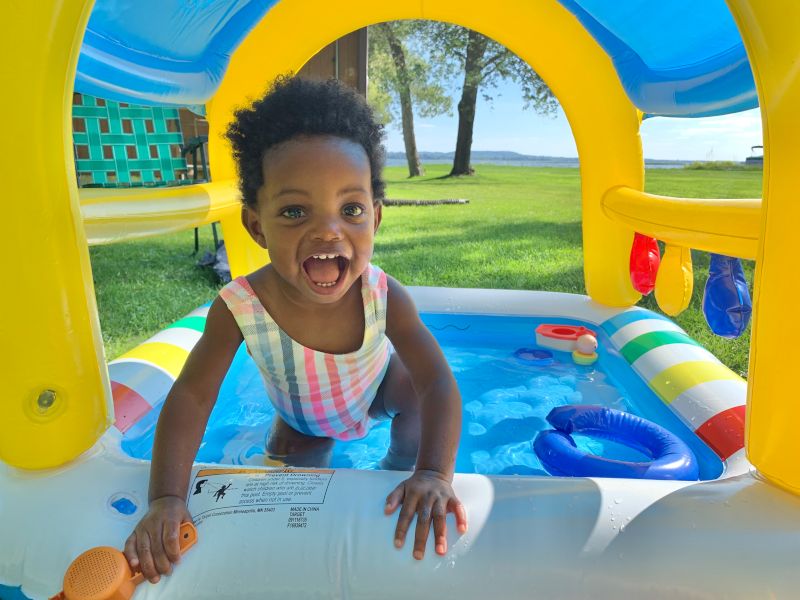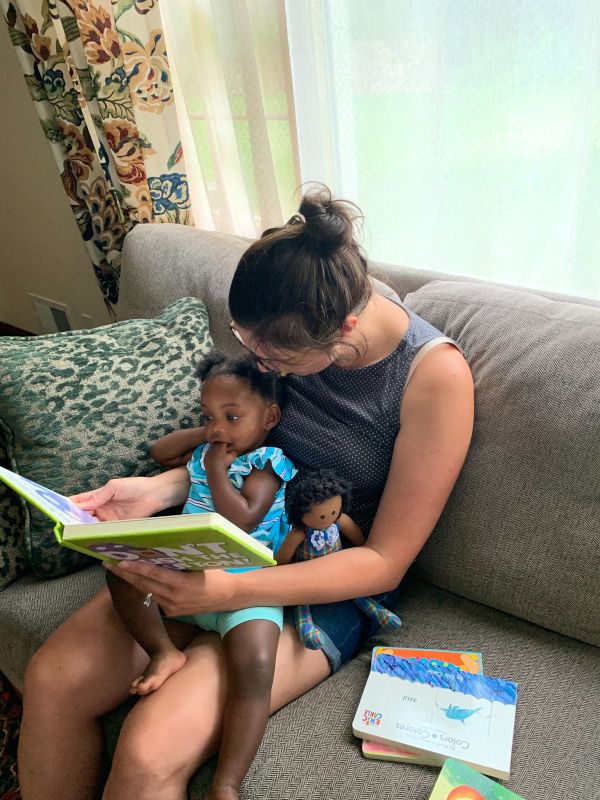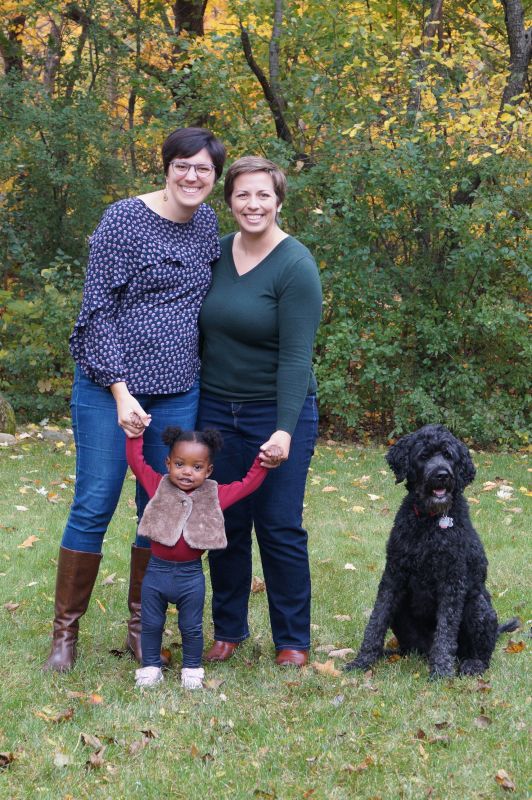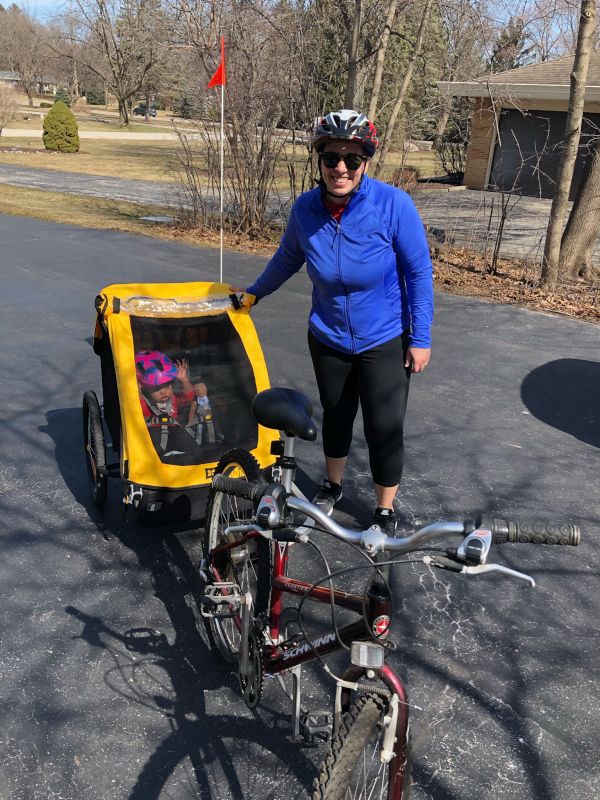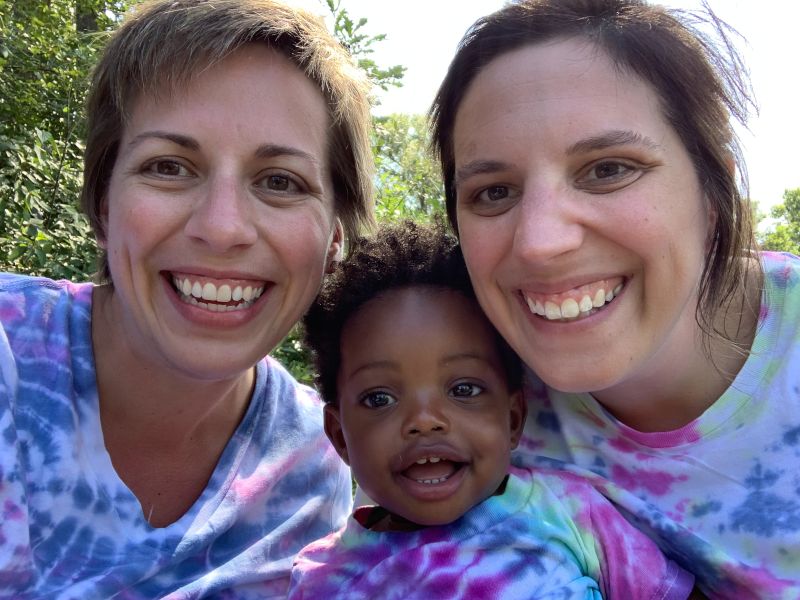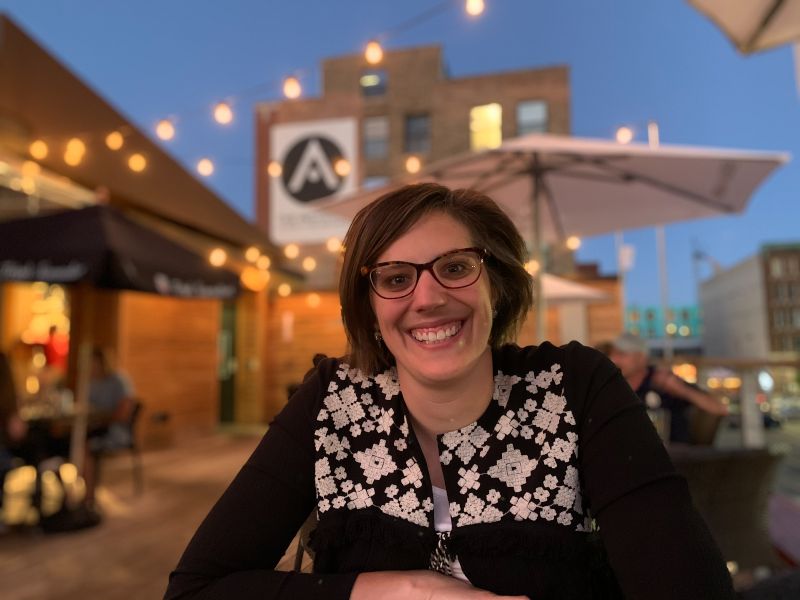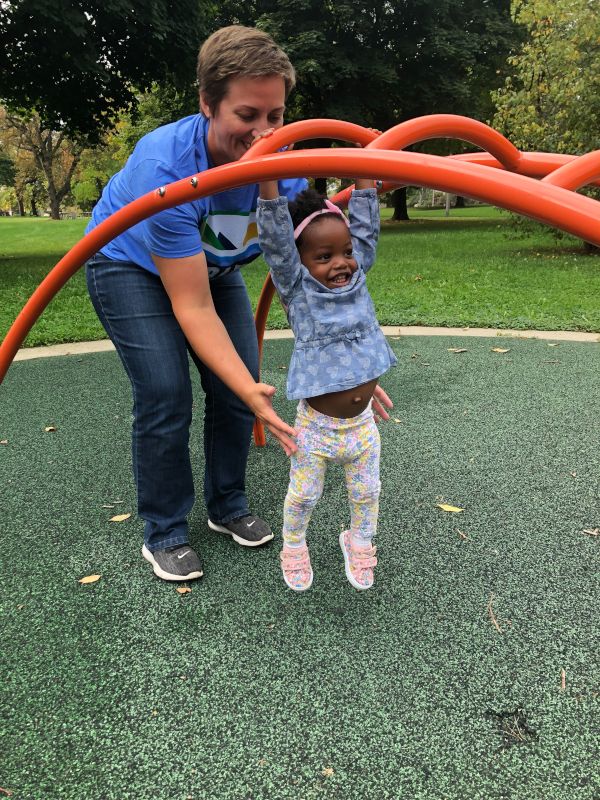 ×
1 / 12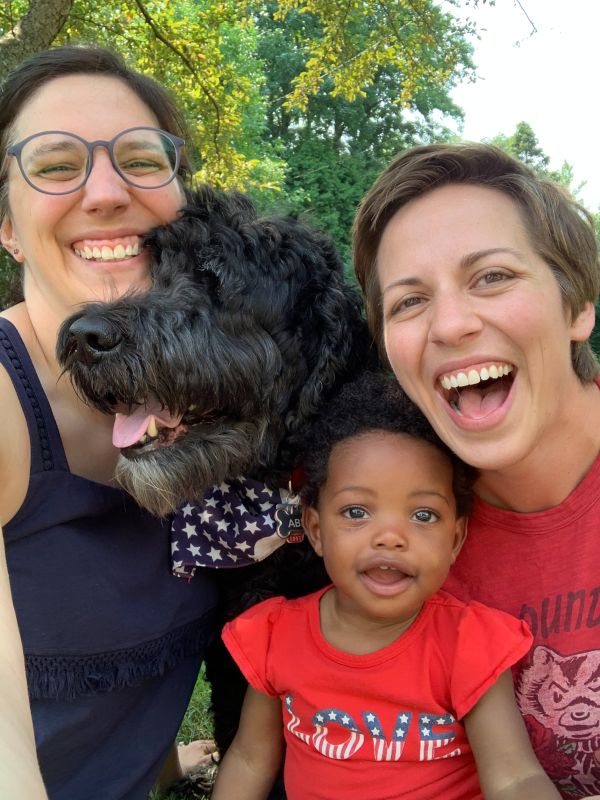 2 / 12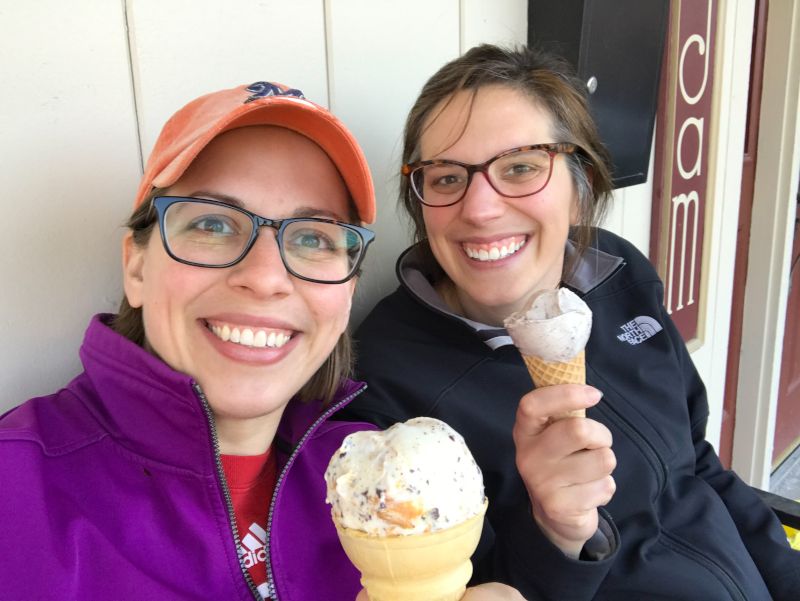 3 / 12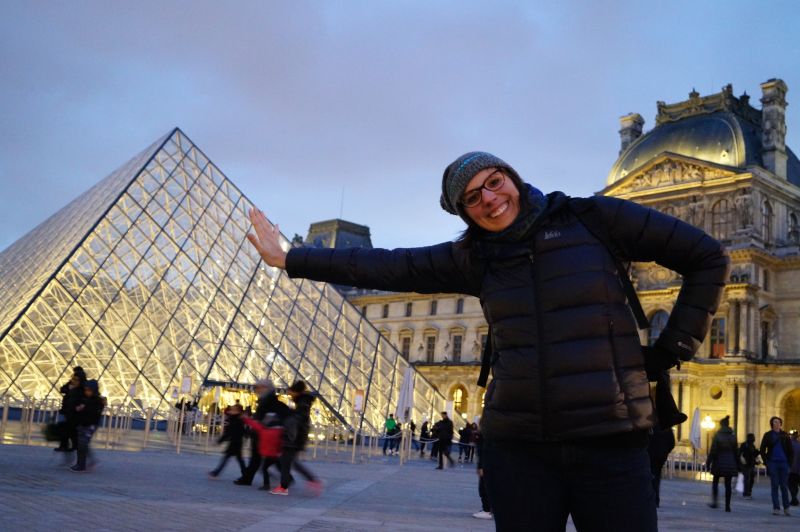 4 / 12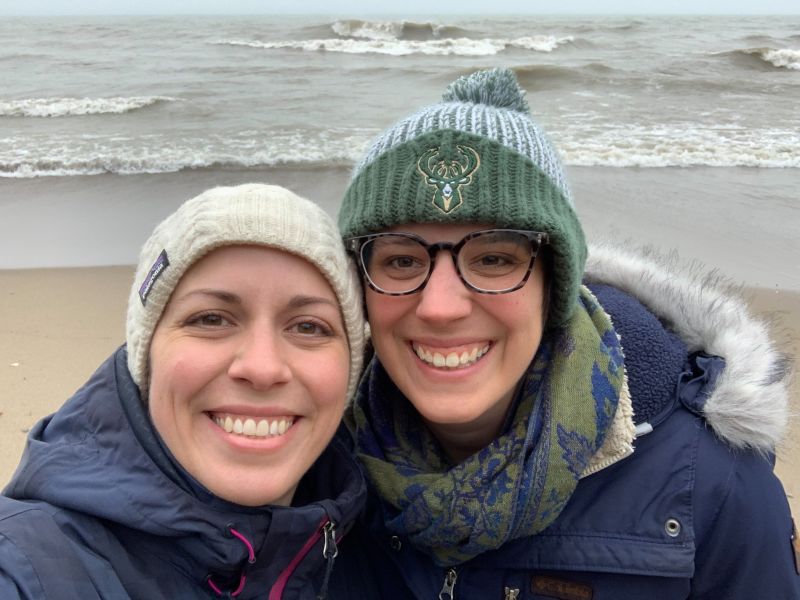 5 / 12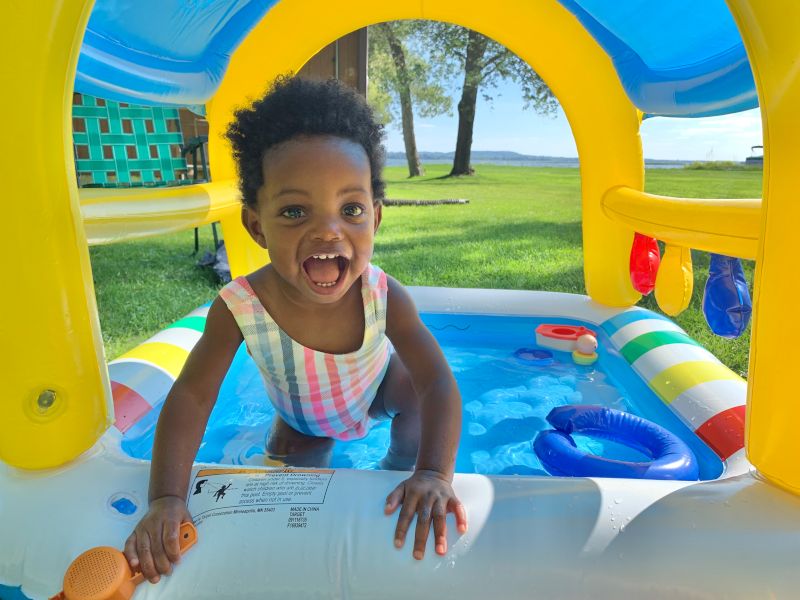 6 / 12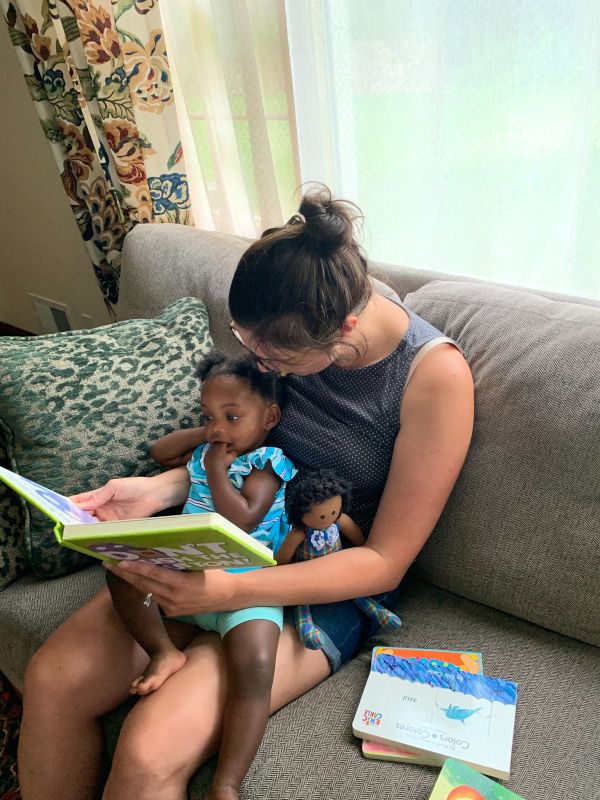 7 / 12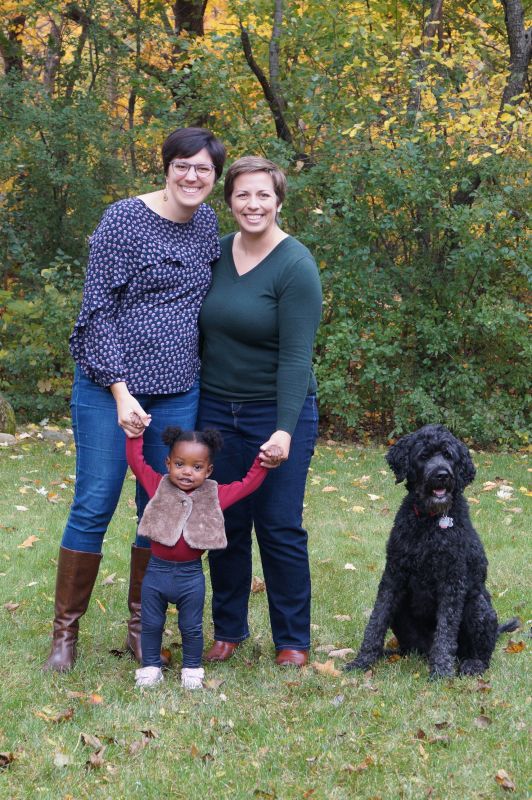 8 / 12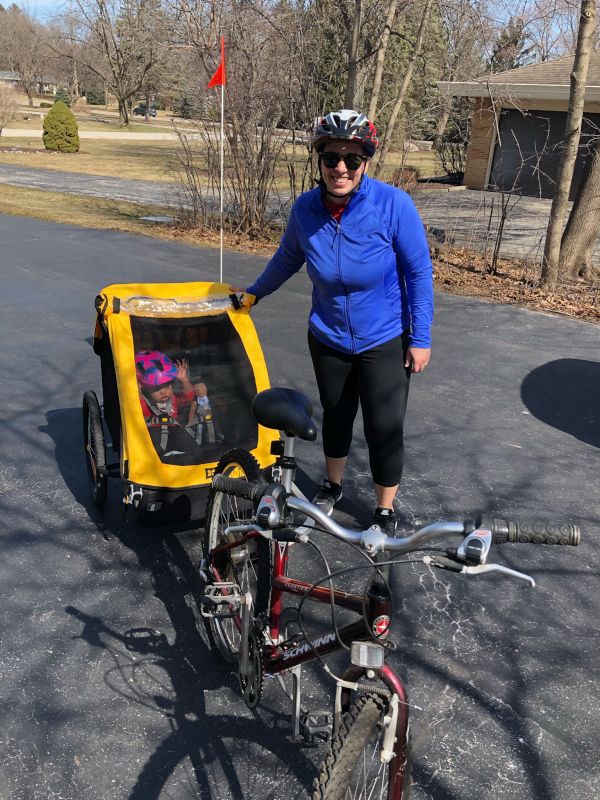 9 / 12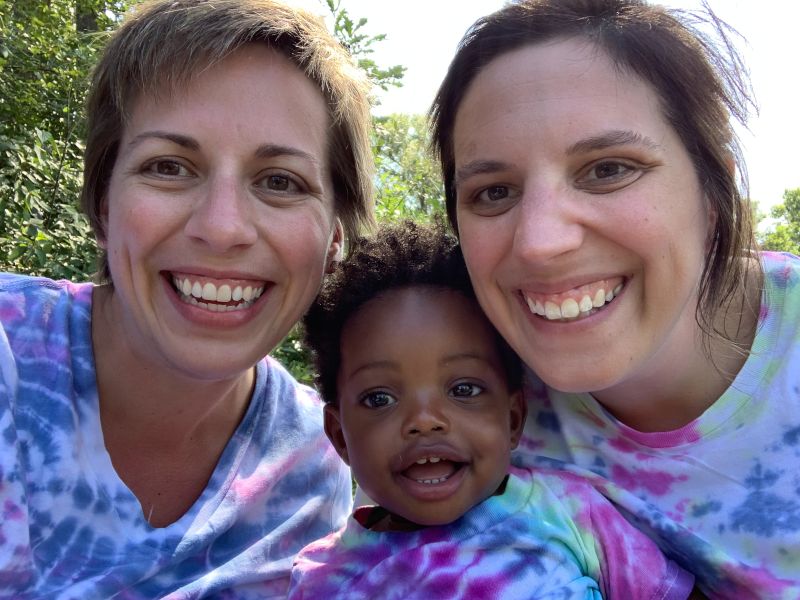 10 / 12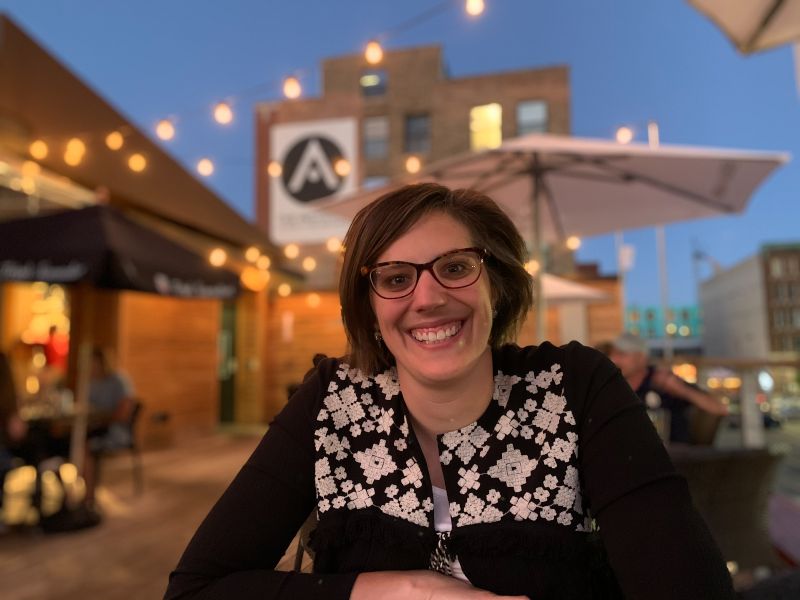 11 / 12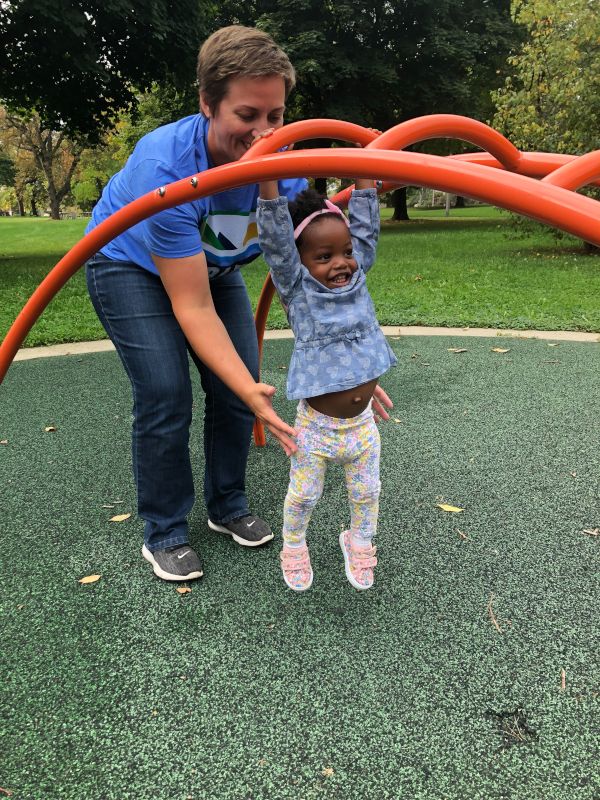 12 / 12
❮
❯
Our House and Neighborhood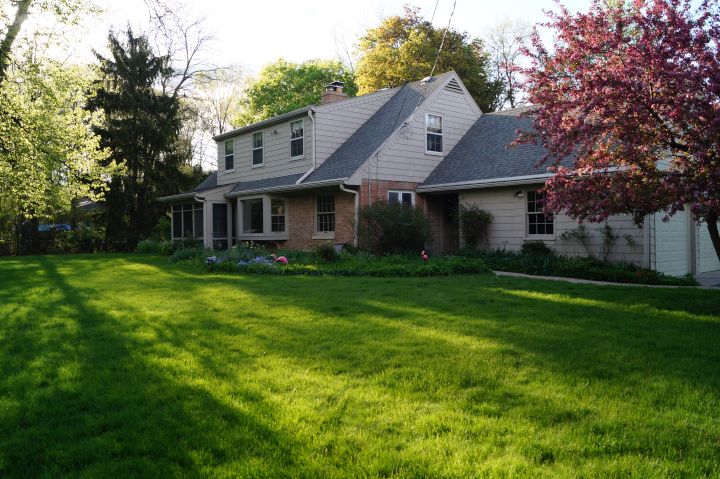 We have a two-story home with three bedrooms in South Eastern Wisconsin. We have a large living room, which is our favorite room in the house because it is where we spend the most time together as a family. It is the heart of our home. Over the few years we've been in our home, we have completed many updates and love doing home improvement projects to give it the welcoming feeling we enjoy.
The main thing that attracted us to our cozy house is the big yard with many mature trees. We love spending time outside, whether it is doing yard work, gardening, or playing around. We also enjoy watching all of the wildlife that comes through our yard, including deer, foxes, and turkeys.
Our neighborhood is very safe and quiet, with a small town feel. We are within walking distance to the local park, swimming pool, library, ice cream shop, and the elementary school. There are many children in the neighborhood, often seen riding bikes and playing outside. The community offers numerous programs geared towards them for enrichment, as well as activities for the various holidays. Some of our favorites include movie nights and music in the park, and fireworks on the 4th of July.
With just a few minutes' drive, we are close to everything the nearest big city has to offer, including all the museums, events, sports, and restaurants. However, it is always nice to return to the quietness of our neighborhood.
Our Extended Families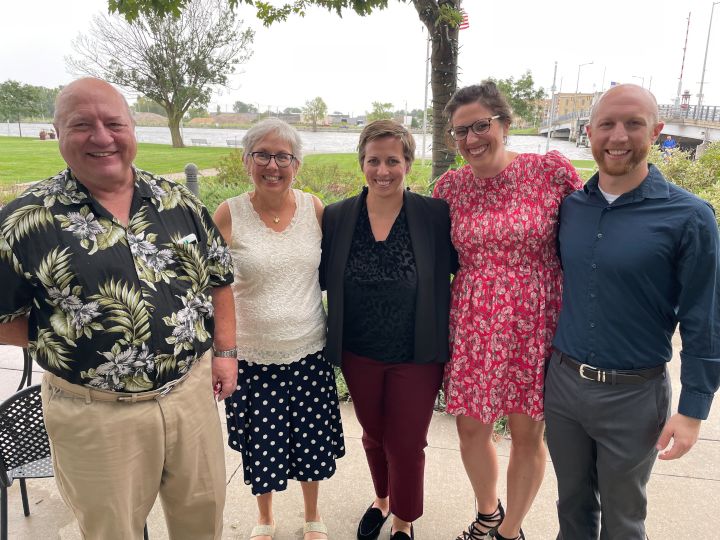 Family plays a huge role in our life and we are blessed to be surrounded by the love and support of both of our families. We are especially lucky to have nearly all of our immediate and extended family living within 30 minutes of us. We never lack family to spend time with during the holidays or just a regular Sunday afternoon.
Lianne's parents enjoy their season baseball tickets and playing all sorts of board games. We frequently go over to their house for family dinners. Lianne has one younger brother who is a great cook and we cheer on when he competes in triathlons. Her extended family gets together monthly for a family brunch.
Alicia's parents enjoy being outdoors and gardening. She has one younger brother and two cousins who we are very close to. They have become more like best friends to us. Alicia's extended family vacations together at the family cottage once a year in Northern Wisconsin. It is a trip we always look forward to.
Our parents take turns watching our daughter every other Friday. It is their favorite day of the week! Our families are so excited that we hope to expand our family again through adoption. They look forward to including another child into their fun Fridays.
From Us to You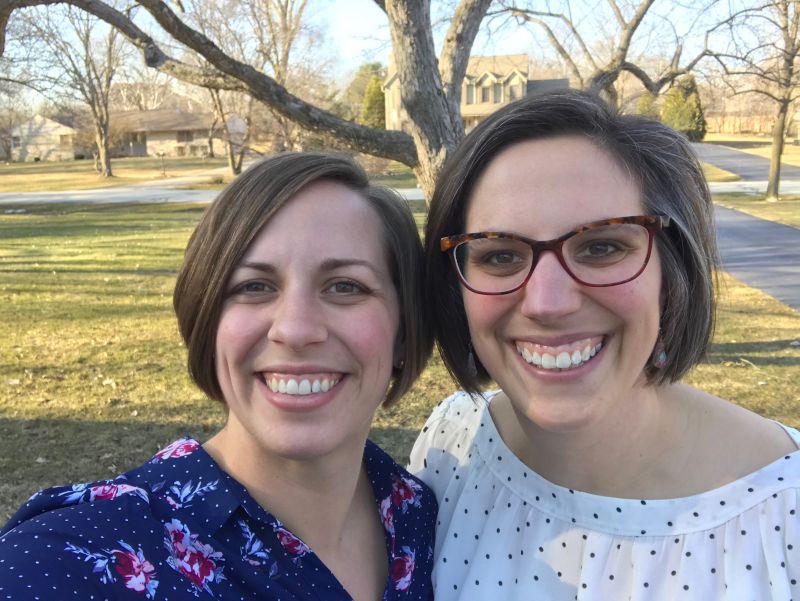 Thank you for choosing to read our profile and taking the time to learn more about us. We understand that we are just strangers right now but we hope our profile pages are able to give you a flavor of who we are and the love we have to share. We are Lianne and Alicia. Lianne is a Finance Director and Alicia is a Nurse Manager. Together we bring out the best in each other. After being married for 8 years and together for 15 years, we've built a strong, trusting bond we can rely on. We love making each other laugh and know that helps us as we experience the adventure that comes with raising children.
We are blessed by adoption with our daughter Tia. She brings so much love and excitement into our life. We enjoy watching her grow and learn new things. She will be a great big sister! We also have a dog named Abe. He is well behaved, gentle, and loves to explore. We are beyond excited to expand our family again and it is very important to us to do it through adoption.
Family is a top priority for us and we're fortunate to have our parents, siblings, and extended family so close by. Our extended family is growing with lots of young ones and we're looking forward to adding one more to the gang. They are all very supportive of us and our family.
As a transracial adoptive family, we find value in establishing cross-cultural relationships and participating in events throughout our local community. We are fortunate to have a broad range of cultures to connect with in our community. It takes a village to raise a child and we are so thankful for the support we have all around us.
We welcome with open arms the opportunity to meet and get to know you. We are looking forward to building a relationship with you with a level of openness that works for everyone. We are happy to send pictures and updates via letters or email. We are also open to making arrangements for visits when the time is right. We promise to always be open with our child about their adoption and make sure they always know your love and strength.
We will have so much love for our child and hope for their future. We hope to lead by example, teaching our child positivity and showing them how enjoyable life can be. We want our child to value education, as we create a nurturing learning environment. We hope to instill a sense of adventure in our child and an acceptance for people and places different from us. We want our child to pursue their passions and explore whatever interests them. We want to be a comfort to our child, ease their fears, and know they can come to us about anything. We promise to love and support our child, forever and always.
Thank you for taking the time to learn more about us. We realize you have made a very difficult decision to create an adoption plan. We hope you are able to feel all of the love we have that we're just waiting to share. We have so much respect for you and are amazed by your strength and courage. We are committed to an open adoption plan. We would be forever honored if you trusted us with this tremendous responsibility. Your brave decision will be the greatest gift someone could give us.
Alicia & Lianne
Favorites
Actor
Denzel Washington
Tom Hanks
Actress
Jennifer Lawrence
Viola Davis
Candy Bar
Peanut M&Ms
Butterfinger
Childhood Memory
Vacationing on a lake every summer with family
Going to Summer Camp
Children's Book
Where the Wild Things Are
Goodnight Moon
Classic Movie
It Happened One Night
The Sound of Music
Day of Week
Saturday
Friday
Dessert
Ice Cream
Ice Cream
Disney Movie
Mary Poppins
The Lion King
Dream Job
Travel Blogger
Astronaut
Dream Vacation
Japan
New Zealand
Family Activity
Family walk
Game Night
Form of Exercise
Hiking
Swimming
Fruit
Blueberries
Strawberry
Hobby
Wrapping presents
House Renovations
Holiday
Christmas
Thanksgiving
Holiday Song
Have Yourself a Merry Little Christmas by The Jackson 5
Silent Night
Holiday Tradition
Making Polish Sausage with my Dad for Easter
Cutting down our Christmas tree
Ice Cream
Rocky Road
Chocolate Chip Cookie Dough
Leisure Activity
Listening to music
Doing a puzzle
Memory with a Child
Taking our daughter camping for the first time
Watching our daughter try new things for the first time
Memory with Spouse
Going on our first vacation together
Going to Wisconsin Badger Football Games
Movie
Pretty Woman
Forrest Gump
Movie Munchie
Popcorn
Skittles
Movie Type
Drama
Documentaries
Musical Group
Dave Matthews Band
Dave Matthews Band
Nursery Rhyme
This Little Light of Mine
Row Row Row Your Boat
Olympic Event
Track Sprints
Gymnastics
Personal Hero
My Grandpa
Katherine Johnson
Poet
Shel Silverstein
Langston Hughes
Quality about my Spouse
Lianne's sense of humor
Alicia's care for others
Restaurant
A local Mexican restaurant
A local Mexican restaurant
Sandwich
Rueben
Grilled cheese
Shopping Store
Trader Joe's
REI
Song
Home by Edward Sharpe and the Magnetic Zeros
You Gotta Be by Des'ree
Sport to Watch
Basketball
Football
Sports Star
Serena Williams
Giannis Antetokounmpo
Sports Team
Wisconsin Badgers
Wisconsin Badgers
Subject in School
History
Math
Thing to Cook
Sweet Potato Fries
Rhubarb Pie
Tradition
Buying a special ornament from every place we go on vacation
Annual family photo on Arbor Day
TV Show
Law & Order SVU
Survivor
Get in Touch
Provide more information, so American Adoptions can connect you with this family.
---